SOLIDWORKS 2019 What's New – Opening Part Configurations in Quick View – #SW2019
Starting in SOLIDWORKS 2019 you will have the ability to view configurations of your parts and assemblies while a file is loaded in Quick View.
This functionality is controlled on a file-by-file basis. To view a configuration in Quick View, the file must first be opened normally. With the part or assembly open, go to the configurations tab where your configurations are listed. Right click an existing configuration and choose "Add Display Data Mark" as seen in the image below.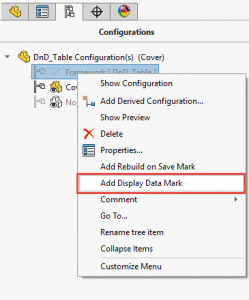 The display data mark will appear as the yellow component symbol with an eye over it. The component symbol will lose its color if it is not the currently active configuration. If you have any configurations with Rebuild on Save Marks, then the Display Data Mark will appear next to it.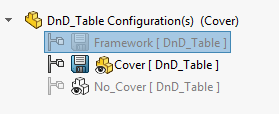 After you have chosen which configurations to add Display Data Marks to, save the file.
To open a file in Quick View, start by going to File>Open. In the Open window, highlight your part or assembly and then change the Mode dropdown selection to 'Quick view'. You can also choose in the configuration dropdown which configuration you would like active upon opening the file in Quick View.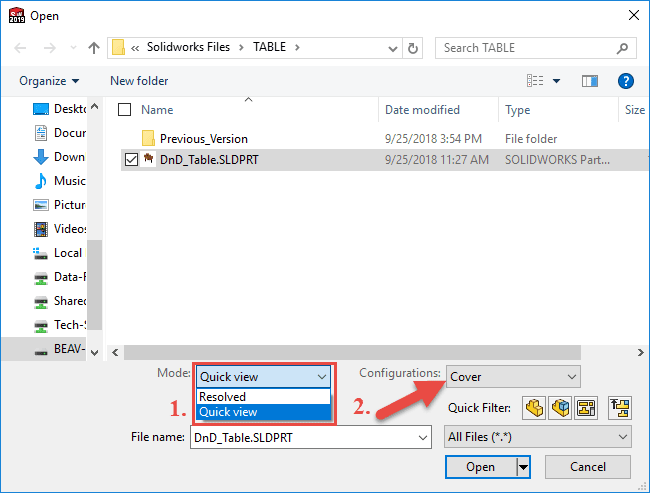 After the file is open, any configuration that was marked with a Display Data Mark will be available for viewing. This will also hold true for opening the file as Quick View within eDrawings.
I hope this part of the What's New series gives you a better understanding of the new features and functions of SOLIDWORKS 2019. Please check back to the CATI Blog as the CATI Application Engineers will continue to break down many of the new items in SOLIDWORKS 2019. All these articles will be stored in the category of "SOLIDWORKS What's New."
Braden Leasure
Technical Support Engineer
Computer Aided Technology, LLC
Design Innovation Month – October 2018
What is DI MONTH?
CATI is declaring October Design Innovation MONTH. We've created a month-long series of events and activities around design innovation especially for our customers. Attend a SOLIDWORKS 2019 event, enter our rendering contest, and learn about some cool tips and tricks at the daily online events. Plan your month at www.cati.com/design-innovation-month