SOLIDWORKS 2019 What's New – Performance Evaluation – #SW2019
SOLIDWORKS 2019 improves the use of Performance Evaluation in assemblies. Performance Evaluation is used in assembly files to analyze and suggest improvements to the performance. You can find Performance Evaluation in Tools > Evaluate > Performance Evaluation.
The Performance Evaluation Report in SOLIDWORKS 2019 now allows you to click the "Open" icon to open a file in a new window from the "Details of the Open Document File" and "Graphics Triangles" sections. This offers you the ability to quickly access the file that requires improvements. It is important to note, however, that the Performance Evaluation dialog must be closed before switching to the open document. Additionally, the "Open" icon will be grayed out after you click the icon and the file is open. The images below illustrate the difference between SOLIDWORKS 2018 and SOLIDWORKS 2019. Notice that SOLIDWORKS 2019 has the "Open" icon and the File Names and Configuration Names are NOT shortened.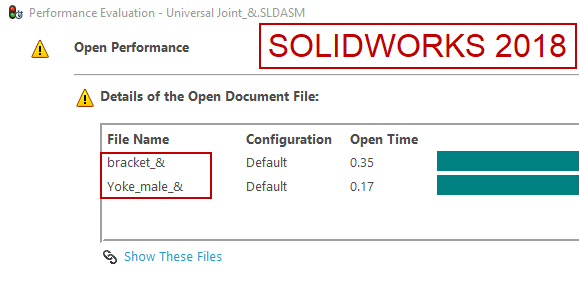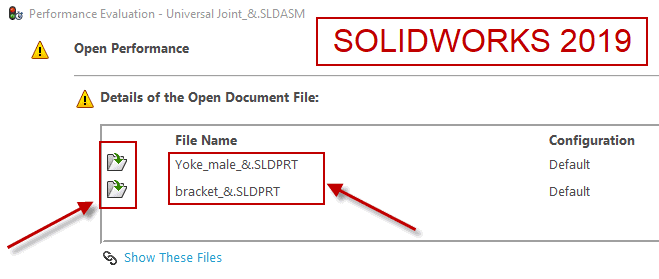 Another upgrade to Performance Evaluation in SOLIDWORKS 2019 is in the Assembly Rebuild Report under "Rebuild Performance". This list omits any components that take 10 milliseconds or less to rebuild, and components rebuilt more than once are in red font for easier identification. The list also includes more detailed information about some rebuild steps by expanding or collapsing nodes. The images below show the difference between SOLIDWORKS 2018 and SOLIDWORKS 2019 for the same assembly.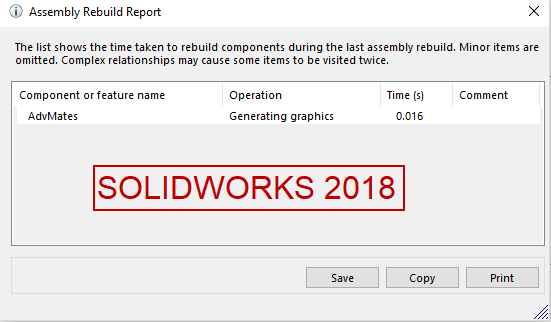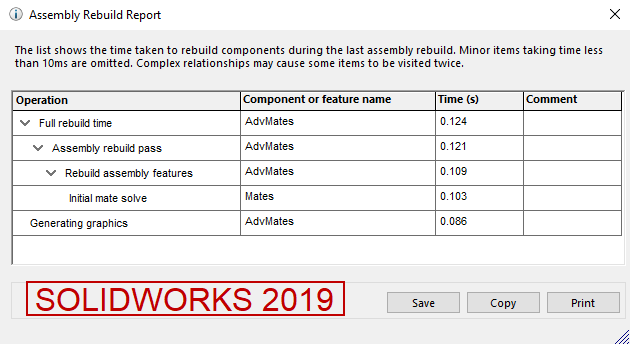 I hope this part of the What's New series gives you a better understanding of the new features and functions of SOLIDWORKS 2019. Please check back to the CATI Blog as the CATI Application Engineers will continue to break down many of the new items in SOLIDWORKS 2019. All these articles will be stored in the category of "SOLIDWORKS What's New."
Nicole Kelley
Support Engineer
Computer Aided Technology, LLC
Design Innovation Month – October 2018
What is DI MONTH?
CATI is declaring October Design Innovation MONTH. We've created a month-long series of events and activities around design innovation especially for our customers. Attend a SOLIDWORKS 2019 event, enter our rendering contest, and learn about some cool tips and tricks at the daily online events. Plan your month at www.cati.com/design-innovation-month