SOLIDWORKS 2019 What's New – Performance Improvements – #SW2019
One of the biggest improvements to SOLIDWORKS 2019 is not something you will see when you fire it up for the first time. It isn't a new feature or command. It's not a new user interface upgrade. It is, however, something you will notice every day as you use SOLIDWORKS 2019: it's fast.
Every year we hear about certain features or UI enhancements that increase productivity, but for 2019, SOLIDWORKS has addressed performance at the core of the software. A variety of new performance upgrades have been introduced across a range of SOLIDWORKS products to make the software itself faster and more efficient than ever before.
Installation Manager
Even before you install SOLIDWORKS 2019, you'll notice that it is faster to download and install. The SOLIDWORKS 2019 Installation Manager was redesigned from the ground up to use Windows APIs rather than the proprietary interface that prior versions have used. This results in download speeds up to twice as fast as previous versions. Additionally, the new system reduces instances where a download might have failed due to security settings.
Part and Assembly Display
Graphics performance in SOLIDWORKS 2019 is on an entirely new level than previous releases. SOLIDWORKS 2019 uses your graphics card for hardware-accelerated rendering, reducing the load on your CPU. This means that everyday view manipulations such as zooming, rotating, and panning models are faster, especially for large assemblies. You may not even need to use Large Assembly Mode in SOLIDWORKS 2019 with how fast the performance is now.
This seems too good to be true, right? The image below shows a large assembly model (4500 components) rotating in SOLIDWORKS 2018. This assembly was opened with Large Assembly Mode turned on. Rotating this model drops the frame rate to about 17 FPS.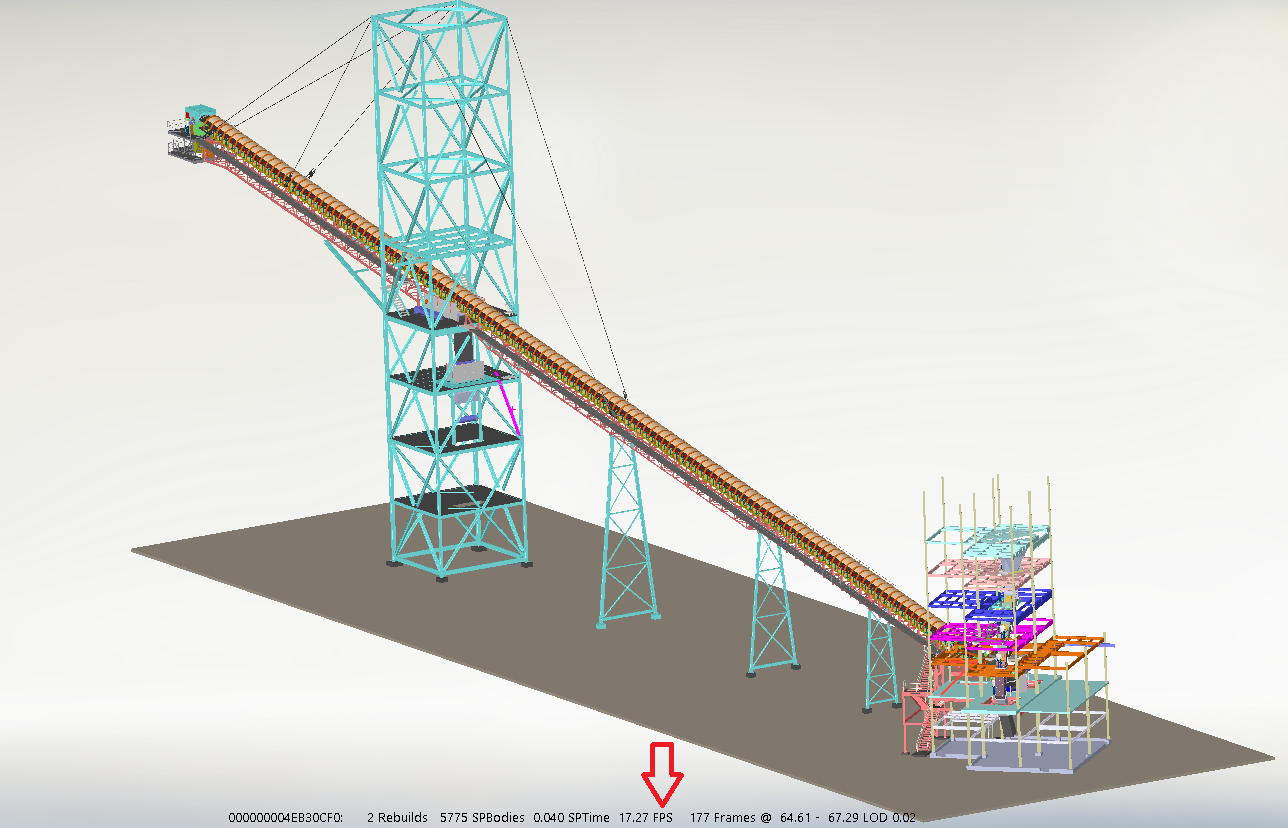 Rotating the exact same assembly in SOLIDWORKS 2019 is significantly smoother, and this is with Large Assembly Mode off! The framerate is at a much faster 26.6 FPS.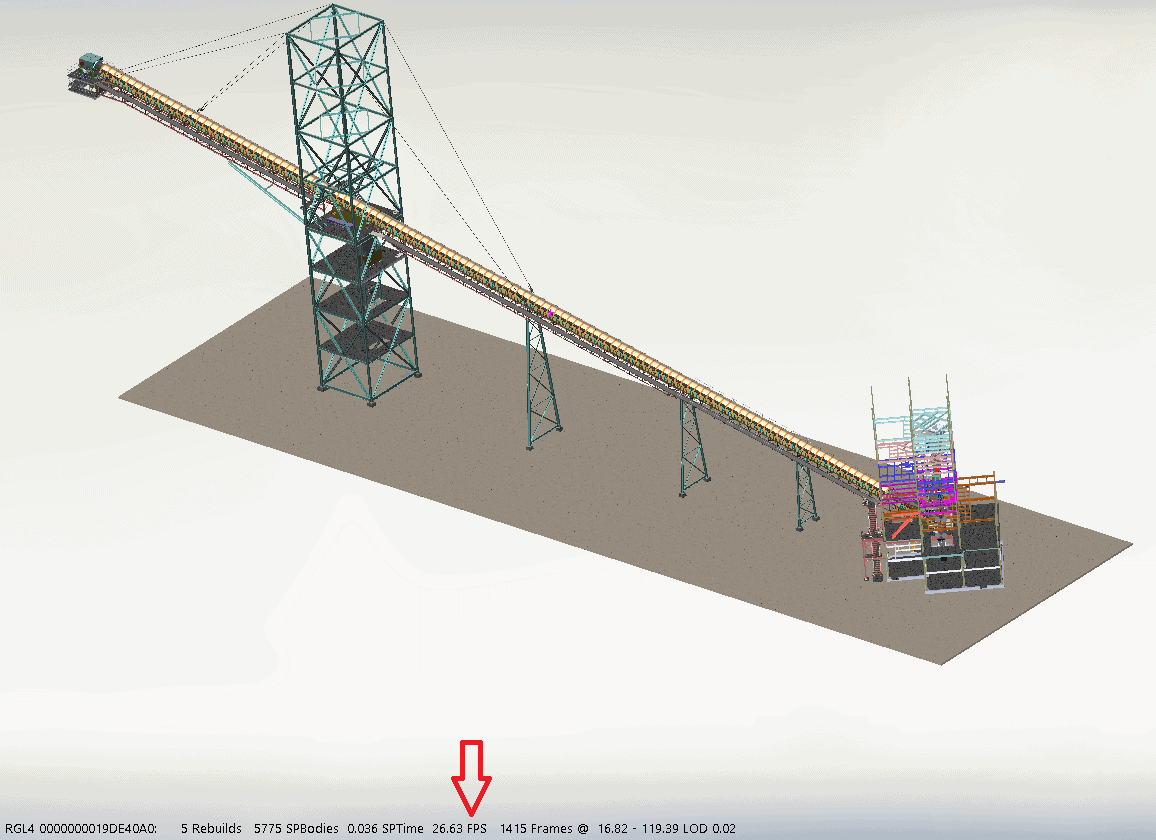 Since these performance increases are hardware-based, you will see even more improvement with better graphics cards that were not fully supported in previous versions of SOLIDWORKS. You will need a graphics card with updated drivers to take advantage of these new performance enhancements.
Whether or not you frequently work with large assemblies in SOLIDWORKS, your day-to-day modeling tasks in parts and assemblies will be a lot faster in SOLIDWORKS 2019.
Toolbox
To increase the efficiency of Toolbox Mates, SOLIDWORKS 2019 includes a new option to suspend automatic updates for these mates. In an assembly with Toolbox components, right click the Mates folder and deselect "Automatic Update for Toolbox Mates".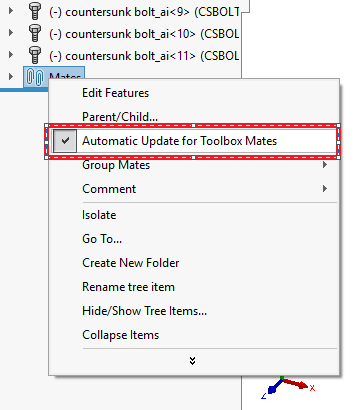 When this option is disabled, it will be quicker to add and edit mates, as well as move components. Toolbox components will not move if you move other components to which they are mated. The performance increase is more dramatic for Toolbox components that are added at a top level of an assembly rather than a subassembly. By preventing SOLIDWORKS for solving Toolbox mates every time a component is added or moved, you can edit large assemblies with more agility.
eDrawings
eDrawings 2019 includes a new option to increase graphics performance. From Tools, Options, General, you can select "Fastest Speed" under graphics boost. This will make viewing parts and assemblies in eDrawings faster than ever.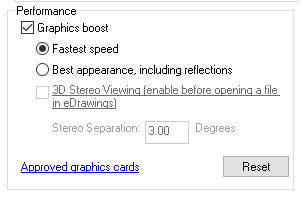 SOLIDWORKS PDM
In keeping with other large assembly performance upgrades across the board, SOLIDWORKS PDM 2019 will now manage large assemblies with much more efficiency. Complex reference structures in the Contains and Where Used tabs respond and refresh faster. Moving files, browsing the vault, and renaming files are all common PDM tasks that will take less time than before. Additionally, interface refreshes have been restricted to only the necessary amount, speeding up browsing through folders with locally cached files.
Additionally, SOLIDWORKS Manage 2019 will exhibit increased performance when synchronizing PDM objects with large numbers of files and/or folders. A Synchronization details box keeps track of the steps Manage is taking to stay up-to-date with PDM.
Simulation
SOLIDWORKS Simulation 2019 uses a new Intel Parallel Studio XE 2018 Cluster Edition to replace existing compilers, math libraries, and MPI libraries used by solvers. This new feature will result in improvements in general reliability and performance of Simulation. The Intel Direct Sparse Solver (IDS) has been reconfigured to maximize performance for linear static study types with multiple load cases.
SOLIDWORKS Electrical 3D
When routing in SOLIDWORKS Electrical 3D using the Route Cables and Route Harness tools, performance can often be a drag, especially for assemblies with a large number of wires. SOLIDWORKS Electrical 3D 2019 will now perform faster in these cases, taking advantage of changes to other parts of the SOLIDWORKS infrastructure. The electrical Route Library Manager also starts faster than in previous versions.
Routing
SOLIDWORKS 2019 comes with several performance enhancements for Routing. The Routing Component Wizard will only display tabs that are essential to you. It will also respond more quickly when switching tabs. In the Components Attributes tab, components that have multiple configurations will load only the parameters for the active configuration unless other configurations are selected. This speeds up the process for loading data to the tab.
For Piping and Tubing, saving and scanning components is faster. When using Import Data, the Start and Synchronize functions are not simultaneously available, increasing efficiency. To help identify components more quickly, the Routing Library Manager also now includes images for Route and Component types, Routing Geometry, and routing Functionality Points nodes of the Routing Components Wizard tab.
I hope this part of the What's New series gives you a better understanding of the new features and functions of SOLIDWORKS 2019. Please check back to the CATI Blog as the CATI Application Engineers will continue to break down many of the new items in SOLIDWORKS 2019. All these articles will be stored in the category of "SOLIDWORKS What's New."
Aarya Engineer
Application Engineer
CATI Bellevue
Computer Aided Technology, LLC
Design Innovation Month – October 2018
What is DI MONTH?
CATI is declaring October Design Innovation MONTH. We've created a month-long series of events and activities around design innovation especially for our customers. Attend a SOLIDWORKS 2019 event, enter our rendering contest, and learn about some cool tips and tricks at the daily online events. Plan your month at www.cati.com/design-innovation-month