SOLIDWORKS 2019 What's New – Recent Documents Improvements, Default Save Folder, Improved Preview for Minimized Documents – #SW2019
One of the biggest improvements to SOLIDWORKS 2019 Recent Documents is that you can save more recent documents and they are easier to manage. In Tools > Options > General, SOLIDWORKS 2019 you can now specify the Maximum recent documents displayed from 1 to 100. Note that the default number is set to 50. Another nice feature added to SOLIDWORKS 2019 is that there is a check box in the options to Include documents opened from other documents.

Now, having 100 recent documents to go through may seem overwhelming, but you don't have to go through them one by one to find the file you are looking for. SOLIDWORKS 2019 has the Quick filter feature, which allows you to easily filter recent documents by type and by name on the Recent > Documents tab in the Welcome dialog box.

If you feel that the Recent Documents are getting out of control, SOLIDWORKS 2019 allows you to clean up the list. There is an option to Remove all of the Unpinned Items or All Items.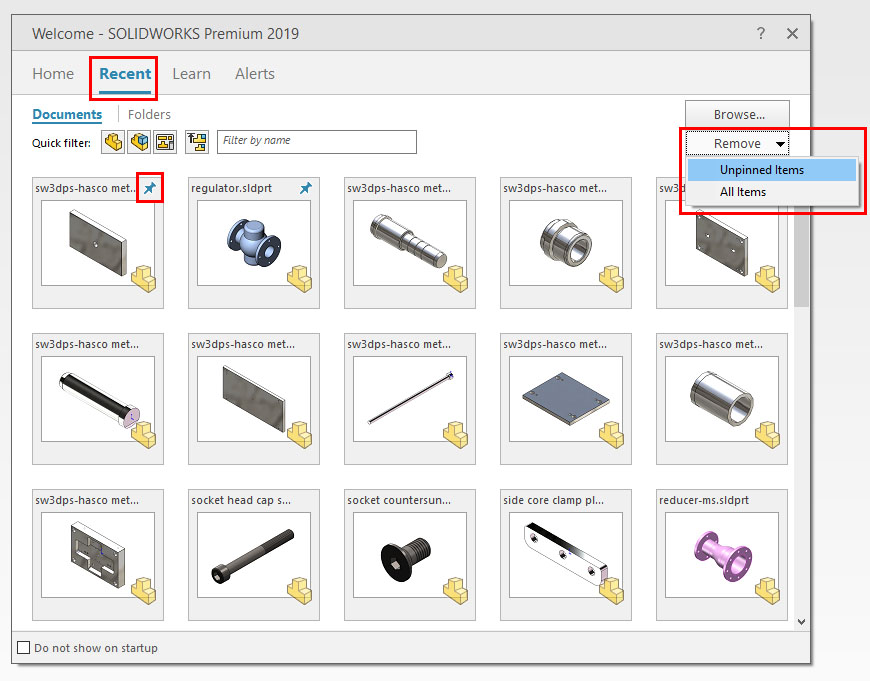 Hopefully, these changes to the SOLIDWORKS 2019 Recent Documents will help you be more productive.
Specifying a Default Save Folder
Don't you just love when you go to save a new SOLIDWORKS file and it seems that you always have to climb through hoops to find the folder that you need to save the file in. The File-Save dialog box never seems to be pointed to the correct folder when you need it to. I know that I have wasted too much time doing this. Well, another nice new feature to SOLIDWORKS 2019 is the ability to choose you Default Save folder. Finally!
All you have to do is go to Tools > Options > File Locations and select Default Save Folder in the Show folders for pull down menu. There is an Add button that allows you to specify the default folder where new documents are saved. If you do not assign a folder, then the Save folder location works like it always has, which is based on the last used folder.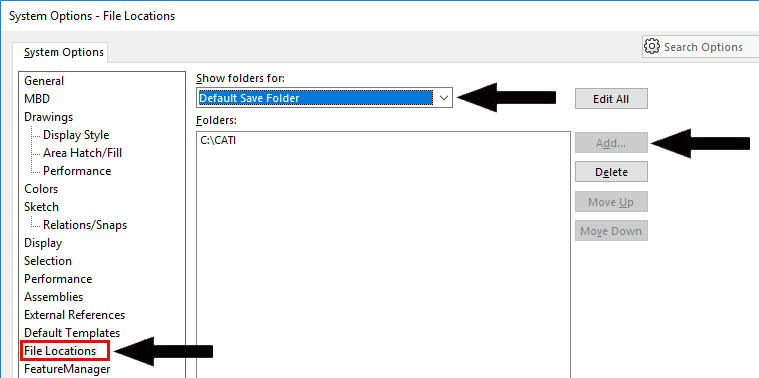 Note: When you use Save As, SOLIDWORKS will use the path of the active document even if you have specified a default save folder.
Improved Preview for Minimized Documents
One last new feature of SOLIDWORKS 2019 that will increase your productivity is the ability to easily see what documents are minimized. Gone are the days of trying to figure out which minimized file you need to pull up. All you have to do in SOLIDWORKS 2019 is hover over the title bar of a minimized document to see the file name and its path. You even get a nice little thumbnail so that you can quickly see if it is the file that you are looking for.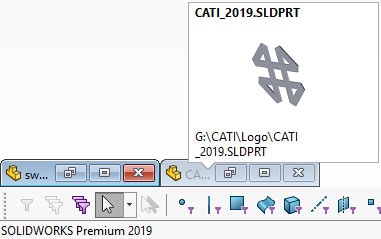 I hope this part of the What's New series gives you a better understanding of the new features and functions of SOLIDWORKS 2019. Please check back to the CATI Blog as the CATI Application Engineers will continue to break down many of the new items in SOLIDWORKS 2019. All these articles will be stored in the category of "SOLIDWORKS What's New."
Design Innovation Month – October 2018
What is DI MONTH?
CATI is declaring October Design Innovation MONTH. We've created a month-long series of events and activities around design innovation especially for our customers. Attend a SOLIDWORKS 2019 event, enter our rendering contest, and learn about some cool tips and tricks at the daily online events. Plan your month at www.cati.com/design-innovation-month
Neil Bucalo
CATI Support Engineer
Computer Aided Technology, LLC