SOLIDWORKS 2019 What's New – Routing Enhancements: Inline Components – #SW2019
SOLIDWORKS Routing is a powerful tool that automates the creation of any type of piping, tubing or electrical route. When creating electrical routes, it's common to have multiple wire routes joined together into one main route. SOLIDWORKS Routing makes this a piece of cake and here we can see an example of it.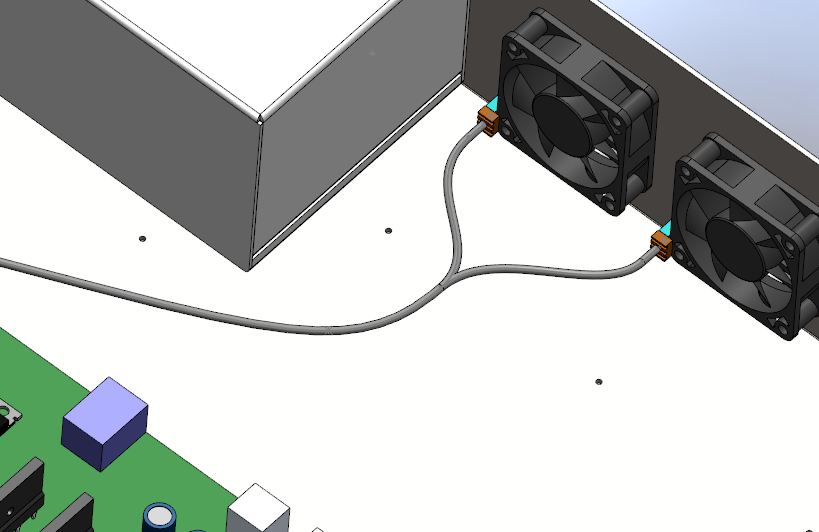 What isn't a piece of cake is trying to add a component to reinforce the "Y" junction. In previous releases, we may add a note to call this out on the Drawing. Or, if we're feeling adventurous, try to assemble a component and line it up correctly.
SOLIDWORKS 2019 greatly simplifies this situation by introducing easy to add Inline Components. They're just regular parts that don't need routing specific features added to them. If they have an Axis, you can use them.
Here I have a label to identify the wires in the enclosure. As you can see, a standard part that I'm adding an Axis to.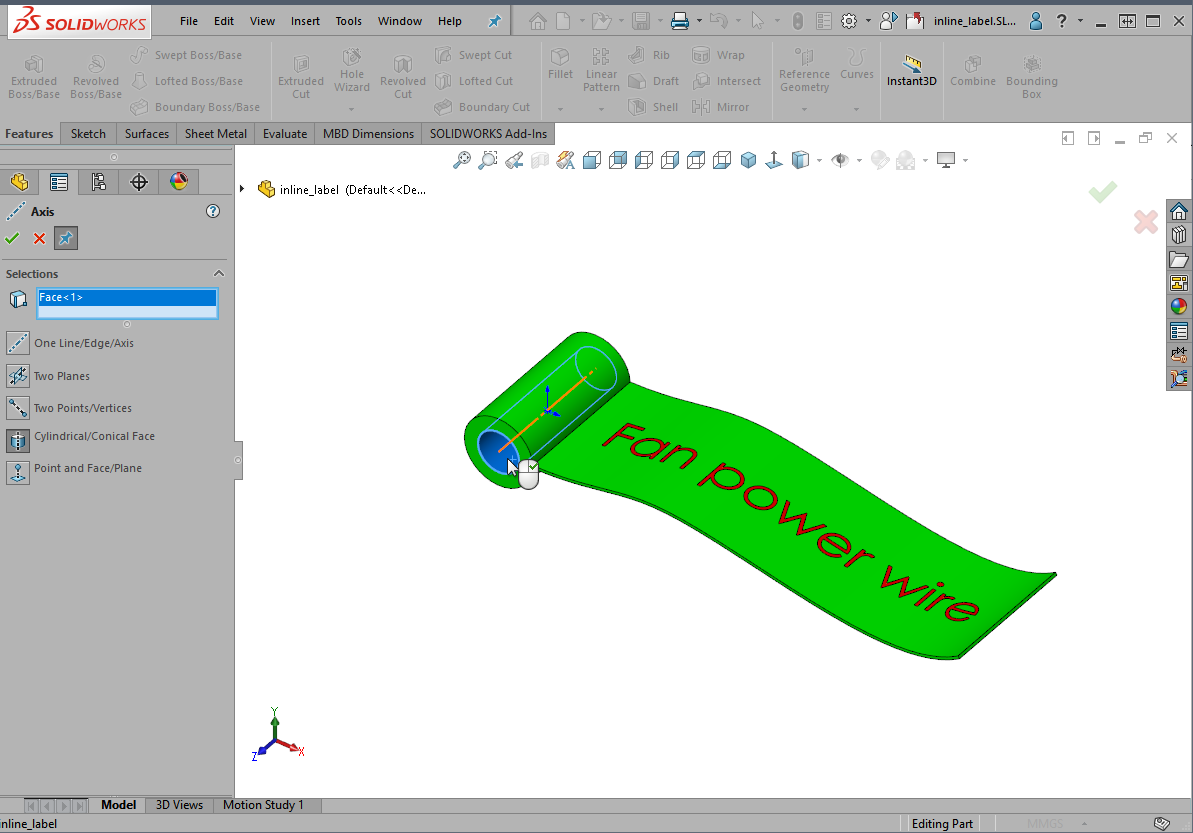 To use this Inline Component, we'll edit an existing Route and drag the part onto that Route. Use the Tab key to flip its orientation like any Routing component.
Note: I've created a custom Design Library folder named Inline Connectors but that it not required for this functionality.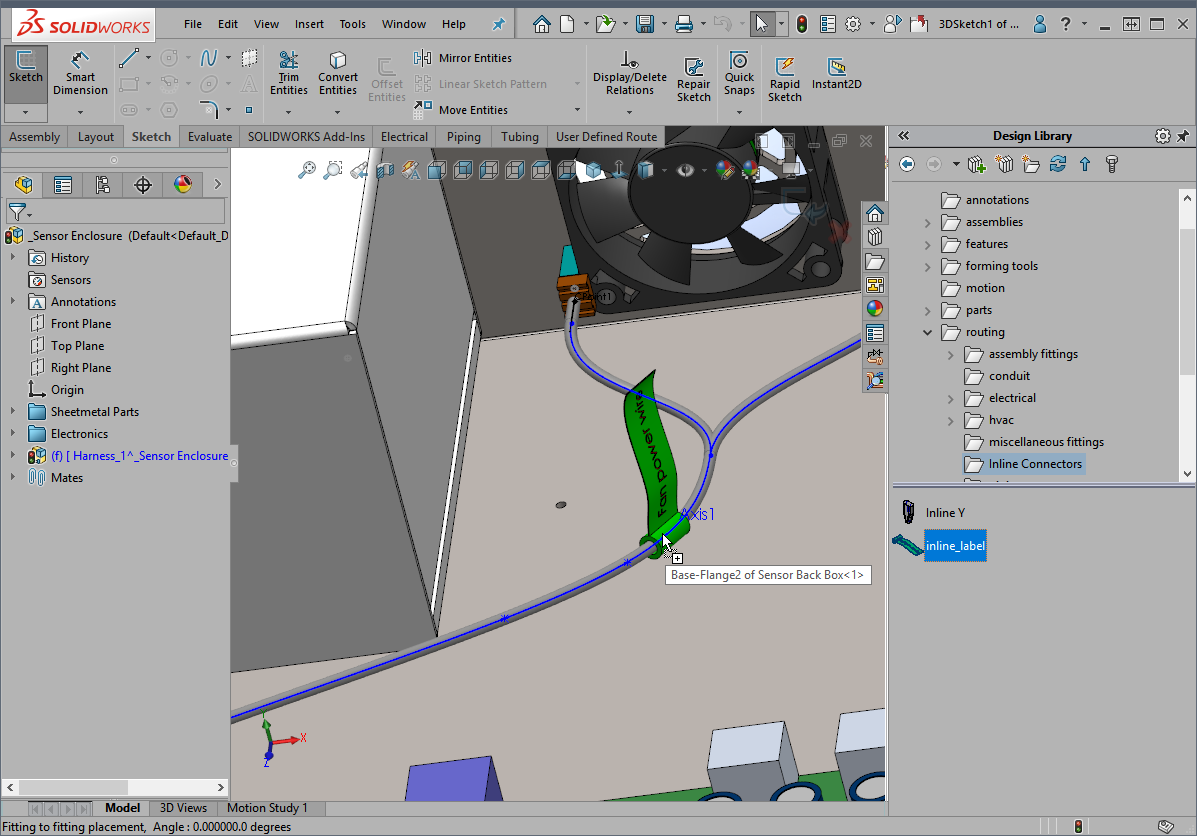 Using Move Fitting with Triad allows easy rotation, or translation, along the length of the Route segment. Even when you move them, they stay aligned to the Route.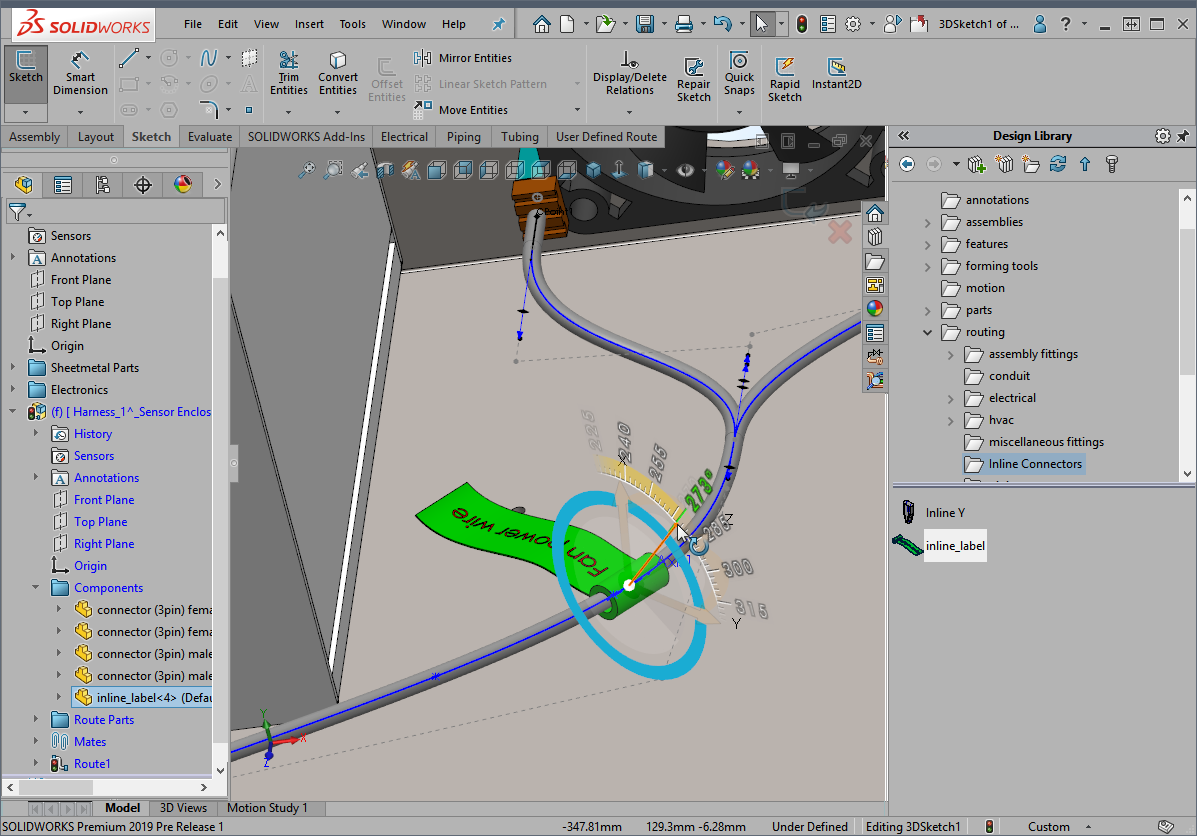 Let's look at how we can easily address adding a reinforcement component to the "Y" junction in the Route. Adding a Route Point to an Inline Component will allow the part to automatically snap to any segment point on the Route.
The same workflow applies when using this Inline Component; edit the Route and drag and drop.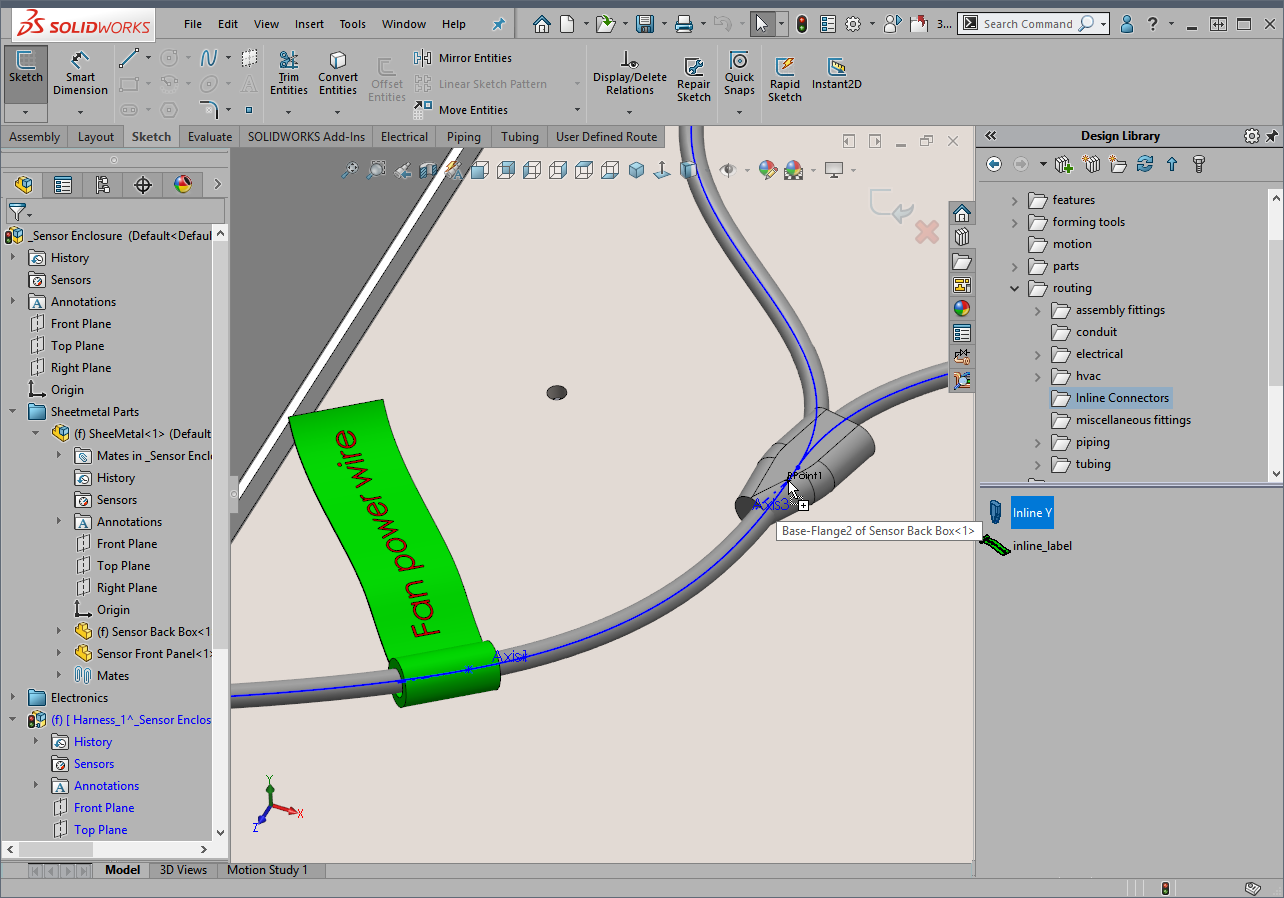 When this Inline Component is placed on the Route, the Align Components Property Manager allows the correct alignment. Simply select the Axis on the Inline Component, the route segment and click Apply. The Inline Component is now aligned with the Route! Of course, we want this part to show up in the BOM, so we select the "Add Component in BOM" selection. If you need to adjust the alignment, just Right Click the Inline Component and choose Edit Route Alignments.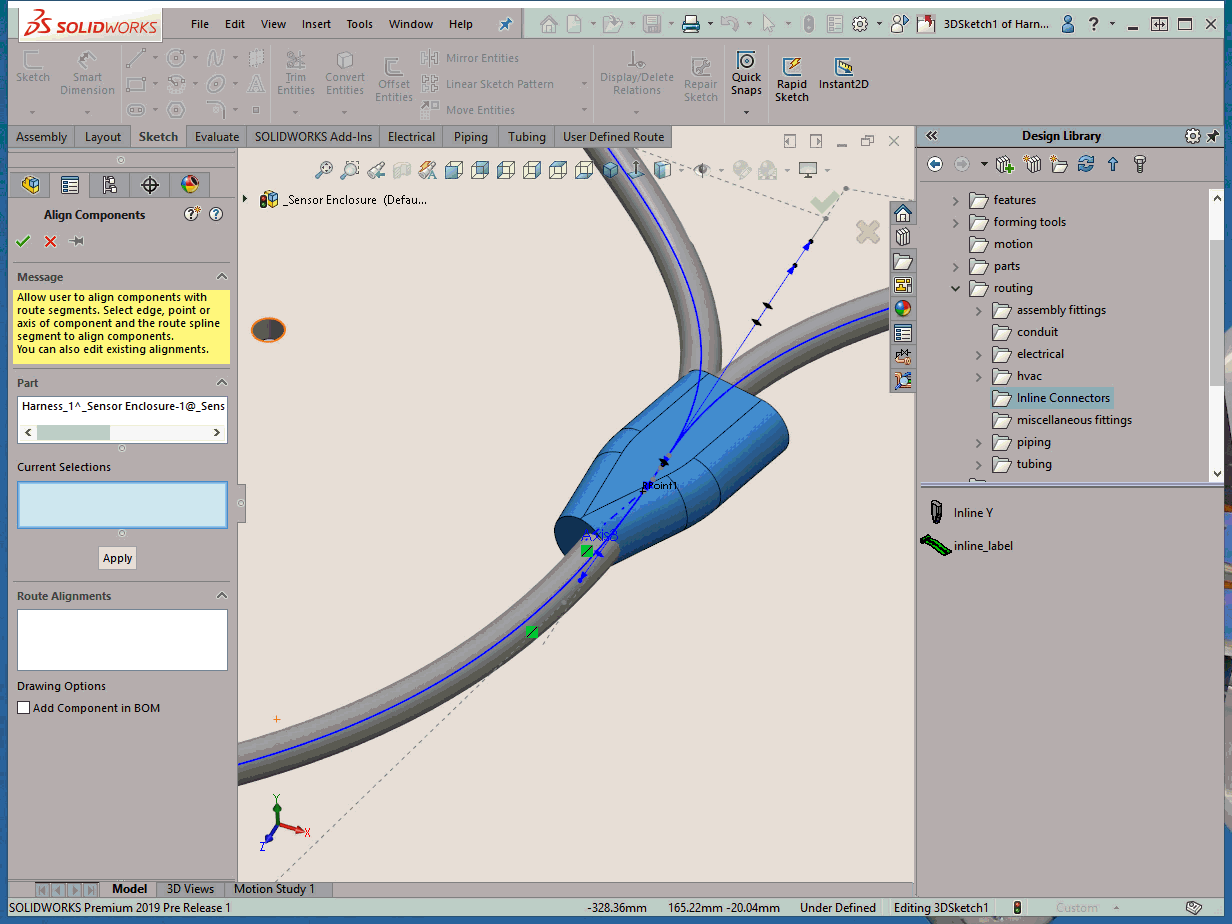 I hope this part of the What's New series gives you a better understanding of the new features and functions of SOLIDWORKS 2019. Please check back to the CATI Blog as the CATI Application Engineers will continue to break down many of the new items in SOLIDWORKS 2019. All these articles will be stored in the category of "SOLIDWORKS What's New."
Kris Dubuque
Field Technical Services Manager
Computer Aided Technology, LLC
Design Innovation Month – October 2018
What is DI MONTH?
CATI is declaring October Design Innovation MONTH. We've created a month-long series of events and activities around design innovation especially for our customers. Attend a SOLIDWORKS 2019 event, enter our rendering contest, and learn about some cool tips and tricks at the daily online events. Plan your month at www.cati.com/design-innovation-month