SOLIDWORKS 2019 What's New – SOLIDWORKS 2019 SP0 is released #SW2019
The wait is over. SOLIDWORKS 2019 SP0 is released today and available for download. For those eager to upgrade, log into the SOLIDWORKS Customer Portal and begin the process. For those who prefer to wait for the media kits, things are changing this year and SOLIDWORKS Corp. will not be proactively mailing Media Kits for SOLIDWORKS 2019.
When you select the Download and Updates link you'll be taken to the familiar Downloads page and you may notice two new selections. The SOLIDWORKS Products link will take you through the familiar steps of accepting the license agreement and then downloading the SOLIDWORKS Installation Manager.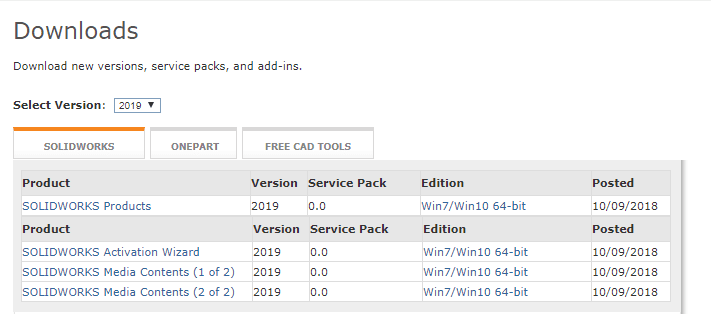 The new options are: SOLIDWORKS Media Contents (1 of 2) and (2 of 2). These downloads are Zip files of the Media Kit DVD's. You'll need to be patient for these to download as they're 7.2 GB and 6.4 GB respectively.
Why is SOLIDWORKS Corp. posting full Zip files of the DVD media? SOLIDWORKS Corp. is changing the way they deliver the software by moving from DVD to electronic distribution for SOLIDWORKS 2019. If you require physical media, DVD distribution media will be available by request only. Starting November 1st, 2018, you can use the following link to request your SOLIDWORKS 2019 Media Kit.
https://solidworks.dsgraphics.com/solidworksmediakit
I hope this part of the What's New series gives you a better understanding of the new features and functions of SOLIDWORKS 2019. Please check back to the CATI Blog as the CATI Application Engineers will continue to break down many of the new items in SOLIDWORKS 2019. All these articles will be stored in the category of "SOLIDWORKS What's New."
Kris Dubuque
Field Technical Services Manager
Computer Aided Technology, LLC
Design Innovation Month – October 2018
What is DI MONTH?
CATI is declaring October Design Innovation MONTH. We've created a month-long series of events and activities around design innovation especially for our customers. Attend a SOLIDWORKS 2019 event, enter our rendering contest, and learn about some cool tips and tricks at the daily online events. Plan your month at www.cati.com/design-innovation-month