SOLIDWORKS 2019 What's New – SOLIDWORKS 3D Interconnect Updates – #SW2019
SOLIDWORKS 3D Interconnect is a tool that was added a few years ago (2017) that allows you to work directly with third-party native CAD files. In SOLIDWORKS 2019, 3D Interconnect can now export files directly to the Revit® Family (*.rfa) format. These exported *.rfa files contain the 3D tessellation data and can also contain the Custom Properties of the original file.
To export to the Revit Family format:
1. Open a model within SOLIDWORKS 2019 and click Tools > Export To AEC…

2. Within the PropertyManager, specify the option for the Type and Orientation and click the small blue Next arrow in the upper right-hand corner of the dialog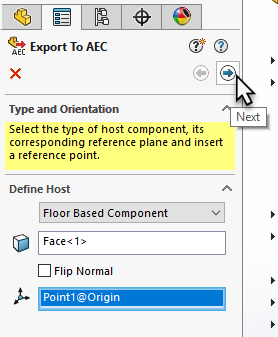 3. Next, select on your preferred export details (High/Medium/Low/Custom Quality) and click the small blue Next arrow in the upper right-hand corner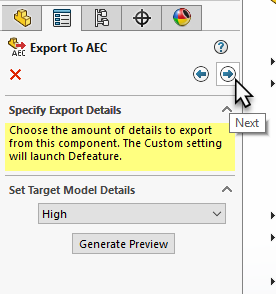 4. A preview of the model is generated and finally you are prompted to Save the file out as a Revit Family format file (*.RFA) or an ACIS format file (*.SAT), and optionally Export Custom Properties if exporting to the Revit Family format (this includes Configuration-Specific Custom Properties of the active configuration)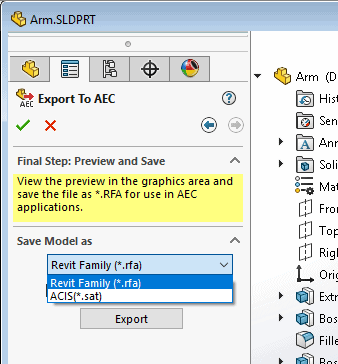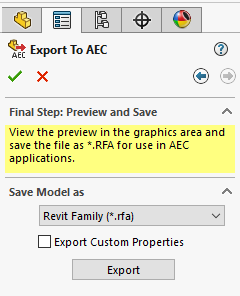 5. Clicking the Export button will allow you to browse to your preferred location to save the file, and specify a File name
Previously, SOLIDWORKS could only export files as *.SAT format for use in AEC (Architecture, Engineering, [and] Construction) applications (SOLIDWORKS 2018 screenshot shown below).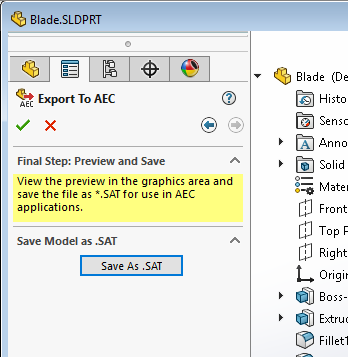 I hope this part of the What's New series gives you a better understanding of the new features and functions of SOLIDWORKS 2019. Please check back to the CATI Blog as the CATI Application Engineers will continue to break down many of the new items in SOLIDWORKS 2019. All these articles will be stored in the category of "SOLIDWORKS What's New."
Nathan Marsh
Sr. Support Engineer
Computer Aided Technology, Inc
Design Innovation Month – October 2018
What is DI MONTH?
CATI is declaring October Design Innovation MONTH. We've created a month-long series of events and activities around design innovation especially for our customers. Attend a SOLIDWORKS 2019 event, enter our rendering contest, and learn about some cool tips and tricks at the daily online events. Plan your month at www.cati.com/design-innovation-month