SOLIDWORKS 2019 What's New – SOLIDWORKS Inspection – #SW2019
SOLIDWORKS Inspection is a great tool to help streamline the creation of your inspection documentation. 2018 saw huge gains, not only in functionality(Standalone / Add-In), but also in the file types that could be used. The efficiency in SOLIDWORKS Inspection 2019 continues.
In 2019, the Bill of Characteristics in the Add-In has been redesigned for better clarity, ease of use, and functionality. It is now laid out in a grid format which allows you to much more clearly see how each characteristic is organized.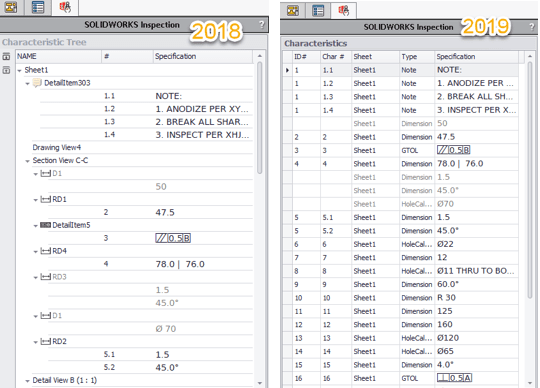 With this nice new grid layout, characteristics can be grouped and ungrouped. The flexibility here allows you to group similar characteristics, have multiple characteristics share a unique balloon, and mark a unique characteristic as "key".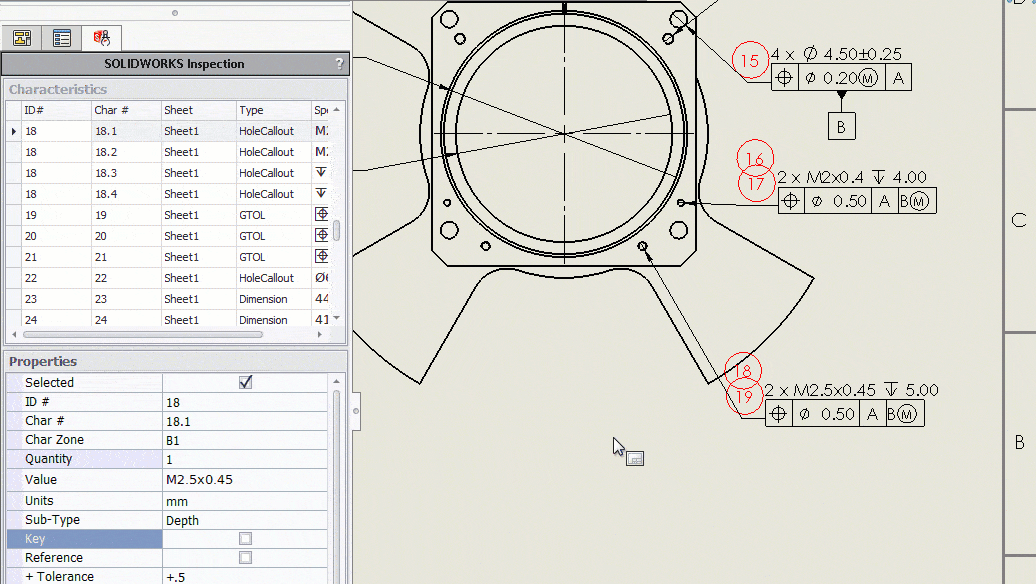 Custom Properties could be easily added manually or pulled directly from the part or drawing file in previous versions, however it was limited to six pre-defined properties. In Inspection 2019 Add-In, you can add your own custom properties, giving you much more flexibility to add the information you need on your inspection reports.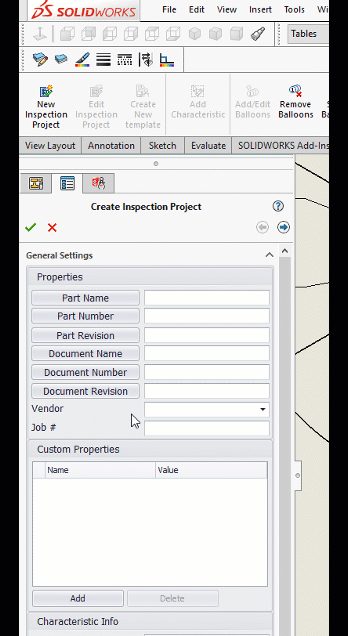 Finally, while all enhancements to Inspection this year were customer driven, this has been a highly requested one. In Inspection 2019 Add-In, you can now extract all information from hole tables, including the X and Y position.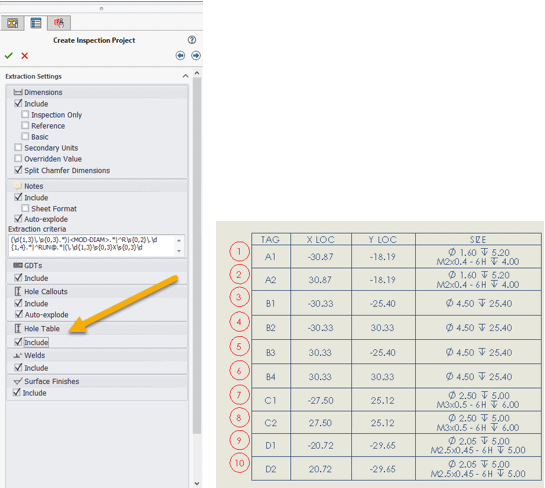 And one last thing! It should also be mentioned, that PDM Integration was added for the Inspection Standalone in Service Pack 2 of 2018, giving users revision and management control of their inspection documentation in the friendly confines of PDM.
I hope this part of the What's New series gives you a better understanding of the new features and functions of SOLIDWORKS 2019. Please check back to the CATI Blog as the CATI Application Engineers will continue to break down many of the new items in SOLIDWORKS 2019. All these articles will be stored in the category of "SOLIDWORKS What's New.".
Ryan Field
Application Engineer
Computer Aided Technology, LLC
Design Innovation Month – October 2018
What is DI MONTH?
CATI is declaring October Design Innovation MONTH. We've created a month-long series of events and activities around design innovation especially for our customers. Attend a SOLIDWORKS 2019 event, enter our rendering contest, and learn about some cool tips and tricks at the daily online events. Plan your month at www.cati.com/design-innovation-month