SOLIDWORKS 2019 What's New – Stress Averaging at Mid-side Nodes – #SW2019
Stress Averaging at Mid-side Nodes is one of several new features in SOLIDWORKS Simulation 2019. If you've been digging through the What's New documentation for SOLIDWORKS Simulation 2019, I would be willing to bet this addition has you stumped. I was when I first read about the new feature and started investigating how this option functioned. In fact, I had to reach out to a couple of good friends who work in SOLIDWORKS Product Definition for clarification of this new feature. Let's demystify Stress Averaging at Mid-side Nodes by reviewing how stresses are calculated, where to activate this option, and how it affects reported stress results.
In SOLIDWORKS Simulation, a solid (3D) mesh is created using tetrahedral elements. When the mesh is generated with high quality tetrahedral elements, there are ten nodes created to define a single element – four nodes at the corners (1 through 4) and six additional mid-side nodes (5 through 10) along the edges. During the solution process, within each element stresses are calculated at locations called Gauss points. The calculated stress at the Gauss points is extrapolated to the element nodes. In SOLIDWORKS Simulation 2018 and prior, the solver uses a stress averaging algorithm to report stresses at the mid-side nodes for each element.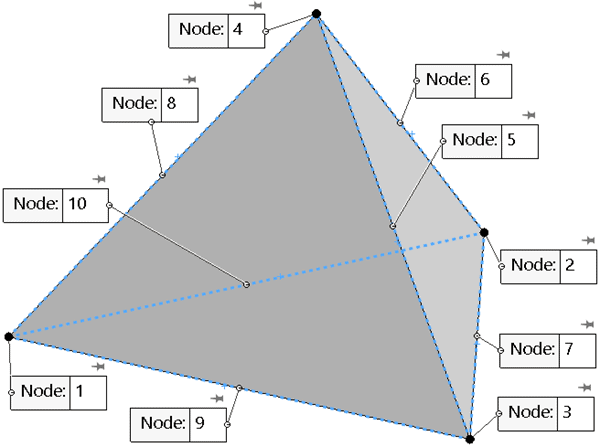 In SOLIDWORKS Simulation 2019, we now have the option to report the stresses at the mid-side nodes using a new stress averaging algorithm. This new option for 'Average Stresses at Mid-side Nodes' can be activated via two methods in SOLIDWORKS Simulation. If you decide to use this new algorithm as the default behavior, you activate this within SOLIDWORKS Simulation's Default Options. Access this via the pull-down menu "Simulation… Options", click on 'Default Options', then 'Results'. The default setting for this new option is "off", where the radio button is unchecked.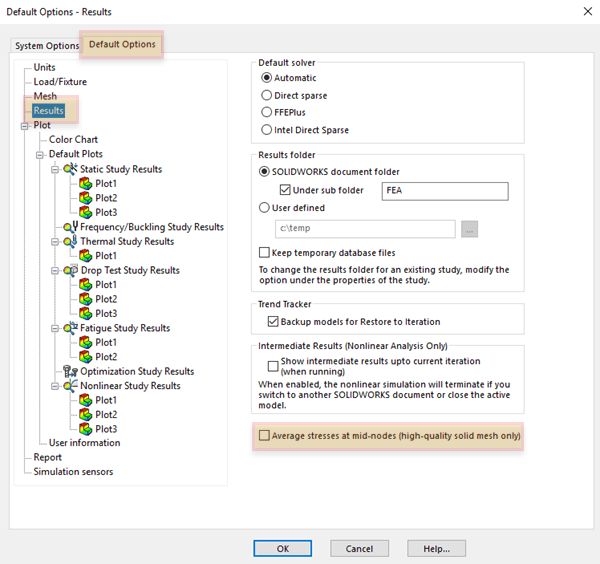 Alternately, this option can be activated for any stress-based results for the following study types: Linear Static, Topology, Drop Test, Pressure Vessel, and Nonlinear Static. This option is not available for Linear Dynamic studies. To utilize this new stress averaging algorithm for a specific study, access the Study Properties by right-clicking on the study name at the top of the SOLIDWORKS Simulation Feature Tree, then check the box for 'Average stresses at mid-nodes'.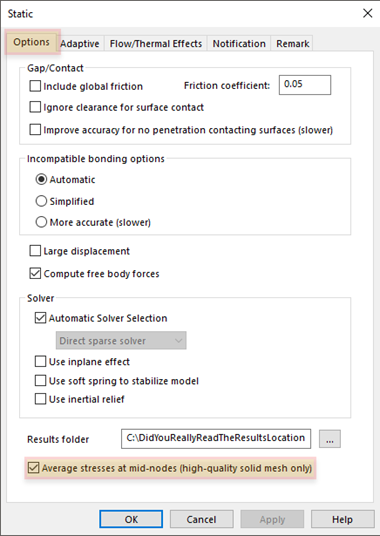 When using this option, the stress results at the mid-side nodes are generated during post-processing. This new option will generate better stress averaged results if the element is located within a region of the part with high curvature. (Note: The initial What's New PDF indicated that this affected mid-side nodes for elements with high aspect ratios, not high curvature regions.)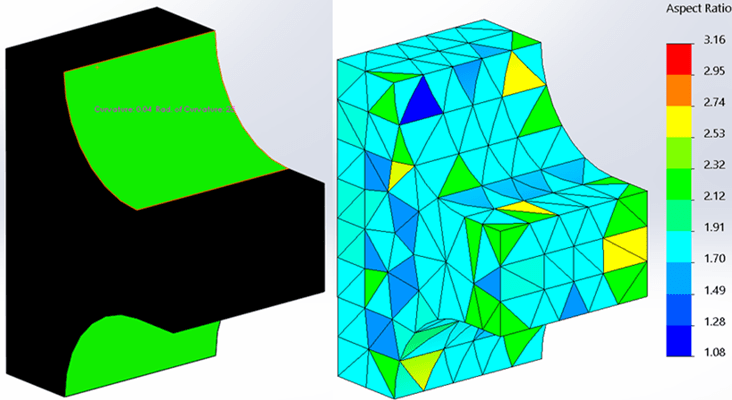 To visualize how this option will modify the reported stress results, I have created a a stress plot showing nodal von Mises Stress. Using the original stress calculation algorithm, I used the Probe tool to query the results at several locations along a curved edge of the part. The results at the two mid-side nodes are 111.55 MPa and 103.23 MPa for nodes 1489 and 1497, respectively.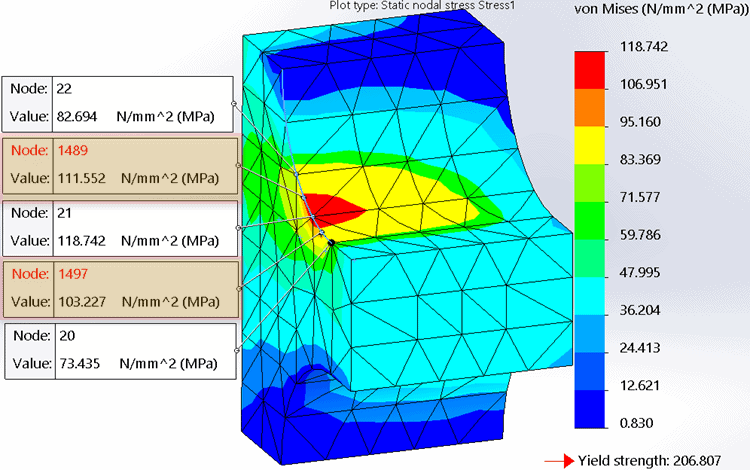 After reviewing these results, I activated the new stress averaging algorithm in the Study Properties to see how the probed results change. Now the stresses at those same mid-side nodes is reported as 96.44 MPa and 94.93 MPa.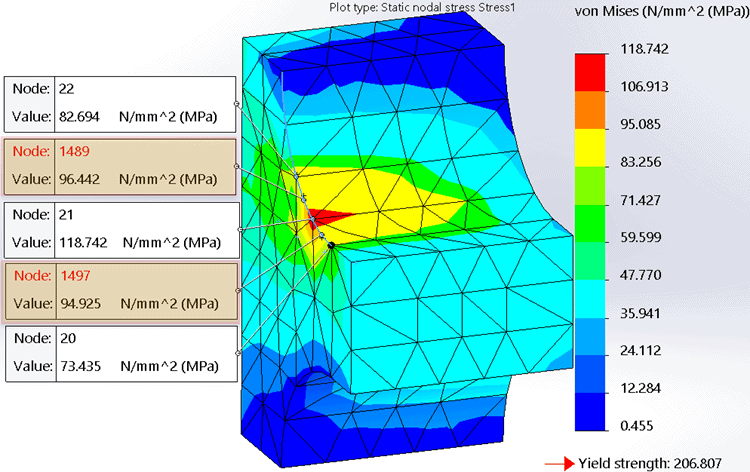 For mid-side node 1489, the new stress-averaged result is close to the value of ( (Stress [Node 21] + Stress [Node 22] ) / 2). This is what the What's New documentation indicates should occur.
I think there are two key takeaways for "Stress Averaging at Mid-side Nodes". The first is that using this new algorithm is optional for users. The second is that it has the greatest affect on results of mid-side nodes in areas of high curvature. In my evaluation of this new feature, I did witness the reported stresses of mid-side nodes change slightly on low-curvature regions of parts that are in proximity to high-curvature regions on the same part. I need to perform more testing on mostly prismatic geometry to verify if the reported stresses vary in this scenario, as well. I'm looking forward to additional testing with the new feature "Stress Averaging at Mid-side Nodes"! Now go make your products better with SOLIDWORKS Simulation!
I hope this part of the What's New series gives you a better understanding of the new features and functions of SOLIDWORKS 2019. Please check back to the CATI Blog as the CATI Application Engineers will continue to break down many of the new items in SOLIDWORKS 2019. All these articles will be stored in the category of "SOLIDWORKS What's New".
Bill Reuss
Product Specialist, Simulation
Computer Aided Technology, LLC
Design Innovation Month – October 2018
What is DI MONTH?
CATI is declaring October Design Innovation MONTH. We've created a month-long series of events and activities around design innovation especially for our customers. Attend a SOLIDWORKS 2019 event, enter our rendering contest, and learn about some cool tips and tricks at the daily online events. Plan your month at www.cati.com/design-innovation-month