SOLIDWORKS 2019 What's New – Treehouse – #SW2019
This year SOLIDWORKS Treehouse 2019 has seen some great enhancements to both the interface and functionality. If you are unfamiliar with the tool, SOLIDWORKS Treehouse enables you show or create assembly hierarchy structure in a graphical manner. In 2018 you could drag and drop part, assembly, and drawing documents onto existing assemblies, or create brand new assemblies showing related components and links BEFORE any geometry was created. You could also edit file properties of existing documents, as well as add configurations, and suppress components.
SOLIDWORKS Treehouse 2019 has a few enhancements in OPTIONS to allow you better manage how the tiles are show in the graphics area.
File Extensions – Clearing this option allows more space to show the document name.
Images – For large assemblies, the ability to disable the file preview images is a great way to maximize your available screen area.
Name to Display – Now, instead of using the file name exclusively, you can now use any saved custom property, making it easier to identify documents if you had used part numbers as file names.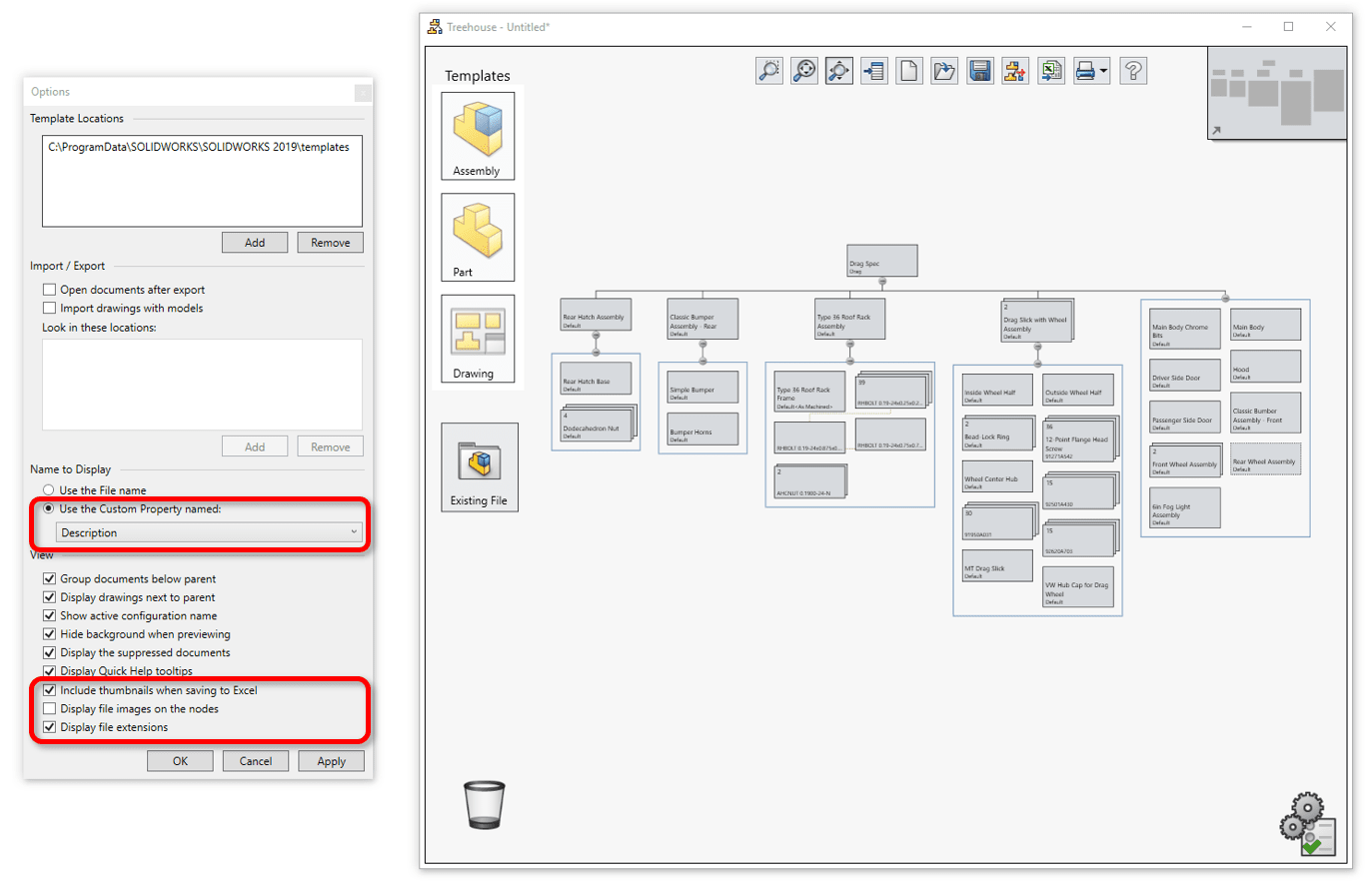 Excel Export – SOLIDWORKS Treehouse 2019 now supports adding graphical preview images into the excel spreadsheet during export. This can be enabled in the options (shown above) for Treehouse. This is a great option to use with collaborating with other team members, and with the preview, reducing the risk of misidentifying parts or assemblies.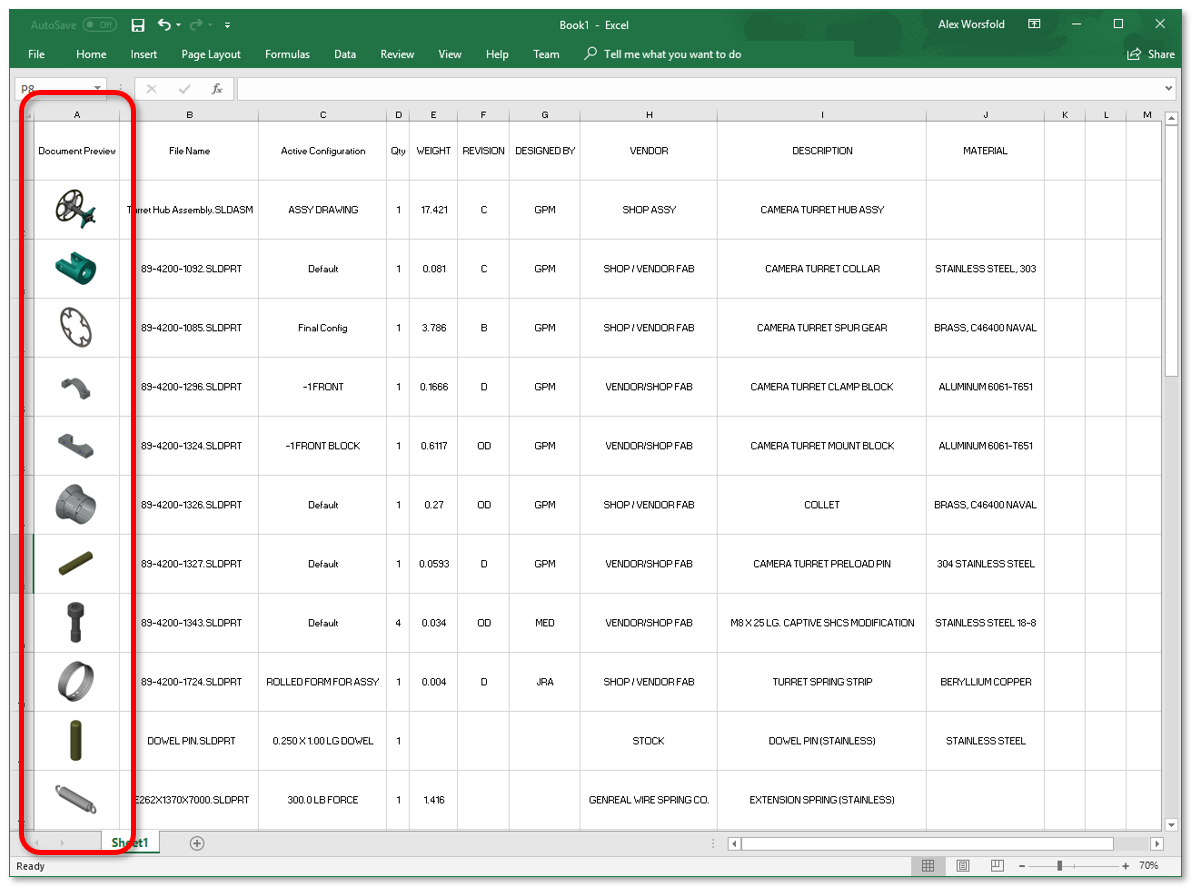 Properties – SOLIDWORKS Treehouse 2019 can now add NEW and edit custom properties for existing parts, as well as create properties for new documents created directly in treehouse. In previous versions you could edit existing properties, but adding new ones required the files to be opened in SOLIDWORKS directly. Now in SOLIDWORKS Treehouse 2019, the properties window is identical in functionality to the one found in SOLIDWORKS.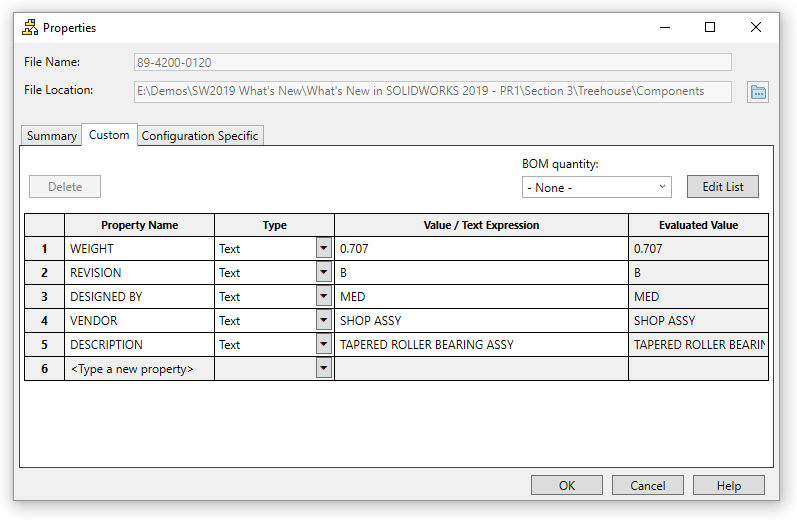 List View – Custom Properties can also now be edited directly from the list view. Again, adding new properties and editing existing info, no longer requires opening the documents in SOLIDWORKS.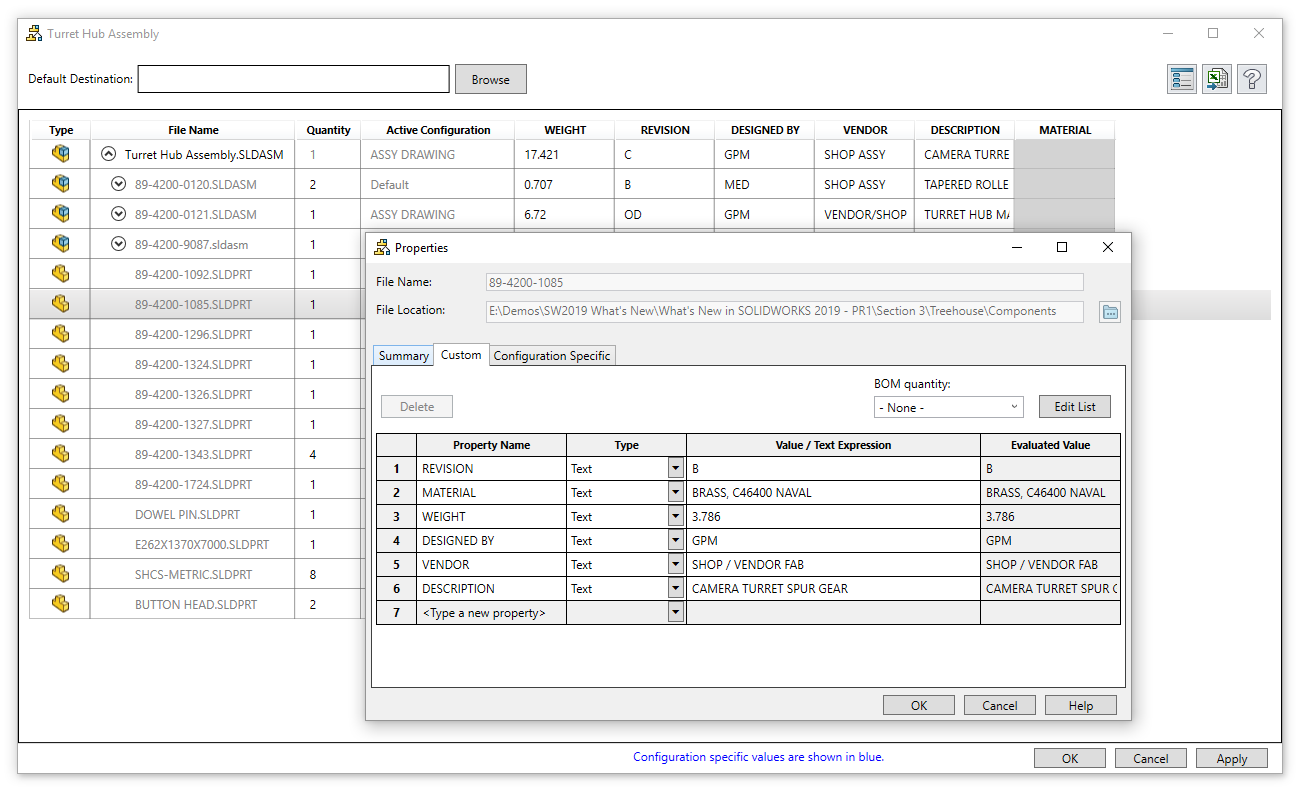 Graphics area – You might notice that the size of each node has been increased horizontally for better clarity of the names used. Links for Configurations and Custom Properties have been moved to the top of the node for easier access; and to better display sub-assemblies, their format has been adjusted to display more vertically.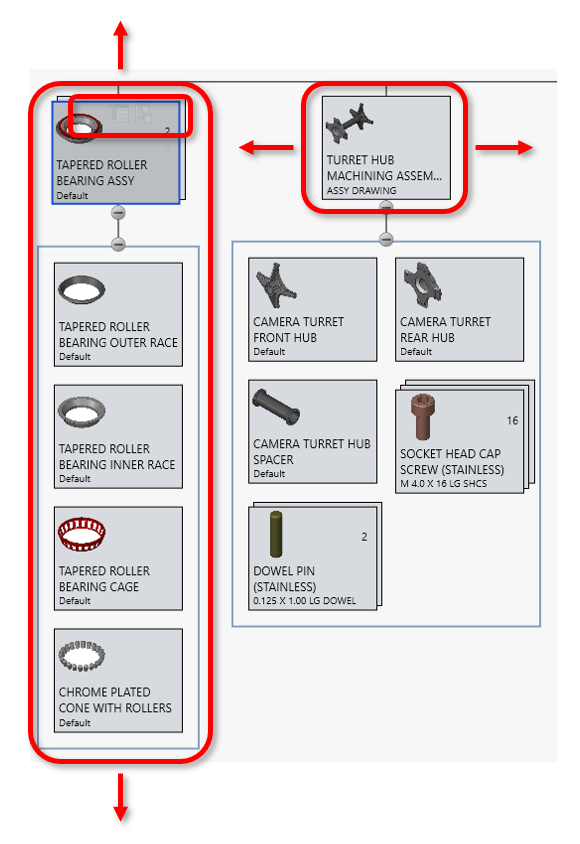 These new options and features in SOLIDWORKS Treehouse 2019 give you greater flexibility to edit and create new file structures!
I hope this part of the What's New series gives you a better understanding of the new features and functions of SOLIDWORKS 2019. Please check back to the CATI Blog as the CATI Application Engineers will continue to break down many of the new items in SOLIDWORKS 2019. All these articles will be stored in the category of "SOLIDWORKS What's New."
Alex Worsfold – CSWE
Application Engineer
Computer Aided Technology, LLC
Design Innovation Month – October 2018
What is DI MONTH?
CATI is declaring October Design Innovation MONTH. We've created a month-long series of events and activities around design innovation especially for our customers. Attend a SOLIDWORKS 2019 event, enter our rendering contest, and learn about some cool tips and tricks at the daily online events. Plan your month at www.cati.com/design-innovation-month