SOLIDWORKS 2019 What's New – Trim Entities Enhancements – #SW2019
In SOLIDWORKS 2019, the trim entities tool has been improved. The new options make it easier to keep the sketches being trimmed fully defined. #newyearnewtrim
The first improvement: Keep trimmed entities as construction geometry. What this does is allows you to convert anything you are trimming into construction geometry.

The second improvement: Ignore trimming of construction geometry. This option saves all your construction lines and arcs from being chopped out.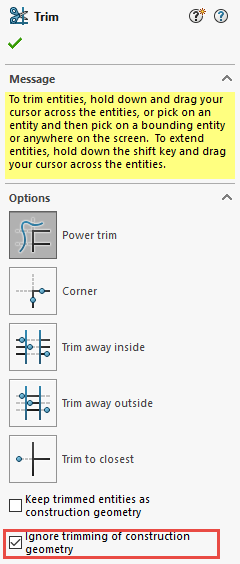 These options maintain dimensional relations and some geometric relations depending on what you are trimming. You can use both options together, or not at all, if you're not ready to let go of the past.
I hope this part of the What's New series gives you a better understanding of the new features and functions of SOLIDWORKS 2019. Please check back to the CATI Blog as the CATI Application Engineers will continue to break down many of the new items in SOLIDWORKS 2019. All these articles will be stored in the category of "SOLIDWORKS What's New."
Madeline Speer
Applications Engineer
Computer Aided Technology, Inc
Design Innovation Month – October 2018
What is DI MONTH?
CATI is declaring October Design Innovation MONTH. We've created a month-long series of events and activities around design innovation especially for our customers. Attend a SOLIDWORKS 2019 event, enter our rendering contest, and learn about some cool tips and tricks at the daily online events. Plan your month at www.cati.com/design-innovation-month