SOLIDWORKS 2019 What's New – Visualize Denoiser – #SW2019
SOLIDWORKS has been focusing in increasing speed and efficiencies throughout the program. With the instant popularity in the SOLIDWORKS Visualize rendering tool, it is no surprise to see an awesome new tool called Denoiser. Denoiser is a post processing that filters out unfinished and noisy images to significantly reduce the number of rendering passes required to complete a rendering.
Standard rendering takes X number of passes.
Denoiser rendering takes .1 * X number of passes.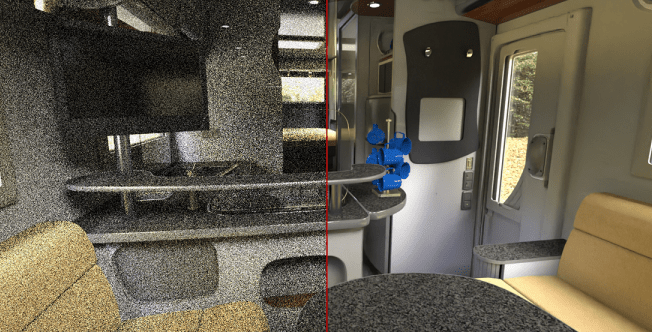 The initial feedback from the user community has been very positive for this new function. Please be sure to check out this option.
You will find it under the Tools, Options, 3D Viewport inside of SOLIDWORKS Visualize.
We recently talked about the new Denoiser in a previous blog post, so if you would like to learn more about it you can read the previous blog post.
I hope this part of the What's New series gives you a better understanding of the new features and functions of SOLIDWORKS 2019. Please check back to the CATI Blog as the CATI Application Engineers will continue to break down many of the new items in SOLIDWORKS 2019. All these articles will be stored in the category of "SOLIDWORKS What's New."
Design Innovation Month – October 2018
What is DI MONTH?
CATI is declaring October Design Innovation MONTH. We've created a month-long series of events and activities around design innovation especially for our customers. Attend a SOLIDWORKS 2019 event, enter our rendering contest, and learn about some cool tips and tricks at the daily online events. Plan your month at www.cati.com/design-innovation-month
Bryan Pawlak
Sr. Application Engineer
Computer Aided Technology, Inc