SOLIDWORKS 2022 What's New – Assemblies – Move with Triad & Quick Mates Toolbar
Move with Triad
New in SOLIDWORKS 2022, whenever you select a part in an assembly, the move with triad will automatically become active. While the "Move with Triad" function is not new, you no longer need to right click and activate the option for it to activate. All the usual ways to move a part are still active in SOLIDWORKS 2022, but now the triad will also be available.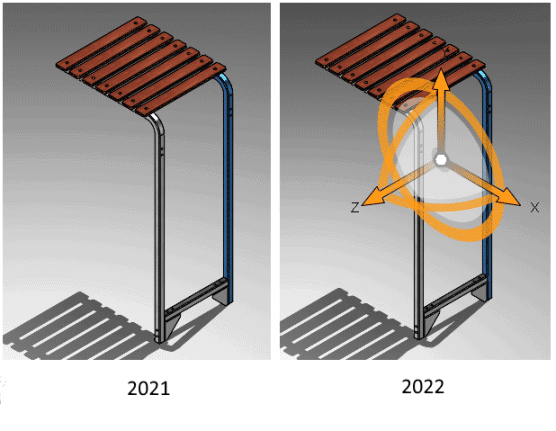 The triad only shows up when a Part is selected, so selecting faces or edges will not cause the triad to show up. You can quickly select the part by using the breadcrumbs toolbar.

There are several advantages to using a triad or at least having it available automatically. Moving objects in precise ways is often difficult without it. Sometimes when moving things in space the 3rd axis can cause things to actually move much further away than expected. Using the triad arrows makes it easier to put things right where you want them. You can even move things a specific distance using the automatic ruler as shown below.
And as always, if you hold down the CTRL key while drawing the part will be copied, even when using the triad.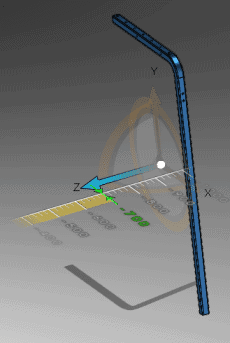 Quick Mates Context Toolbar
There is now an option to always show the Finish Mate button on the quick mates context toolbar. The option replaces the option to show flip alignment and lock rotation which are now always on.

You can find the option in the Customize dialog window. Note this is not the Options dialog.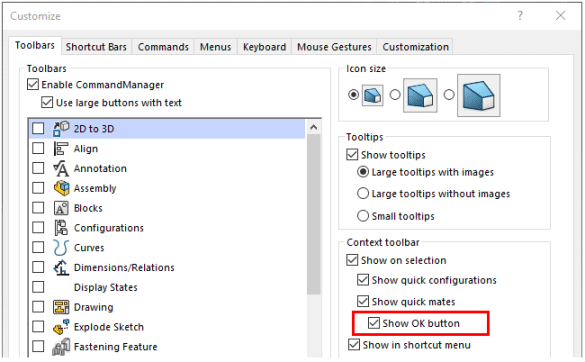 With the option off, the mates will always be created/added as soon you select the type of mate on the toolbar. If you enable the option, (it is off by default) then the system will pause and wait for you to click the OK button before adding the new mate. The advantage there is that you can flip rotation or select a different mate if you accidently chose the wrong one before it is actually created.
I hope this part of the What's New series gives you a better understanding of the new features and functions of SOLIDWORKS 2022. Please check back to the CATI Blog as the CATI Application Engineers will continue to break down many of the new items in SOLIDWORKS 2022. All these articles will be stored in the category of "SOLIDWORKS What's New."
Joe Phillips
Application Engineer
Computer Aided Technology
What is Design Innovation Month?
DESIGN INNOVATION MONTH 2021 – Webinars, Virtual Showroom, Contests
Design Innovation Month is CATI's massive "What's New in 2022" event for SOLIDWORKS, 3DEXPERIENCE, and 3D printing & 3D scanning technology.  That's six weeks of live and on-demand webinars, demonstrations, in-depth blog posts, and prizes!  Best of all, it's free of charge! Check the DI Month Hub for all the details and to sign up for your next event.