SOLIDWORKS 2022 What's New – Connection Element for Structure Systems
A new feature to arise out of SOLIDWORKS 2022 is the Connection Element for Structure Systems. SOLIDWORKS lets us design very complex shapes, but this new feature will have us breaking these shapes down into manageable sizes with ease and lets you define you own connections like a Library Part. You can use the included Elements and edit to your liking or add in some custom ones. Connection Elements are bolted connections that can be bolted or welded to your frame. Parts that need to be swapped out because of wear can benefit from this as it is much easier to unbolt a worn-out piece than grind it off (Usually). Connection points for Field install is very popular as well. Shipping long straight items and bolting them together at the sight can be very useful.

If you end up customizing anything, you should put the files in an appropriate location to share and backup. Along with most customization in SOLIDWORKS you will have to point the location to your custom files; in this case it is easily to find "Structure Systems – Connection Elements".
The included connection elements is pretty simple, but great for a starting point. The thumbnail preview is fantastic if you do not recall what the part looks like.
A behind the scenes look is quite normal. Under the Standard pull down is the folder which you are pulling parts from, in this case it is called "Sample", the Type is the name of the part files within the folder, Size is a configuration within the part file. As you might expect you could have multiple folders for various reasons to help with organization and each of those folders will have to be mapped in the File Locations to make them available.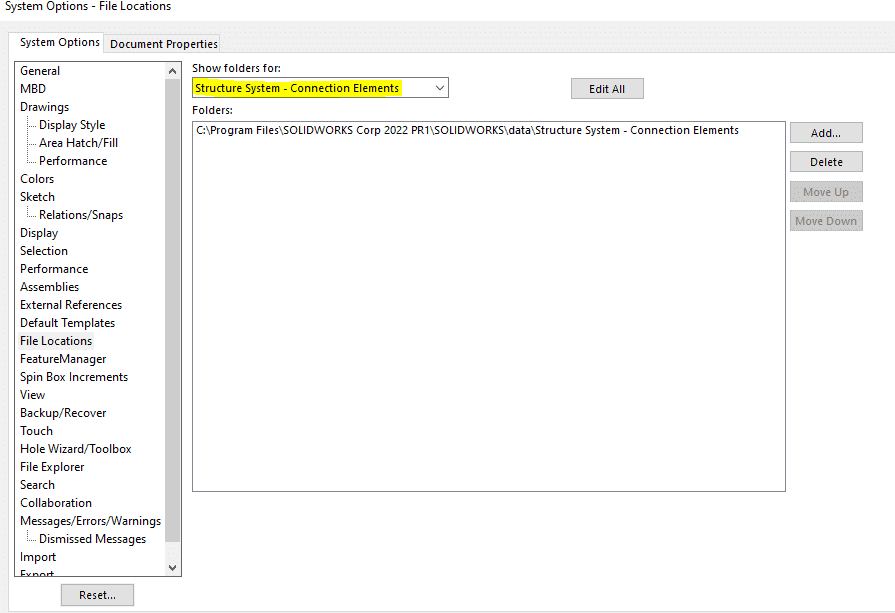 To Define a connection Element, the first step is to draw it. I made a quick angle bracket with a few holes. The benefit with adding in the holes here, is that I can propagate that in the Structure System when I insert the bracket. This takes the guess work out of alignments and redoing some of the simple work if something should shift.

There are two different placement types that should be defined, Generic Connection and End Connection.

I saved this into my structure systems-connection elements directory so I can use it on my structure system.
After I specify the connection point, in this case my newly created one, I can choose where I would like to place it. Based on the clicks and alignment options, it is easy to get the part in the correct spot without much effort. I have highlighted the Tertiary entity to show that I selected the face of the structure system, but if you look, I defined the Tertiary reference to the mid-plane of my part. The Offset Placement tool made quick work of this error and I was able to offset my bracket and place it in the right spot.
Once placed, the Cut Scope allows me to continue the holes from the bracket Element to the Structure System! Up to next works fine, as I do not want my holes going all the way through my channel.
Here is an image with my bracket hidden showing the 4 holes that were automatically added.
`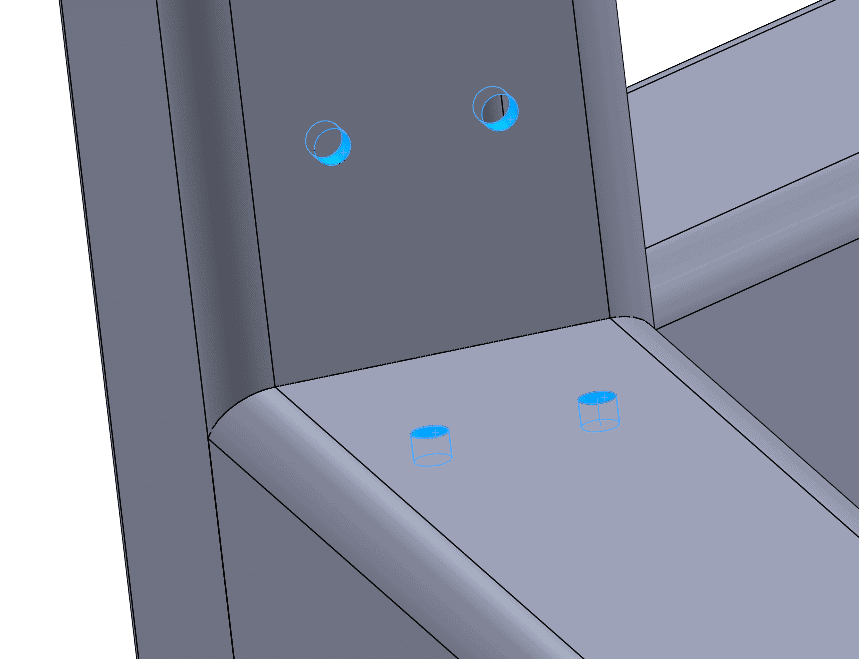 I hope this part of the What's New series gives you a better understanding of the new features and functions of SOLIDWORKS 2022. Please check back to the CATI Blog as the CATI Application Engineers will continue to break down many of the new items in SOLIDWORKS 2022. All these articles will be stored in the category of "SOLIDWORKS What's New."
Craig Maurer
Sr. Applications Engineer
Computer Aided
DESIGN INNOVATION MONTH 2021 – Webinars, Virtual Showroom, Contests
Design Innovation Month is CATI's massive "What's New in 2022" event for SOLIDWORKS, 3DEXPERIENCE, and 3D printing & 3D scanning technology.  That's six weeks of live and on-demand webinars, demonstrations, in-depth blog posts, and prizes!  Best of all, it's free of charge! Check the DI Month Hub for all the details and to sign up for your next event.