SOLIDWORKS 2022 What's New - Cropping Alternate Position View, Predefined Views, Bend Lines In Drawing Views
SOLIDWORKS 2022 has brought a number of great enhancements for drawings!
We are going to cover the following enhancements: Cropping Alternate Position Views, Predefined Views, and Bend Lines in Drawing Views
Alternate Position Views
Alternate Position Views for parts was a great enhancement added in SOLIDWORKS 2020 (only assemblies previously). In the 2022 release they are even better since SOLIDWORKS has added the ability to crop the views. Thus, allowing you to focus or show only the portion of the view that is critical for detailed information.
In the example below we can see this clamp in two different positions.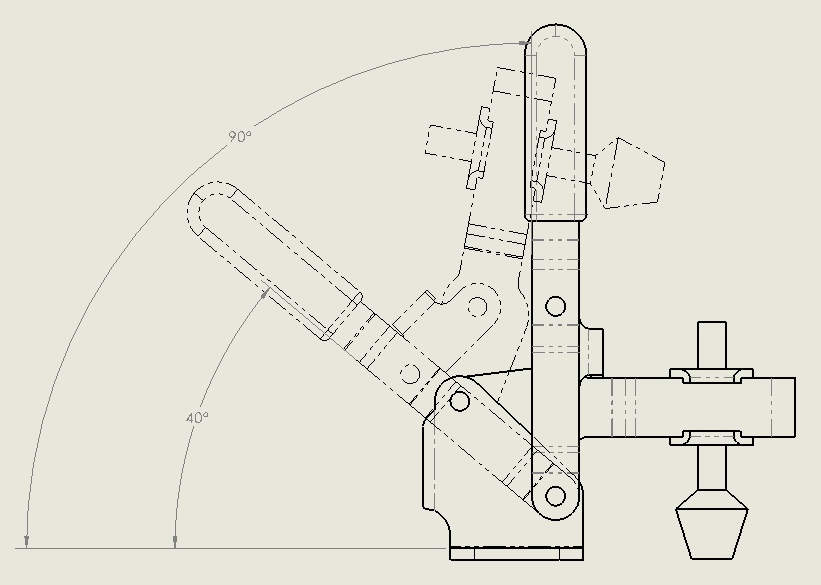 We can then crop the view to only show the area that we want to be the focus. Here we want the focus on the open and close angles for the hinge..
This also allows us to free up whitespace on the drawing for other views. Now let us move on to our next enhancement, Predefined Views.
Predefined Views
Predefined Views have always been a great way to setup drawing templates with a specific style or format. You could select the Front, Back, Left, Right, Top, Bottom, and Isometric views with Predefined Views. SOLIDWORKS 2022 now adds Dimetric, Trimetric, and……. Flat Pattern! This is a great enhancement for those sheet metal designers out there! Now you can setup a drawing template using Predefined Views and include the flat pattern. This will streamline your workflow even further.
SOLIDWORKS 2021 and older Predefined View Options (Below)
SOLIDWORKS 2022 and later Predefined View Options (Below)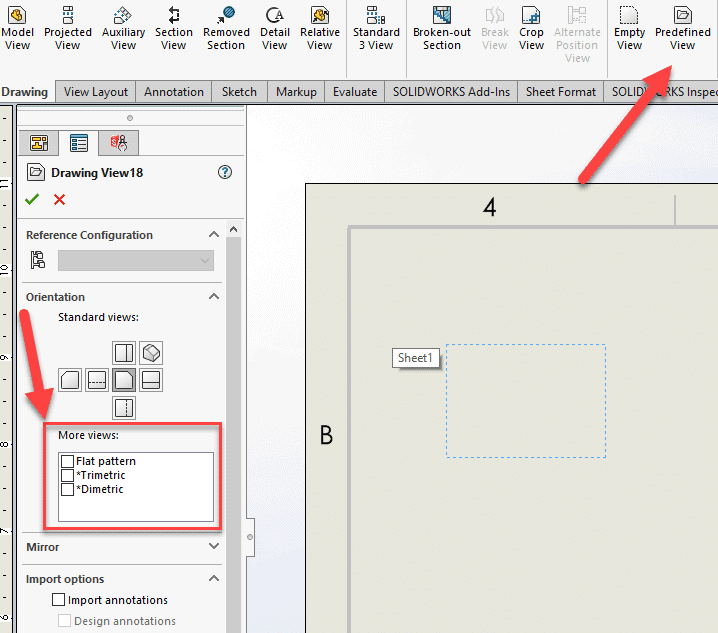 Next up is Bend Lines in Drawing Views
Bend Lines in Drawing Views
Our third and final enhancement for today is the ability to toggle bend lines on or off. In conjunction with this, bend lines are now independent of sketches. Previously, if you hid sketches in the flat pattern view, the bend lines would also be hidden. We now have greater control of what data we want to display for the flat patterns, whether it is sketch information or bend information. You can find the toggle for this command under the Heads-up View toolbar or from the View dropdown menu. This applies to both part and drawing files.
Image below shows command from the Heads-up View Toolbar
Image below shows the command from the View Dropdown Menu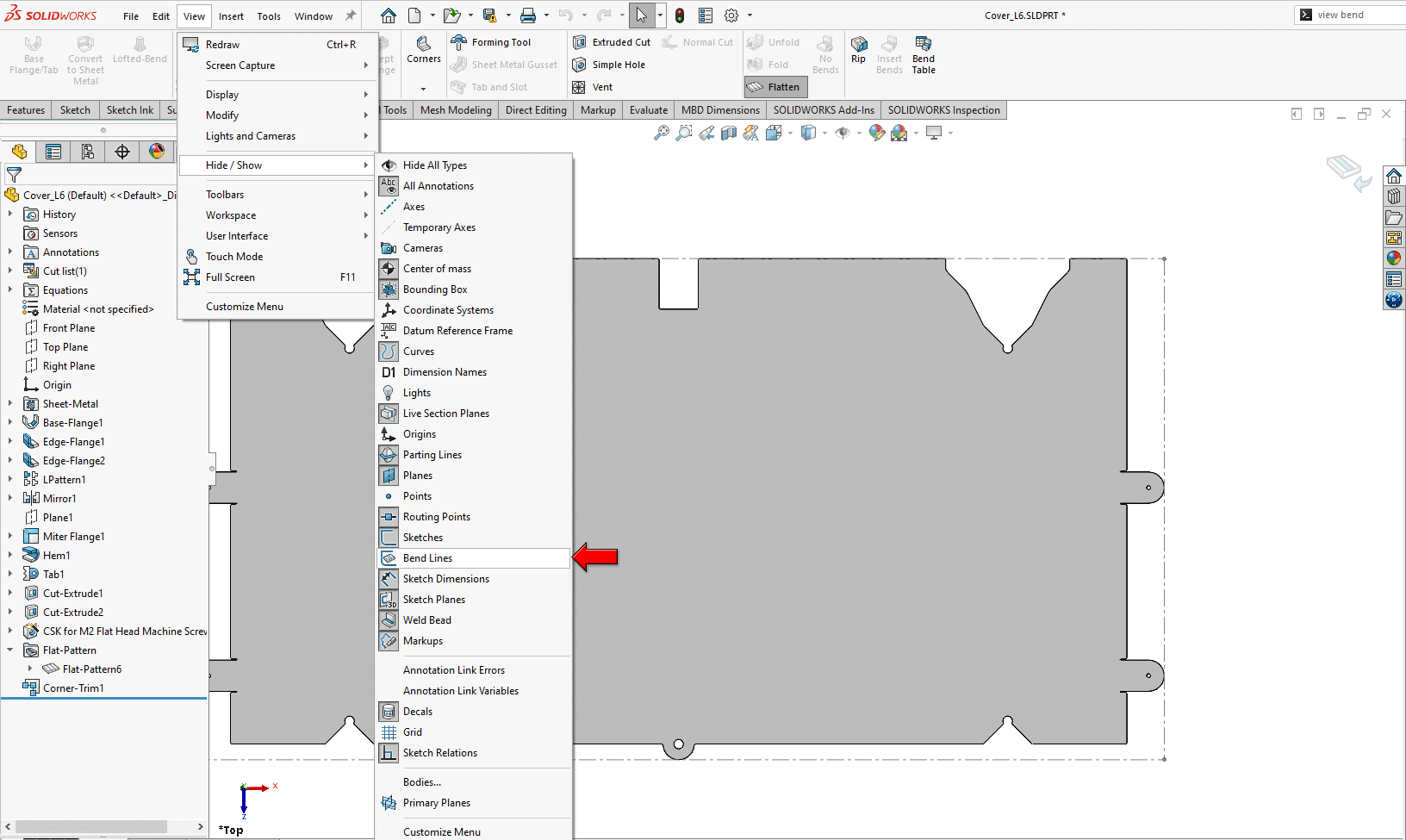 Bend lines toggled on in a sheet metal part file shown below
Bend lines toggled off in a sheet metal part file shown below
Bend lines toggled on in a sheet metal drawing file shown below
Bend lines toggled off in a sheet metal drawing file shown below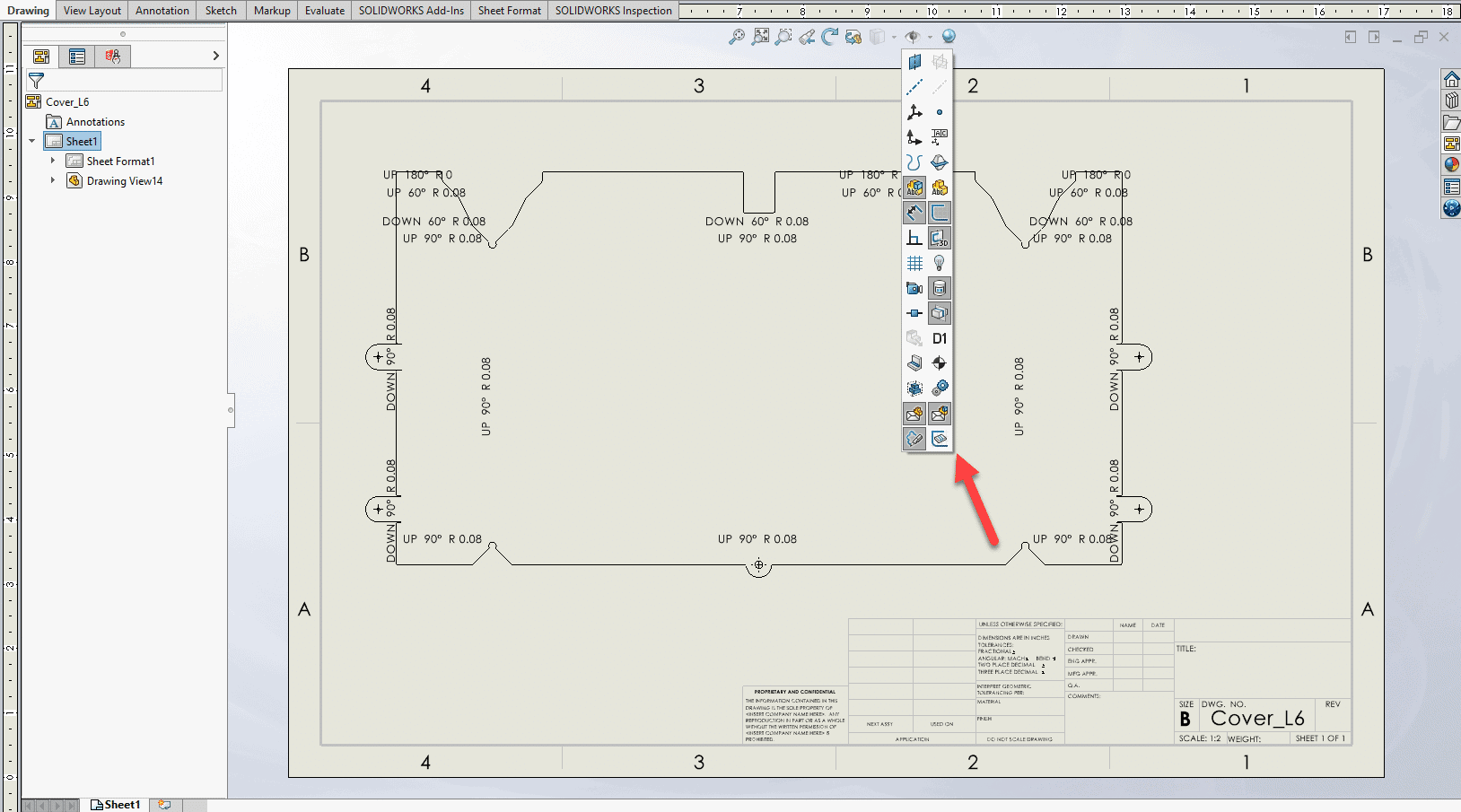 I hope this part of the What's New series gives you a better understanding of the new features and functions of SOLIDWORKS 2022. Please check back to the CATI Blog as the CATI Application Engineers will continue to break down many of the new items in SOLIDWORKS 2022. All these articles will be stored in the category of "SOLIDWORKS What's New."
James Reeher
Application Engineer II
Computer Aided Technology
DESIGN INNOVATION MONTH 2021 – Webinars, Virtual Showroom, Contests
Design Innovation Month is CATI's massive "What's New in 2022" event for SOLIDWORKS, 3DEXPERIENCE, and 3D printing & 3D scanning technology.  That's six weeks of live and on-demand webinars, demonstrations, in-depth blog posts, and prizes!  Best of all, it's free of charge! Check the DI Month Hub for all the details and to sign up for your next event.