SOLIDWORKS 2022 What's New – Custom Properties Architecture and Properties Dialog Box
In SOLIDWORKS 2022, there have been some great enhancements to the custom properties architecture and the properties dialog box. First of all, configuration specific properties have now been separated into two tabs: Configuration Properties and Properties Summary.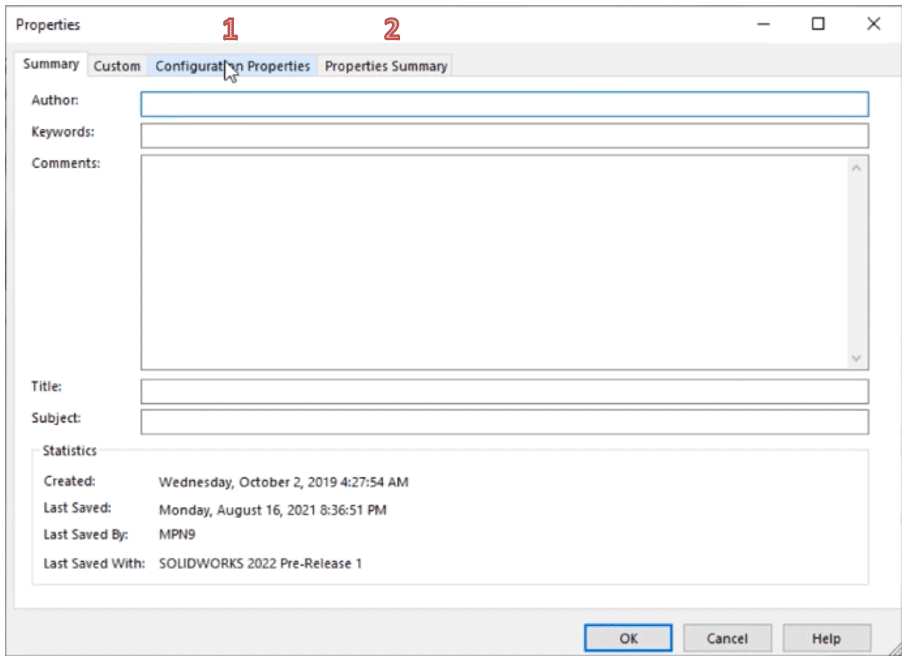 In the first tab, Configuration Properties, there are two sections. The first section on the left lists all of the configurations and derived configurations. In the second section on the right, you are still able to enter the property information just like before. However, in SOLIDWORKS 2022, you now have the ability to choose which configuration the property is applied to using the dropdown.
In the second tab, the Properties Summary provides a useful way to compare configurations based on a specific custom property. For example, I can see in one list all of the materials that I applied to each configured part.
You can upgrade custom properties of files created in SOLIDWORKS 2017 or earlier. When you run Upgrade Custom Properties on legacy files, their custom properties are upgraded to the new architecture. After the upgrade, the following features are available to the legacy files:
Linked column in the Custom Properties dialog box
Configuration-specific cut list and custom properties
Equation in File Properties
Enhanced Configuration Specific Properties dialog box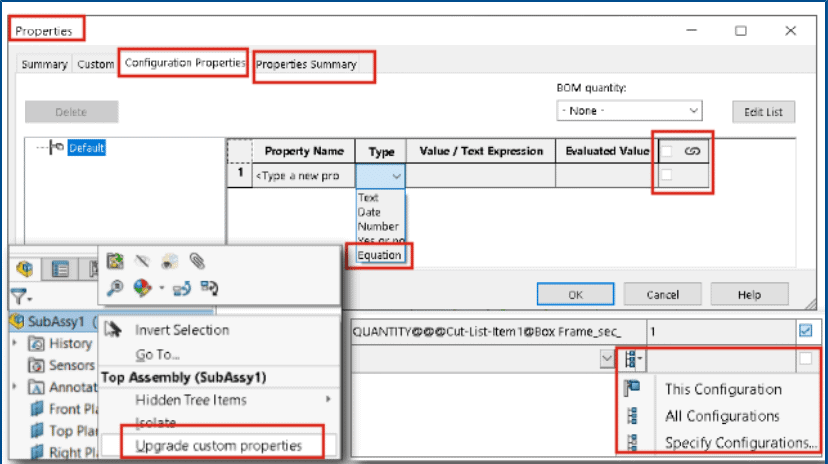 I hope this part of the What's New series gives you a better understanding of the new features and functions of SOLIDWORKS 2022. Please check back to the CATI Blog as the CATI Application Engineers will continue to break down many of the new items in SOLIDWORKS 2022. All these articles will be stored in the category of "SOLIDWORKS What's New."
Ken LaVictor
Sr. Applications Engineer
Computer Aided Technology
DESIGN INNOVATION MONTH 2021 – Webinars, Virtual Showroom, Contests
Design Innovation Month is CATI's massive "What's New in 2022" event for SOLIDWORKS, 3DEXPERIENCE, and 3D printing & 3D scanning technology.  That's six weeks of live and on-demand webinars, demonstrations, in-depth blog posts, and prizes!  Best of all, it's free of charge! Check the DI Month Hub for all the details and to sign up for your next event.