SOLIDWORKS 2022 What's New – Detailing Mode
First introduced in SOLIDWORKS 2020, Detailing mode is an amazing tool to help users open drawings lightning fast. I mean ridiculously fast, like ludicrous speed fast. When it was introduced, Detailing mode worked so fast because SOLIDWORKS did not load model data so you could quickly make updates to drawings that did not require model data. Quick changes like adding dimensions or annotations of existing views no longer needed to wait for excessive load time of large model data, provided the drawing was saved in SOLIDWORKS 2020.
In SOLIDWORKS 2021 Detailing mode was extended to include the ability to create and modify break, crop, and detail views, plus add and edit hole callouts, and edit additional characteristics of existing dimensions and annotations. But in order to add or edit the break, crop or detail views the drawing needs to be saved in SOLIDWORKS 2021.
New to SOLIDWORKS 2022, Detailing mode was extended to include the ability to create hole tables, insert standard views (top, front, right, etc) from the View Palette and use saved model data while in Detailing mode. The last two capabilities are document properties, so you'll want to be sure and update templates to include these for future use!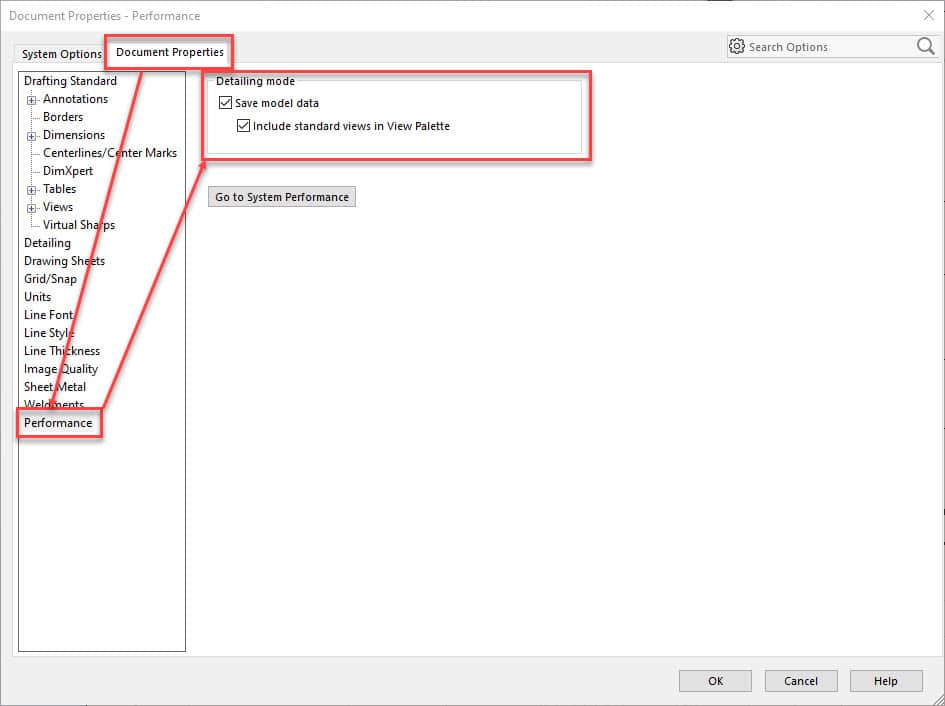 But most importantly new to SOLIDWORKS 2022, Detailing mode is available for all drawings (except detached drawings), regardless of the SOLIDWORKS version the drawing was saved in or if it was previously saved in Detailing mode! Now old drawings can be opened with the ludicrous speed of Detailing mode for quick review. Even better, imagine you open an old drawing and get a preview for a slight minute and then 'X's everywhere because part or assembly files have been moved or deleted. (Because that never happens, right?)
Now in SOLIDWORKS 2022 you can open the drawing file in Detailing to see the drawing. Since the model data is not loaded, the drawing can stand on its own.
Obviously, there are some caveats to using Detailing Mode as a means of opening old drawing files. For old drawings that do not have the necessary Detailing Mode data (think pre-SOLIDWORKS 2020), you aren't able to make the modifications that you can once the drawing has been saved in SOLIDWORKS 2022 like adding dimensions, annotations, views, etc. You can only view the drawing, but sometimes that's half the battle. Also, if there have been changes to the original part or assembly files AND they have not been moved or deleted, SOLIDWORKS gives a warning that content may be out of date.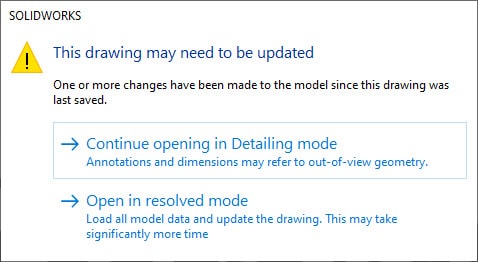 If you continue opening in Detailing mode certain views will show out of date similar to what we're accustomed to for out-of-date views on resolved drawings.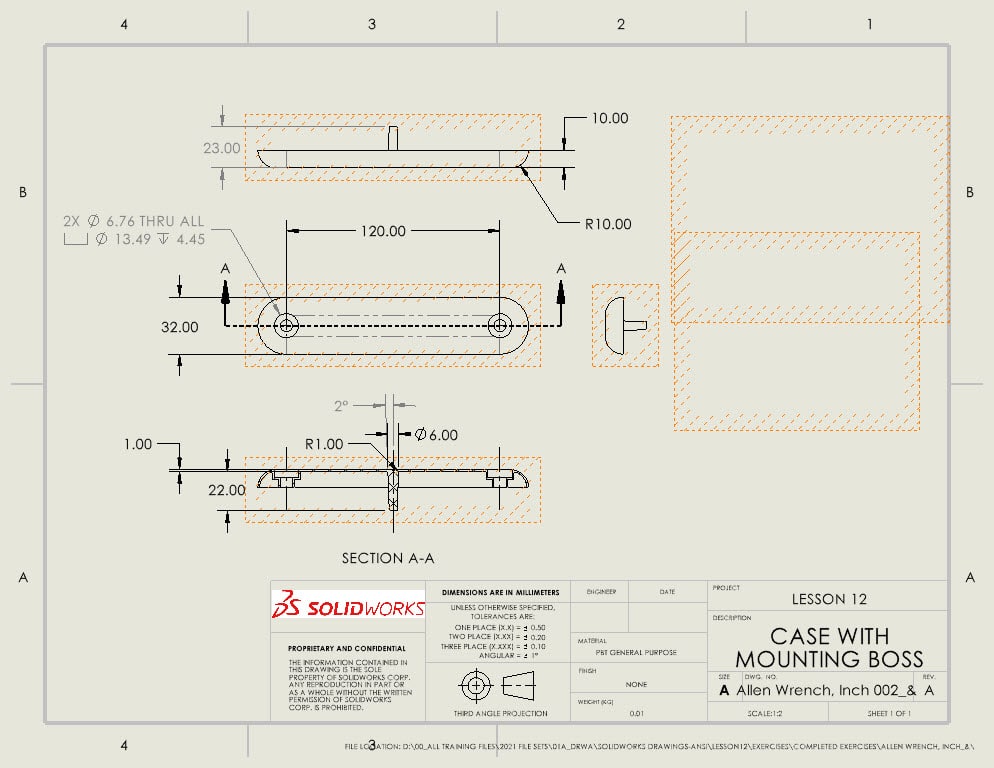 This functionality, the recognition that the part file has been updated, only works if the file has not been moved or deleted. If the file is missing, then you will be prompted with 'Unable to Locate the File' only if you fully resolve the drawing.
I hope this part of the What's New series gives you a better understanding of the new features and functions of SOLIDWORKS 2022. Please check back to the CATI Blog as the CATI Application Engineers will continue to break down many of the new items in SOLIDWORKS 2022. All these articles will be stored in the category of "SOLIDWORKS What's New."
Brandon Nelms
Application Engineer Manager
Computer Aided Technology
What is Design Innovation Month?

DESIGN INNOVATION MONTH 2021 – Live Events, Webinars, Virtual Showroom, Contests
Design Innovation Month is CATI's massive "What's New in 2022" event for SOLIDWORKS, 3DEXPERIENCE, and 3D printing & 3D scanning technology.  That's six weeks of in-person events, live and on-demand webinars, demonstrations, in-depth blog posts, and prizes!  Best of all, it's free of charge! Check the DI Month Hub for all the details and to sign up for your nearest live event.