SOLIDWORKS 2022 What's New – eDrawings Updates
A handful of changes were made with eDrawings 2022 to simplify the interface and streamline workflow. This gave eDrawings a sleeker appearance and increased ease of use. Along with workflow efficiency, SOLIDWORKS has added some notable functionalities that improve technical communication.
Custom Properties
The first notable addition to this year's release is the ability to include or exclude custom file properties. One way to do this is from within a SOLIDWORKS document into the resulting eDrawings file. Once you have your custom properties set up and you're ready to publish to eDrawings or Save As an eDrawings file, there's an option to include your custom file properties in the eDrawings file. To set this up go to System Options > Export> EPRT/EDRW/EASM > Save File Properties.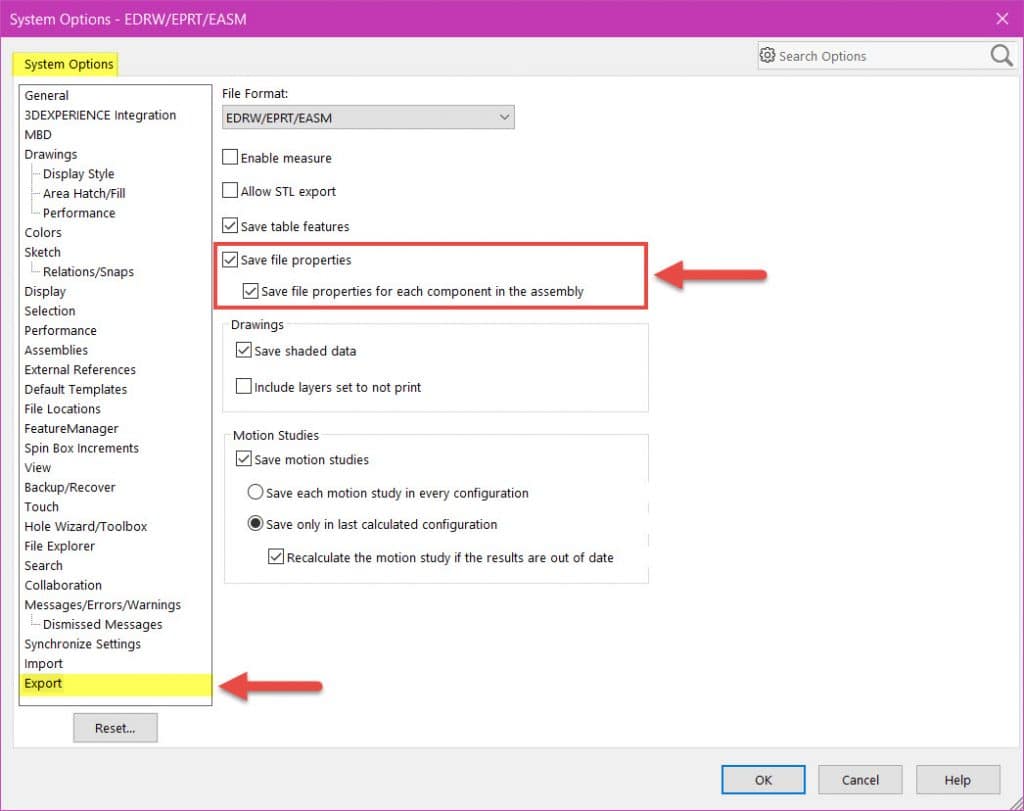 The second way to include or exclude file properties is from within eDrawings. If you open a SOLIDWORKS file in eDrawings and select Save As the dialogue box has a new option: Include file properties.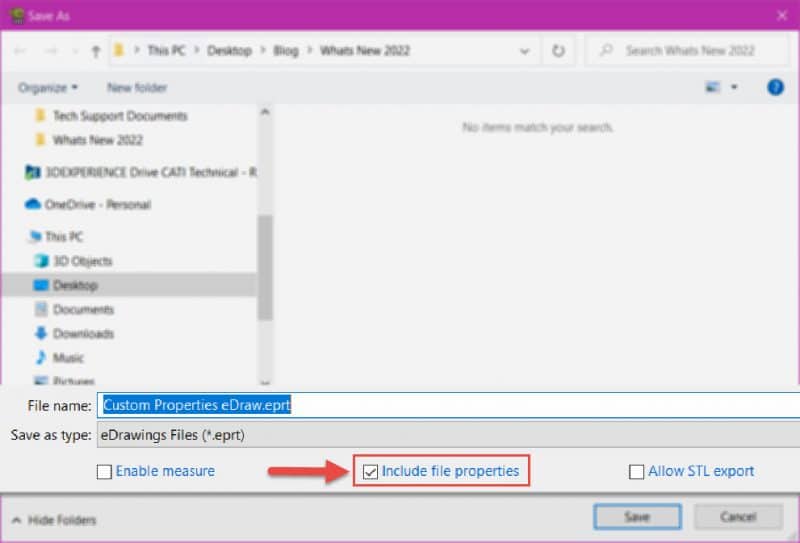 Being able to include custom properties will allow you to more effectively communicate the specificities of each model or assembly. On the other hand, if you need to protect intellectual property or classified information but still need to share your model you can choose not to include that file information.
System Options Within SOLIDWORKS
When you are ready to export any of your SOLIDWORKS files to eDrawings you'll notice the export options have changed. Navigate to System Options > Export > EDRD/EPRT/EASM the functionality of each option is still the same but the option names have been simplified and reordered for ease of use.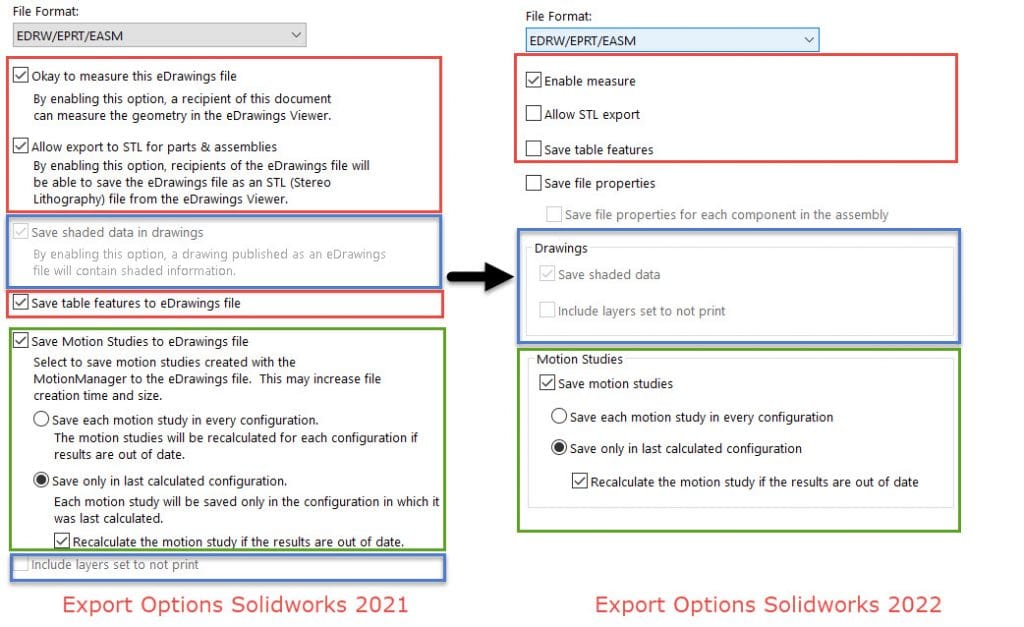 I've color-coded the options from SOLIDWORKS 2021 to match the renamed and ordered colors in SOLIDWORKS 2022. These export options are easier to navigate now that they have grouped like options.
eDrawings Interface
There are also some changes to the eDrawings interface to help improve your workspace. One subtle difference is located on the toolbar. The icon names of File Properties and Mass Properties have been shortened to eliminate word clutter.

To maximize your workspace, you may now choose to hide or show the labels underneath each tool icon. Right-click on any tool and select or deselect Show Labels.

If you're working with an assembly you'll appreciate the enhancements made to the Components pane. The Components pane now displays at the full height of your screen allowing you to view more components at once and minimize scrolling. The Top-level of the assembly is now included along with the ability to expand all or collapse all. To further help navigate the Components pane there is now an Options icon. The options include toggling the Show Component Descriptions and Highlight parents when hover on child.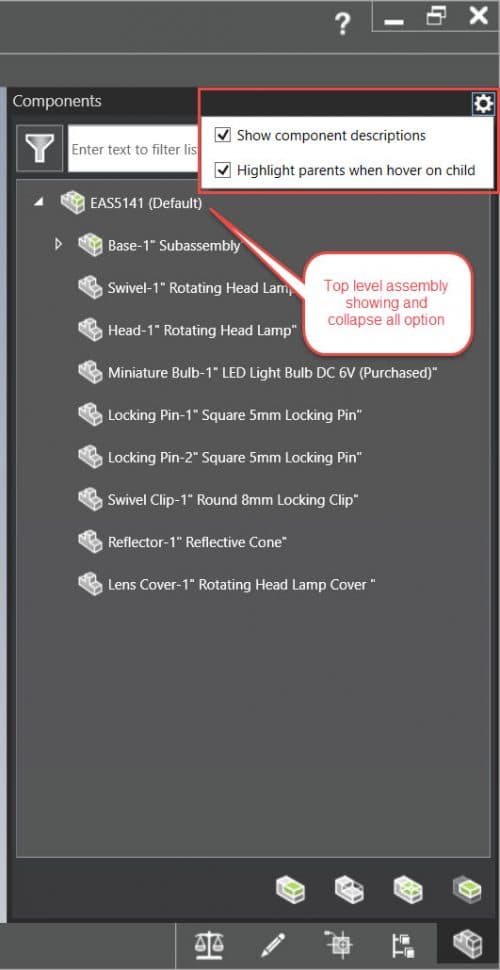 I hope this part of the What's New series gives you a better understanding of the new features and functions of SOLIDWORKS 2022. Please check back to the CATI Blog as the CATI Application Engineers will continue to break down many of the new items in SOLIDWORKS 2022. All these articles will be stored in the category of "SOLIDWORKS What's New."
Sara Hollett
Application Engineer II
Computer Aided Technology
DESIGN INNOVATION MONTH 2021 – Webinars, Virtual Showroom, Contests
Design Innovation Month is CATI's massive "What's New in 2022" event for SOLIDWORKS, 3DEXPERIENCE, and 3D printing & 3D scanning technology.  That's six weeks of live and on-demand webinars, demonstrations, in-depth blog posts, and prizes!  Best of all, it's free of charge! Check the DI Month Hub for all the details and to sign up for your next event.