SOLIDWORKS 2022 What's New – Plastics Injection Location Advisor
Included with SOLIDWORKS Plastics 2022 is a tool called "Injection Location Advisor" that makes it easier to optimally position injection locations for plastic parts. The tool can be found in the PlasticsManager tree, under boundary conditions.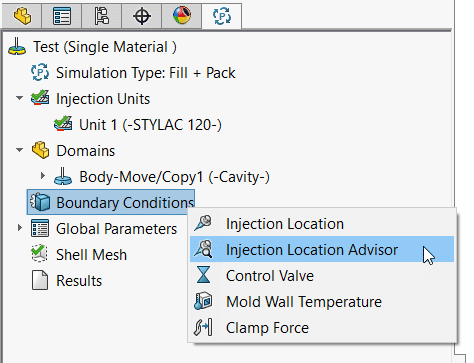 The property manager looks like this when opened:
You can adjust the number of injection locations (up to a maximum of 4) and the mold open direction. The software will automatically detect a plane for the mold open direction (in this case the top plane). This can be overridden with a user defined plane. If the "Excluded regions" button is checked, you are prompted to select faces of the geometry that will be excluded as possible injection locations. Result Preview will show the injection locations and a fill time plot.
Let's demonstrate how these various options work by examining the 'Result Preview' fill time plot for a simple model. The injection locations are shown as pink cones in the model, but I have made them more prominent by including large red arrows pointing to their location: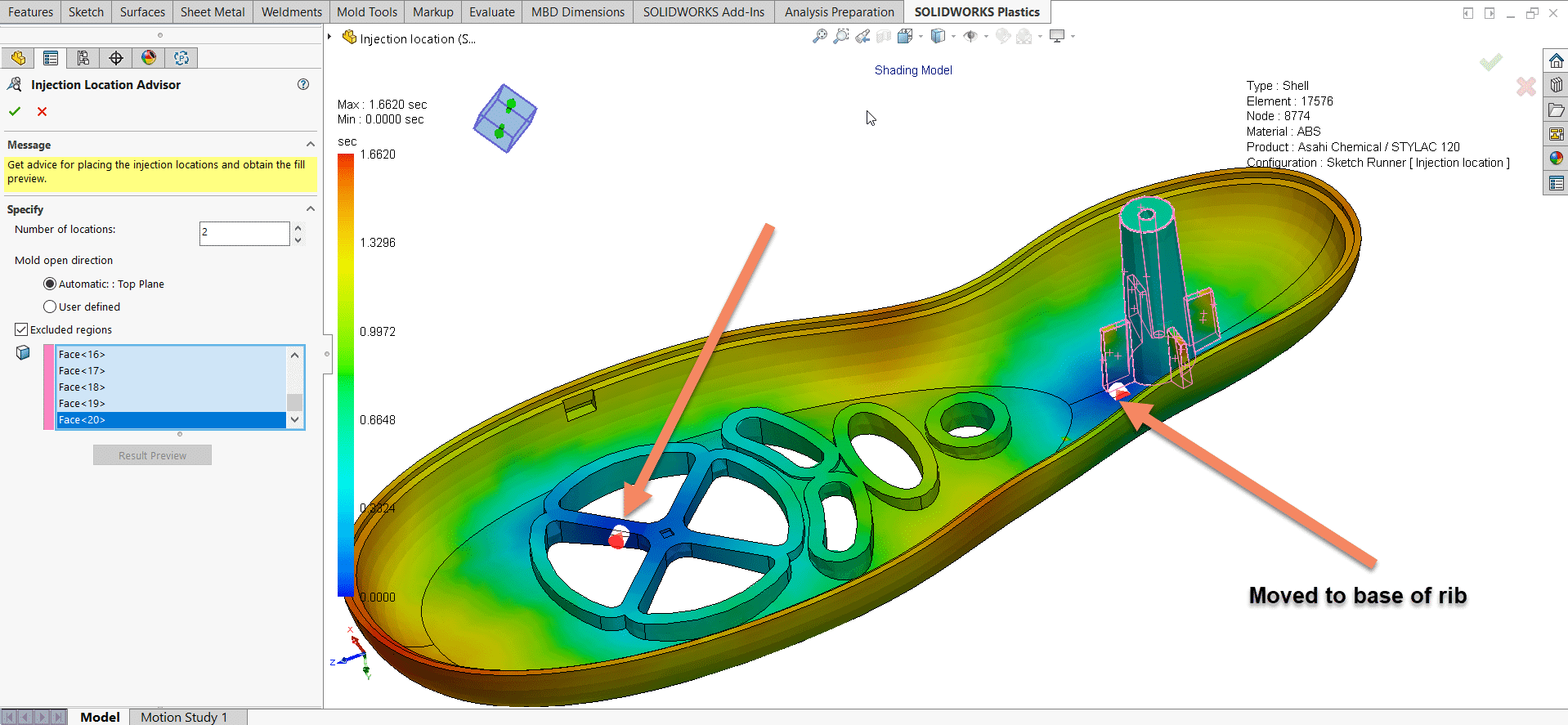 Lastly, it's worth noting that after running the Injection Location Advisor you will see a 3DSketch appear in your CAD Feature Manager Design tree. The 3DSketch contains the point entities for the injection locations.
I hope this part of the What's New series gives you a better understanding of the new features and functions of SOLIDWORKS 2022. Please check back to the CATI Blog as the CATI Application Engineers will continue to break down many of the new items in SOLIDWORKS 2022. All these articles will be stored in the category of "SOLIDWORKS What's New."
Alon Finkelstein
Simulation Product Specialist
Computer Aided Technology
What is Design Innovation Month?
DESIGN INNOVATION MONTH 2021 – Live Events, Webinars, Virtual Showroom, Contests
Design Innovation Month is CATI's massive "What's New in 2022" event for SOLIDWORKS, 3DEXPERIENCE, and 3D printing & 3D scanning technology.  That's six weeks of in-person events, live and on-demand webinars, demonstrations, in-depth blog posts, and prizes!  Best of all, it's free of charge! Check the DI Month Hub for all the details and to sign up for your nearest live event.