SOLIDWORKS 2022 What's New - Plastics Manager Tree
With the release of SOLIDWORKS 2022, comes a great new addition to the user interface of SOLIDWORKS Plastics. The Plastics Manager Design tree has been redesigned in SOLIDWORKS 2022 to provide a more streamlined and logical workflow for setting up SOLIDWORKS Plastics Simulation studies. In this blog I will be highlighting the changes to the SOLIDWORKS Plastics interface for SOLIDWORKS 2022.
Change 1: Improved Tree Interface Changes
The first major change to the Plastics Manager tree is improving the tree interface usability. Within the Plastics Manager it will display the active simulation type, so users know directly what type of study is active in the tree.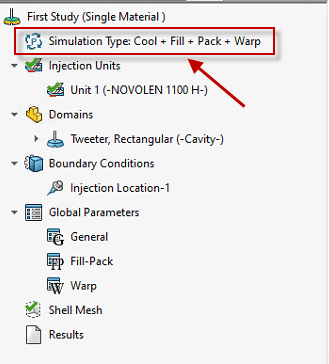 Change 2: Improved Mesh Interface Changes
The second major change allows you to run a simulation without creating a mesh if you have defined an injection unit and location. SOLIDWORKS Plastics will automatically create the mesh during the 'run' execution process. This new feature is like the automatic run feature in the SOLIDWORKS Simulation modules, which also allows for running a study without explicitly creating a mesh.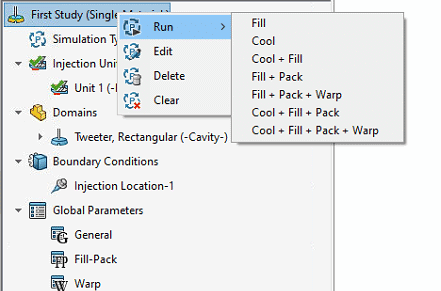 The other great feature change to the mesh interface, is that you can now easily delete and edit meshes, by simply right clicking on the mesh in the tree and hitting delete. This is also a similar feature within the SOLIDWORKS Simulation modules, and this new addition makes SOLIDWORKS Plastics usability very similar to SOLIDWORKS Simulation studies.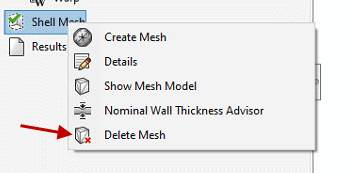 Change 3: Improved Navigational Features
The last major change is that the navigational features across the entire plastic tree have been greatly improved to make accessing results quicker and easier. The right mouse button click option has been implemented across the tree to allow users to access commands previously unavailable via right mouse button click. A user can now run a study by right clicking at the top of the tree and selecting run. Additionally, post-processing features such as; Summary and Report, Clipping Plane Settings, Isosurface Manager, Path Line, Export, and Remove All results, are all accessible via a right mouse button click to results. All of these navigational changes make the SOLIDWORKS Plastics Tree usability directly similar to the SOLIDWORKS Simulation Tree.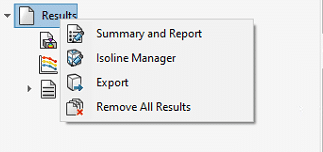 I hope this part of the What's New series gives you a better understanding of the new features and functions of SOLIDWORKS 2022. Please check back to the CATI Blog as the CATI Application Engineers will continue to break down many of the new items in SOLIDWORKS 2022. All these articles will be stored in the category of "SOLIDWORKS What's New."
Drew Buchanan
Sr. Application Engineer Specialist, Simulation
Computer Aided Technology
What is Design Innovation Month?
DESIGN INNOVATION MONTH 2021 – Live Events, Webinars, Virtual Showroom, Contests
Design Innovation Month is CATI's massive "What's New in 2022" event for SOLIDWORKS, 3DEXPERIENCE, and 3D printing & 3D scanning technology.  That's six weeks of in-person events, live and on-demand webinars, demonstrations, in-depth blog posts, and prizes!  Best of all, it's free of charge! Check the DI Month Hub for all the details and to sign up for your nearest live event.