SOLIDWORKS 2022 What's New – Resolving Equations in Lightweight Mode
Equations are a great way of creating intelligence in your assembly models and relating one part to another. However, in previous versions of SOLIDWORKS, when using equations in combination with lightweight components, the equations could not evaluate, and it would it show up as an error or warning on rebuild. You would have to manually find the unresolved equation and then resolve that component and any other components that it references to fix any errors.
Below is an example of using multiple component equation references opened in lightweight mode in SOLIDWORKS 2021: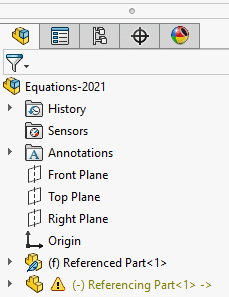 With the release of SOLIDWORKS 2022, when loading an assembly in lightweight mode with component equation references, any components referenced by equations in the top-level assembly will be automatically resolved, as well as any other lightweight components referenced by the resolved component. Resulting in a lightweight assembly with only the components resolved that need to be resolved.
And here is the same example assembly opened in lightweight mode in SOLIDWORKS 2022: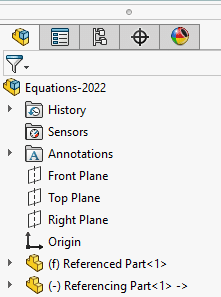 This means you can still work with both equations and large assemblies in lightweight mode and spend less time resolving errors and more time modeling.
I hope this part of the What's New series gives you a better understanding of the new features and functions of SOLIDWORKS 2022. Please check back to the CATI Blog as the CATI Application Engineers will continue to break down many of the new items in SOLIDWORKS 2022. All these articles will be stored in the category of "SOLIDWORKS What's New."
Jordan Puentes
Sr. Application Engineer
Computer Aided Technology