SOLIDWORKS 2022 What's New - Routing Electrical Enhancements
SOLIDWORKS has done it again. Here are a few great Electrical Routing enhancements in SOLIDWORKS 2022.
The first enhancement gives you more options when creating a Flattened Route, specifically when creating a Manufacturing Type route. In the "Flatten Parameters Property Manager", you have the options to:
Create Flatten Route with Lines Only – Allows you to convert the spline to lines
Horizontal Route Segments Selection – You can select several continuous route segments to appear as horizontal in the flattened configuration.
Here is what it looked like in 2021 Here is what it looks like in 2022.
"Select Components to Maintain 3D Orientation" was a great addition in SOLIDWORKS 2021.
SOLIDWORKS 2022 has added even more enhancements to routing. Now, External Connectors can be added to the Flattened Route. This lets us select connectors that are not in the harness but are connected to the cable.
Notice, I have 3 connectors in the top-level assembly. I created a sub-assembly harness route.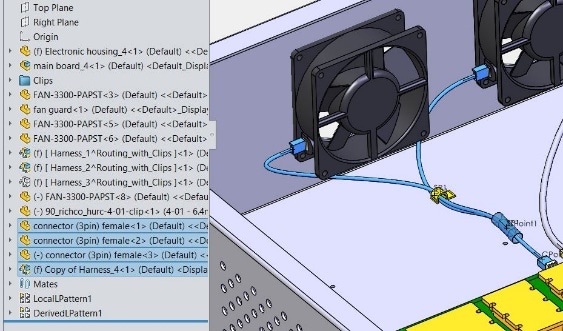 Now, when I create a Flattened Route and create the drawing, I can include the external connectors in this drawing. Start by adding a Connectors Table to the drawing and click "Select all Connectors". You can also remove connectors that you don't want included.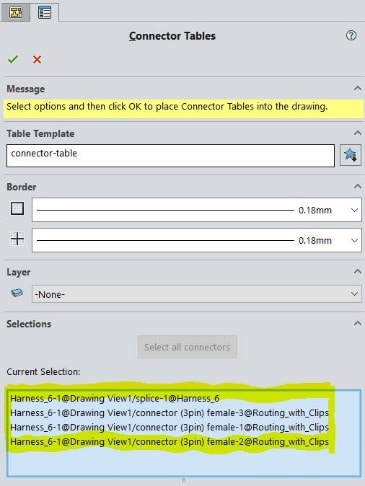 The Flattened Route drawing will display these External Connectors.

Are you ready for this? In SOLIDWORKS 2022, Backshells are now supported in Routing. Backshells are components that protect connectors and connected cables from electrical interference or physical damage due to environmental conditions. Backshells can also include a clamping device.
To use a backshell, you must:
• Add an axis to the backshell component that will be used to align the backshell with the route.
• Add a mate between the backshell and the connector.
And finally, when creating a Flattened Route of a route assembly, the orientation and location of Backshells will be displayed properly.
I hope this part of the What's New series gives you a better understanding of the new features and functions of SOLIDWORKS 2022. Please check back to the CATI Blog as the CATI Application Engineers will continue to break down many of the new items in SOLIDWORKS 2022. All these articles will be stored in the category of "SOLIDWORKS What's New."
Stay safe and have blessed day.
Roger G. Ruffin
Senior Application Engineer
Computer Aided Technology
What is Design Innovation Month?
DESIGN INNOVATION MONTH 2021 – Webinars, Virtual Showroom, Contests
Design Innovation Month is CATI's massive "What's New in 2022" event for SOLIDWORKS, 3DEXPERIENCE, and 3D printing & 3D scanning technology.  That's six weeks of live and on-demand webinars, demonstrations, in-depth blog posts, and prizes!  Best of all, it's free of charge! Check the DI Month Hub for all the details and to sign up for your next event.