SOLIDWORKS 2022 What's New – SOLIDWORKS CAM
There are quite a few CAM updates with SOLIDWORKS 2022. Let's take a look.
Assembly Support for Turn – SOLIDWORKS CAM Pro 2022
SOLIDWORKS CAM Professional has always supported programming in SOLIDWORKS assembly mode for milling. Now in SOLIDWORKS CAM Professional 2022, programming a turn part in assembly mode inside SOLIDWORKS for a 2 axis lathe is now supported. An example is shown below for a part being programmed in a SOLIDWORKS assembly for 2 Axis turning.
NOTE: The new assembly support for turning is an enhancement specifically for SOLIDWORKS CAM Pro 2022. All other enhancements I mention going forward are included in both SOLIDWORKS CAM Standard and SOLIDWORKS CAM Pro.
Customize Color Settings for Toolpath End Points
New under SOLIDWORKS CAM Options, you can apply color settings for Toolpath End Points under the Display tab.
Display Color for Hidden Toolpath Moves
New in SOLIDWORKS CAM 2022, you can assign a color to display Toolpath Hidden Moves in the graphics area from the Display tab under SOLIDWORKS CAM Options.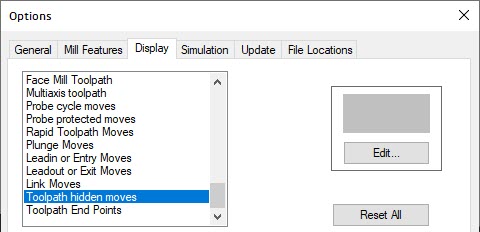 Filter for Mill and Turn Tools and Assemblies with Text
The Tool Select Filter dialog box lets you enter text to filter for mill and turn tools and assemblies when you are editing the tools while you are editing a SOLIDWORKS CAM operation.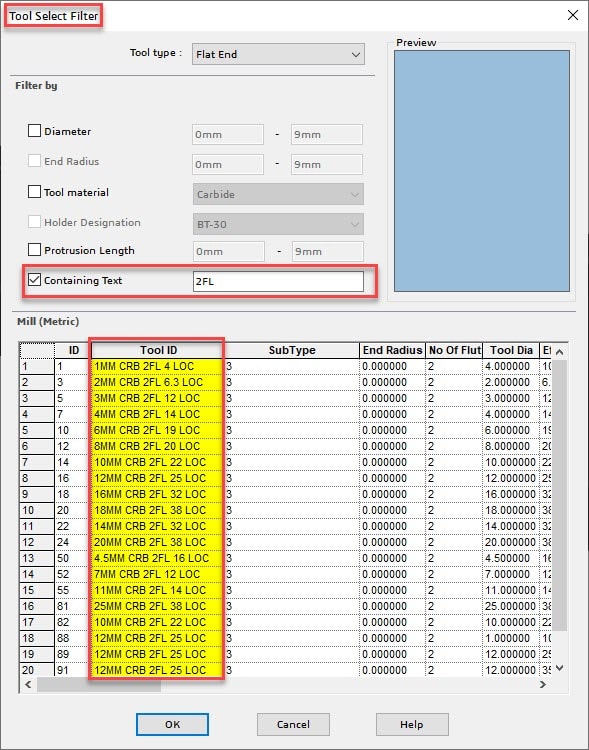 Manage Multiple Technology Databases
You can manage multiple technology databases in the Manage Database tab. In Settings, inside the SOLIDWORK CAM 2022 Technology Database, there is a new Manage Databases tab which use to be named Link Database tab. This new tab lets you specify multiple technology database source files. But you can only assign one database as the active database to the application. So each CNC machine can have its own respective TechDB.
For example, say you have a laser cutter and a vertical mill in your shop. When you are programming parts for your laser cutter, you can assign its own TechDB with its own respective settings specific to the laser. Such as, tool(s), save operation plans, tool crib(s), default feature strategies, default operations parameters, etc. specific to the operation of the laser machine. Then you can have a TechDB specific to your vertical mill. This may seem like a small enhancement but this can be huge when having to program parts for multiple machine types.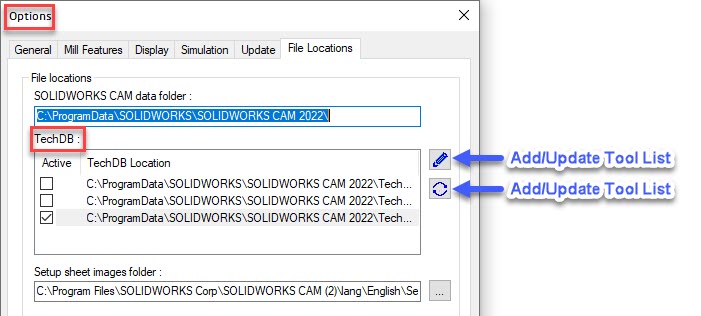 Support for Nonplanar Surfaces for Z Axis Probing
You can select nonplanar surfaces in the direction of the Z axis for probe cycles. The Z Probe Cycle is available in the Probe tab of the Operation Parameters dialog box. The default touch off point for toolpath generation is the top-most point of the selected face in the Z direction.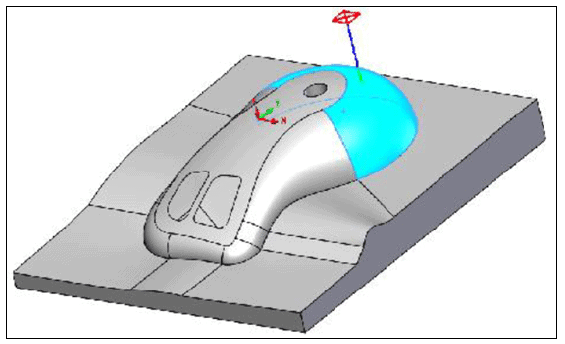 Revised CNC Finish Parameters for Clarity
The NC tab in the Operation Parameters dialog box has updated notes/labels to improve the readability of CNC finish parameters. The first new note, (For example G41/G42) is new under CNC compensation on right side of the Yes radio button. The other two new notes are (Toolpath is offset by tool radius) below With compensation radio button and (Tool center is on feature geometry) below the Without compensation radio button.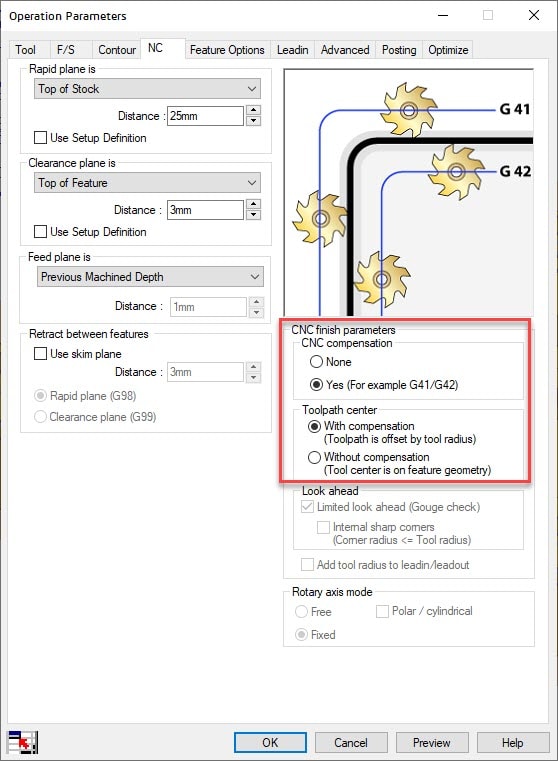 Supported Platforms for SOLIDWORKS CAM
One final note related to SOLIDWORKS CAM 2022, is the fact SOLIDWORKS CAM supports the 64-bit version of SOLIDWORKS 2022 and SOLIDWORKS.
I hope this part of the What's New series gives you a better understanding of the new features and functions of SOLIDWORKS 2022. Please check back to the CATI Blog as the CATI Application Engineers will continue to break down many of the new items in SOLIDWORKS 2022. All these articles will be stored in the category of "SOLIDWORKS What's New."
Don Glaske
Manager, Manufacturing Solutions
Computer Aided Technology
What is Design Innovation Month?
DESIGN INNOVATION MONTH 2021 – Live Events, Webinars, Virtual Showroom, Contests
Design Innovation Month is CATI's massive "What's New in 2022" event for SOLIDWORKS, 3DEXPERIENCE, and 3D printing & 3D scanning technology.  That's six weeks of in-person events, live and on-demand webinars, demonstrations, in-depth blog posts, and prizes!  Best of all, it's free of charge! Check the DI Month Hub for all the details and to sign up for your nearest live event.