SOLIDWORKS CAM Training Webinar: How to Take Your Part from CAD to CAM
If you're an engineer, you're likely strapped for time and juggling multiple projects. The software you use can make or break your productivity, and not all products are created equally. Software like SOLIDWORKS CAM makes it easier to get your work done with features that smooth out processes, give you better oversight, and help create a better end product.
This free SOLIDWORKS CAM tutorial will help you get started with SOLIDWORKS CAM and show how you can take your part from CAD to CAM in the same program. Here's what you need to know if you're just getting started with SOLIDWORKS or CAM software.
What is SOLIDWORKS?
SOLIDWORKS is one of the most widely used 3D CAD packages in the industry today. With a range of software solutions that encompasses everything from CAD and CAM to product data management and technical communication, SOLIDWORKS is built to help a number of industries and job functions improve their product development process for a faster and smoother workflow.
What is SOLIDWORKS CAM?
According to the SOLIDWORKS CAM datasheet, SOLIDWORKS CAM is an add-in to all versions of SOLIDWORKS Desktop that offers 3+2 machining and full support for configurations, parts, and assembly machine workflows. The software is easy to learn and uses rules-based machining and design to speed up the design and drawing process. Your business will be able to automatically apply standard strategies for an automated approach.
SOLIDWORKS CAM enables you to take a number of time-saving actions, including the reading of tolerances and surface finishes, automatic quoting and the application of the best manufacturing strategies. The end result is a faster, more standardized process that allows you to be more proactive about the creation and cost of your parts.
How Can SOLIDWORKS CAM Help Workflow?
SOLIDWORKS CAM allows users to seamlessly transition your part from CAD to CAM in the same program, simplifying and your product development process. Watch the recorded webcast below to learn more about how you can get started with SOLIDWORKS CAM.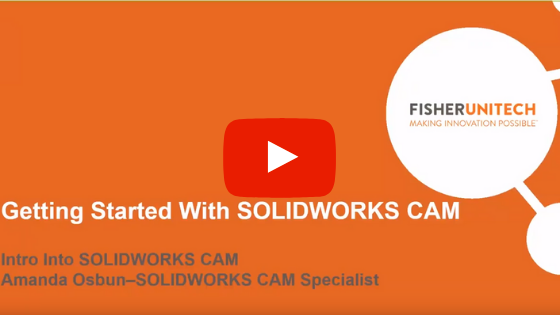 Related Articles
SOLIDWORKS CAM 2019: New and Improved Milling Features
10 Ways SOLIDWORKS CAM and CAMWorks are Crucial to your Manufacturing Process
The Difference Between SOLIDWORKS CAM Software: CAM Standard VS. CAM Professional
About the Author

Christa Prokos is a marketing manager at Fisher Unitech. She researches and writes about the latest business trends and technologies impacting manufacturers, including 3D printing, SOLIDWORKS 3D CAD design and product data management tools, product lifecycle management, virtual reality, and the Internet of Things. Christa has worked as a high tech marketing and communications professional since 2000. You can follow her on Twitter: @ChristaProkos.