SOLIDWORKS Inspection 2023 - Top Enhancements
SOLIDWORKS Inspection has always been a great tool for streamlining the creation of your inspection documentation. Whether it be your SOLIDWORKS files, or other file types, like PDFs, it helps get that previously lengthy process done much more efficiently. Over the years, there have been many additions to make this even better, and the SOLIDWORKS Inspection 2023 release is no different. Today, we are going to focus on several of those top enhancements. You can also watch this content in video format:

Standalone Inspection
The Standalone interface received a UI overhaul in 2023. It now looks more like SOLIDWORKS and better supports high resolution. Also, you will see the Manual Extract replaces the OCR extraction tool. And the Auto Extract replaces the Smart Extract, which can even work on PDFs! In some instances, this new feature could be a welcome starting point over manually extracting everything first.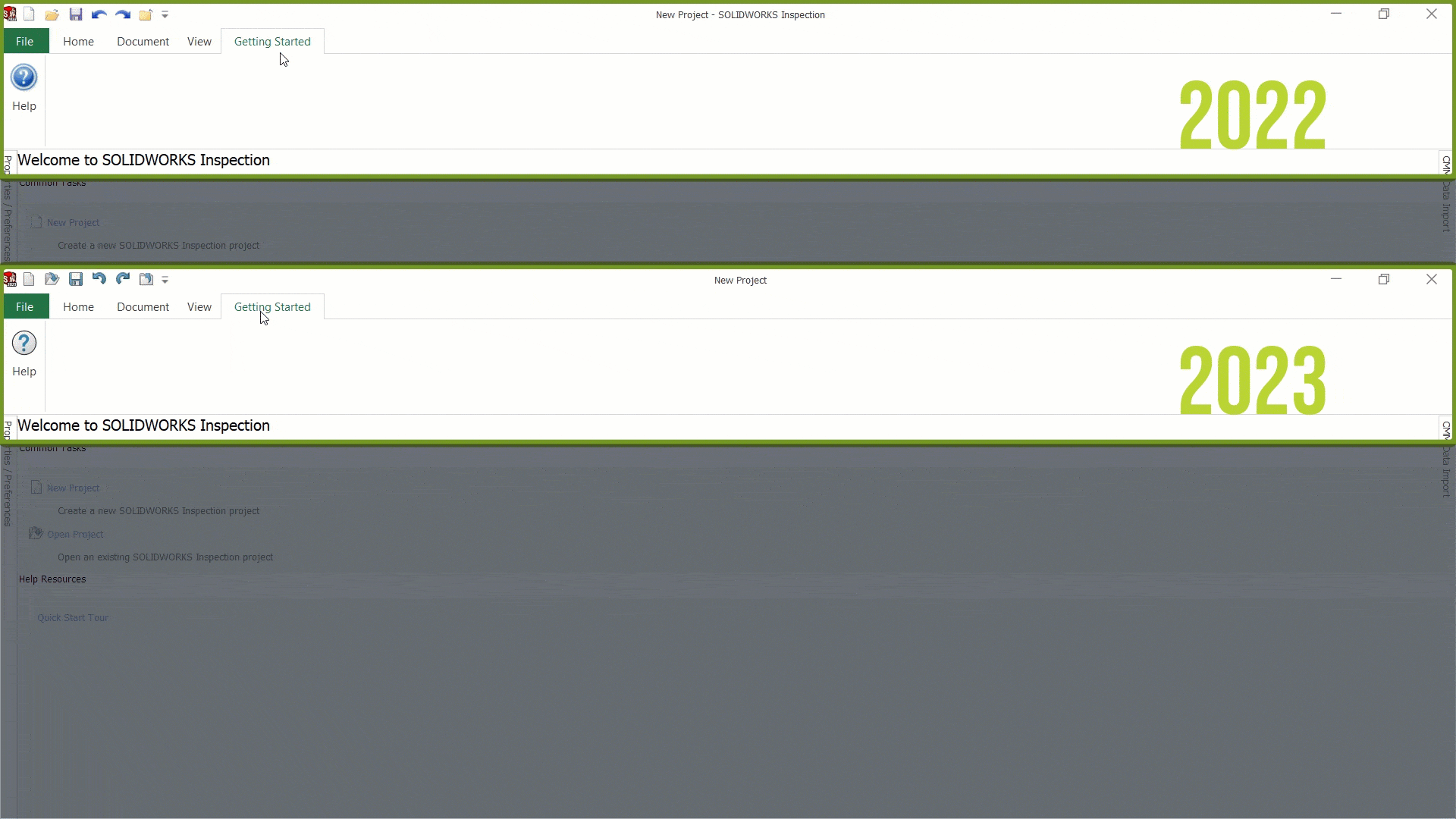 Balloon Sequencing
In the SOLIDWORKS Inspection 2023 Add-In Interface, we now can create balloon sequences that can be used with multi-sheet drawings. From the Inspection toolbar, you can easily create sequences with a given starting value and remove them as needed. You can then use these during auto extraction.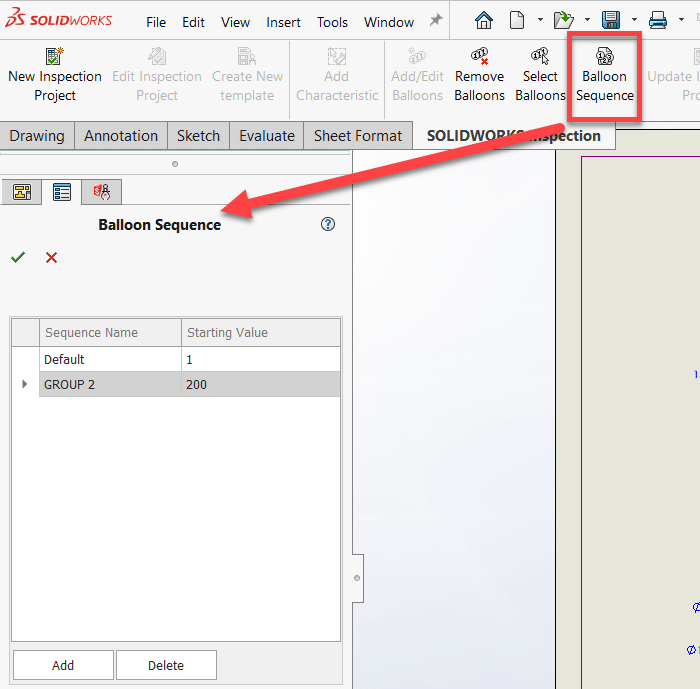 Separately Balloon Drawing Sheets
Speaking of sheets, a common question I've heard in the past is "can I automatically balloon only a certain sheet?". Well in the Add-in in 2023, that answer is "yes". You can now choose specific sheets when defining Extraction Settings in the automatic extraction method.
Having 'Include All' checked works like previous versions. Unchecking 'Include All' allows you to specify sheets. Here is where you can also specify a different sequence for a given sheet, or just continue from the previous sheet.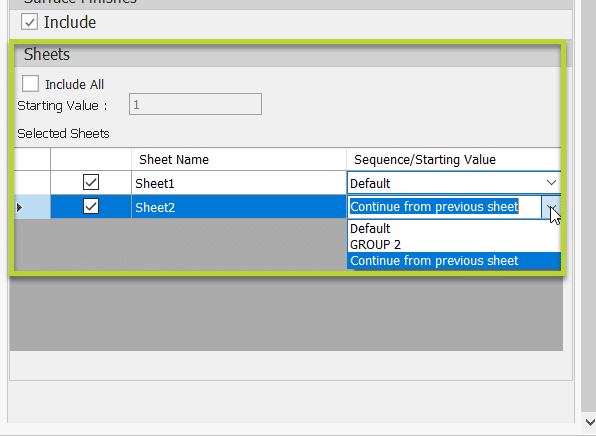 SOLIDWORKS Inspection Manager
There are now two tabs in the Characteristics Section of the SOLIDWORKS Inspection Manager in the Add-In. In addition to the information we are familiar with in the Characteristics Table tab, there is also a Characteristic Tree tab.
Here, viewing and re-ordering are a breeze. It only contains Sheets and Views that have balloons on them.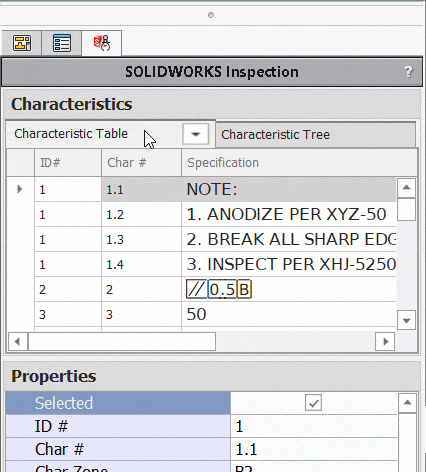 You can re-order your sheets with a drag and drop and all balloons update accordingly. For even more granular control, you can re-order views within a sheet the same way. (Note: re-ordering will remove any Sequences you've used).

Control Over Exporting
Finally, since we have the ability at the beginning to specify sheets in the Add-In, it only makes sense to have that same ability at the end for both 2D PDFs and Excel templates. Once your multi-sheet inspection drawing is to your liking, you can export your ballooned drawing as a single PDF, export sheets as separate PDFs, or even specify certain sheets to export.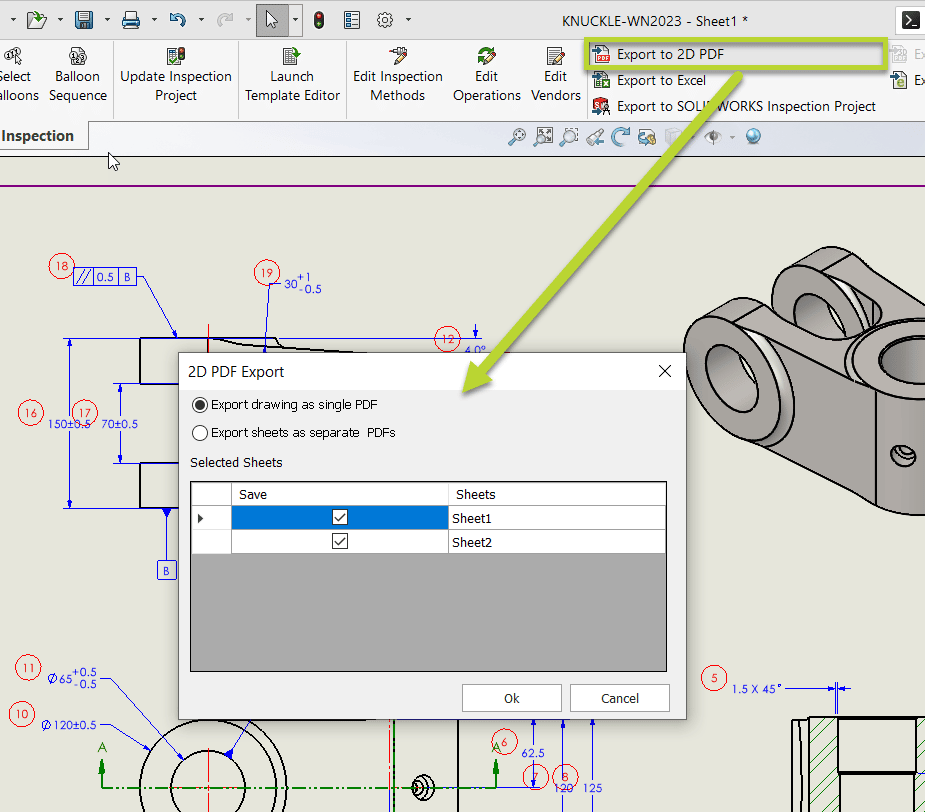 The same holds true for the Inspection Report.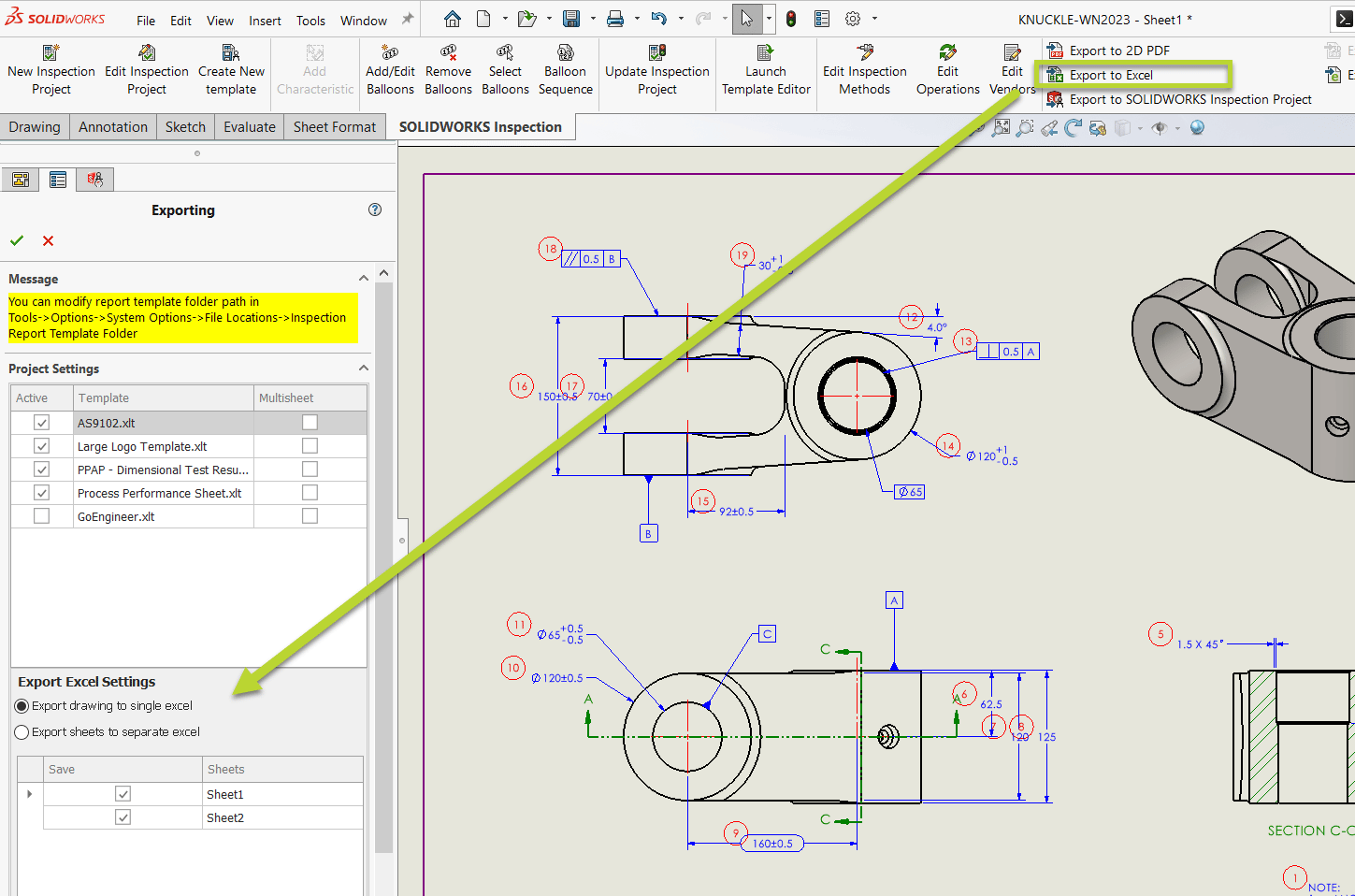 Wrap It Up
As you can see, SOLIDWORKS Inspection 2023 makes working with this software even better, whether you're in the Add-in or Standalone interface. If you have any questions, or would like to learn more, please reach out to us.
I hope this part of the What's New series gives you a better understanding of the new features and functions of SOLIDWORKS 2023. Please check back to the CATI Blog as the CATI Application Engineers will continue to break down many of the new items in SOLIDWORKS 2023. All these articles will be stored in the category of "SOLIDWORKS What's New."
Ryan Field
Sr. Application Engineer
Computer Aided Technology
What is Design Innovation Month?
DESIGN INNOVATION MONTH 2022 – Live Events, Webinars, Virtual Showroom, Contests
Design Innovation Month is CATI's "What's New in 2023" event for SOLIDWORKS, 3DEXPERIENCE, and 3D Printing & 3D Scanning technology. This year we're going back to the future to bring you in-person events, live and on-demand webinars, demonstrations, in-depth blog posts, and prizes! Best of all, it's free of charge! Check the DI Month Hub for all the details and to sign up for your nearest live event.