SOLIDWORKS 2022 What's New – SOLIDWORKS Manage 2022 - Part 1
With the release of SOLIDWORKS Manage 2022, we get to share some exciting enhancements! This release introduces some incredible features to our SOLIDWORKS Manage capabilities. There's a lot to talk about and we should break this up a bit. With the number of enhancements, we decided to make this year's breakdown a two-part post. So, this first post will cover our five favorites, while the second will cover all the upgrades to tasks. Let's break it down.
#5 – Share SOLIDWORKS Manage BOMs (Send Email and Copy Link)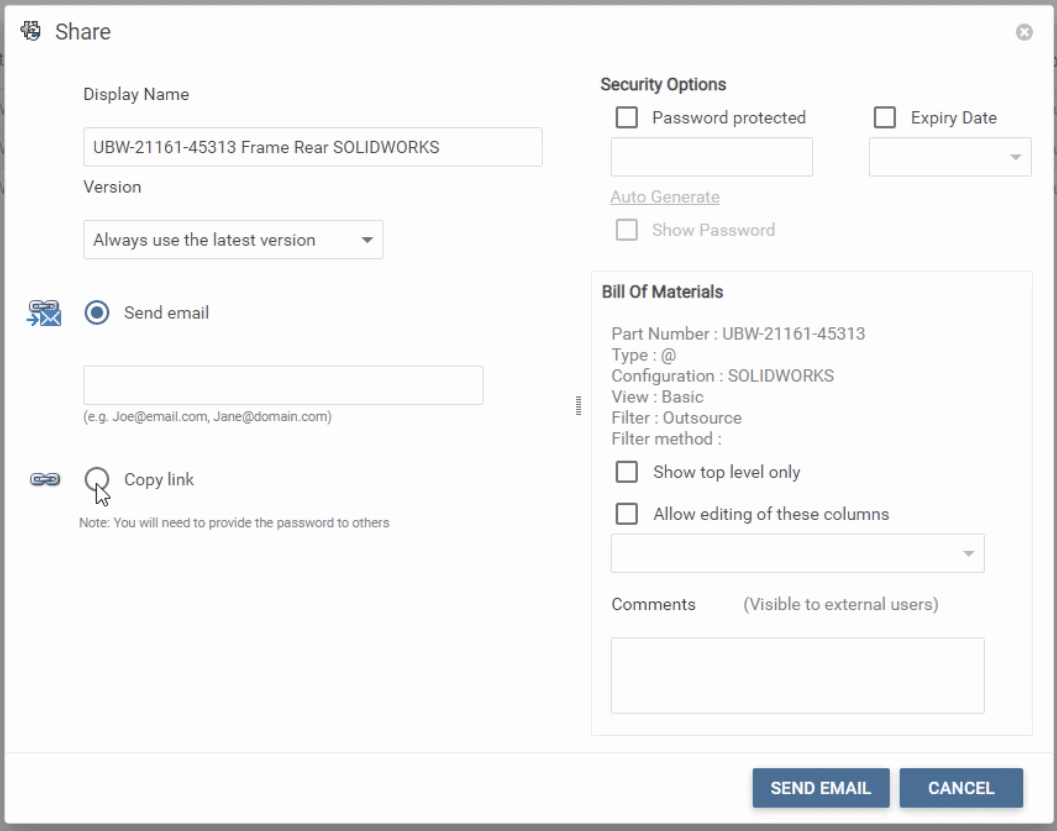 Collaboration with external users can be a major hurdle for any business. But new with SOLIDWORKS Manage 2022, we can now share BOMs via a web page link or email message. These links allow users that might not have direct access to the system, to interact with bill of materials inside our SOLIDWORKS Manage environment. Sharing honors applied filters and you can edit reference columns as well. However, what do we do about security? Well, additional security options are available to allow or restrict editing, enable password protection (which can be auto generated), and set an expiration date on the link.
#4 Microsoft Office Integration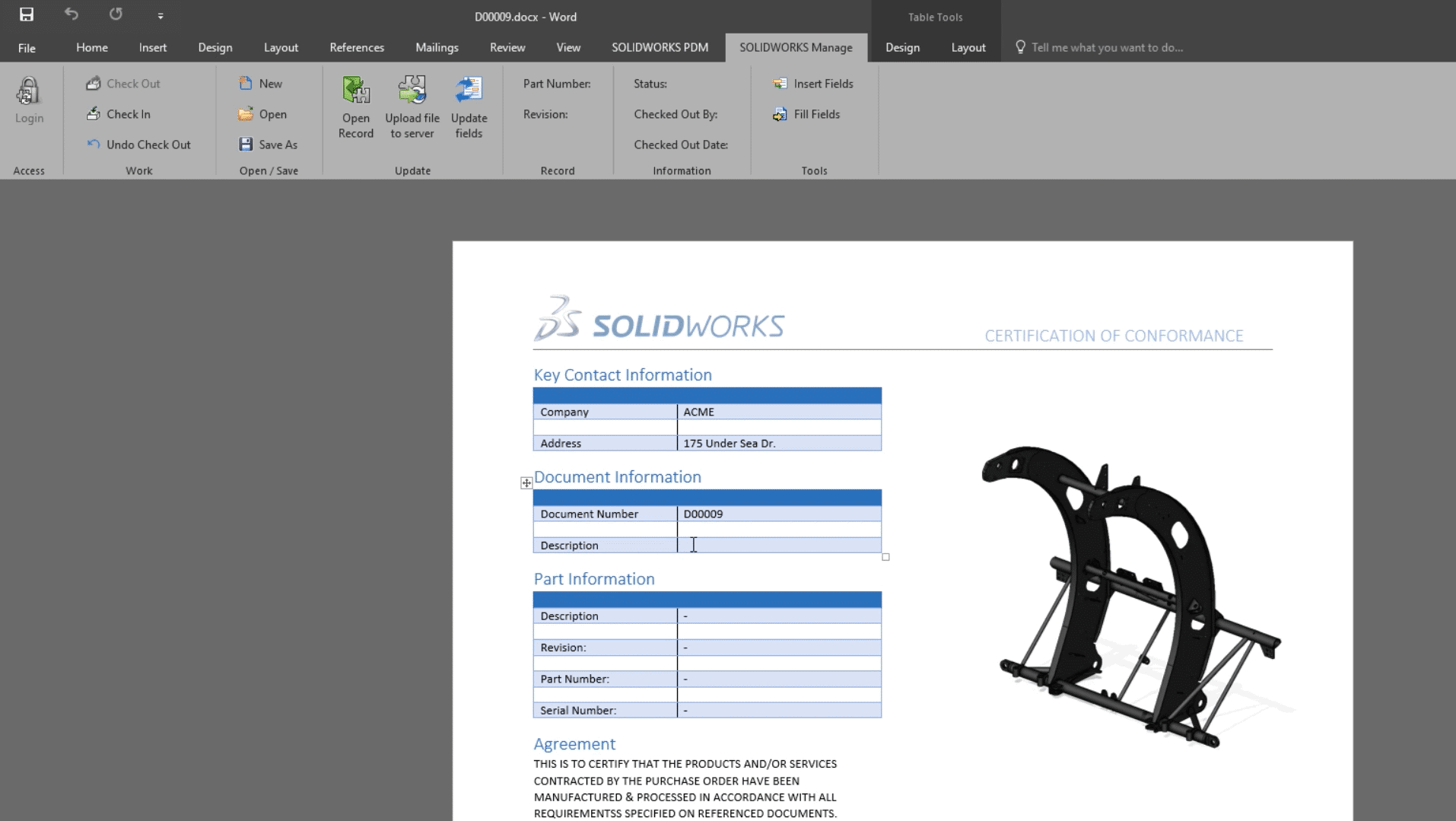 With the 2022 release, we gain additional integration to our favorite Microsoft Office applications. Now, we have integrations for Word, Excel and PowerPoint. What this does is it enables users working with office documentation to use SOLIDWORKS Manage controls, right from the Office apps. Now, there's no need to leave Word, PowerPoint, or Excel when working with documents and SOLIDWORKS PDM objects. Notice, that many of the common SOLIDWORKS Manage commands can be found right in the Microsoft ribbon. Additionally, this integration lets you add links for the active document or another document/record.
#3 Custom HTML Notifications
SOLIDWORKS Manage 2022 introduces a convenient new way to access, share, and document your designs. New for this release is the ability to create HTML formatted notifications for Project and Process Task Notifications. Administrators can customize these notifications to highlight key information for end users. Also, new to this release is the ability to incorporate web links within the notifications. These weblinks allow users to easily access the record by using the Manage Web Portal.
#2 Weblinks within Dashboards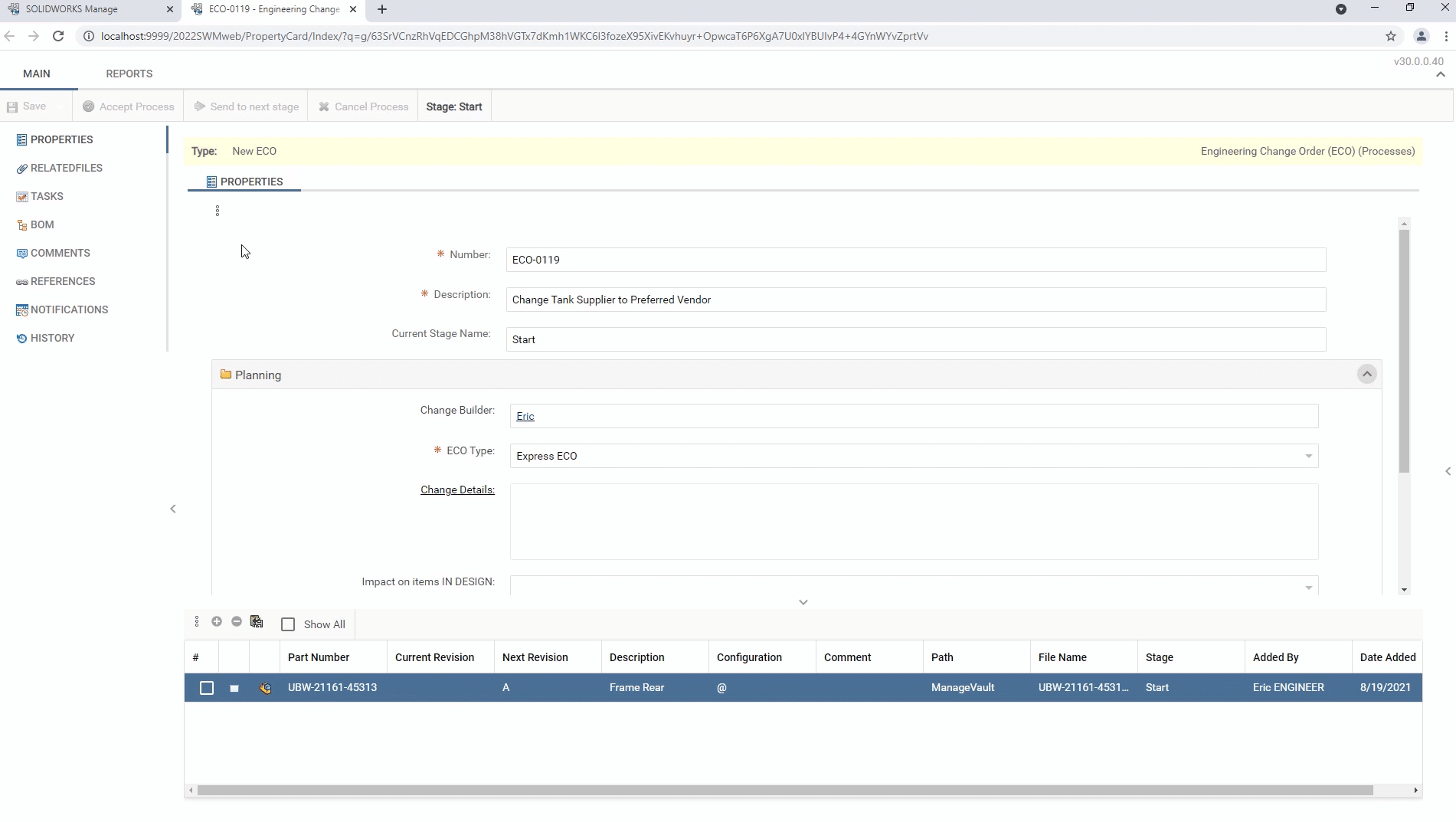 In addition to hyperlinks in notifications and sharable BOMs, weblinks can also be created Ad Hoc. These versatile links provide quick and easy access to records in the web portal. But the flexibility doesn't stop there. With the 2022 release, SOLIDWORKS Manage Dashboards can also take advantage of the new weblink capabilities, making it easy for users like project managers, to access key projects while on the road.
#1 Add Manage BOM to SOLIDWORKS Drawings
This next enhancement is by far my favorite feature on the list. Now, it's possible to add a bill of material table from a files' linked record, directly into a SOLIDWORKS drawing. The options allow us to use BOM variants and templates defined in the linked record object. If multiple linked records are associated to a file, the user can choose which linked records is used.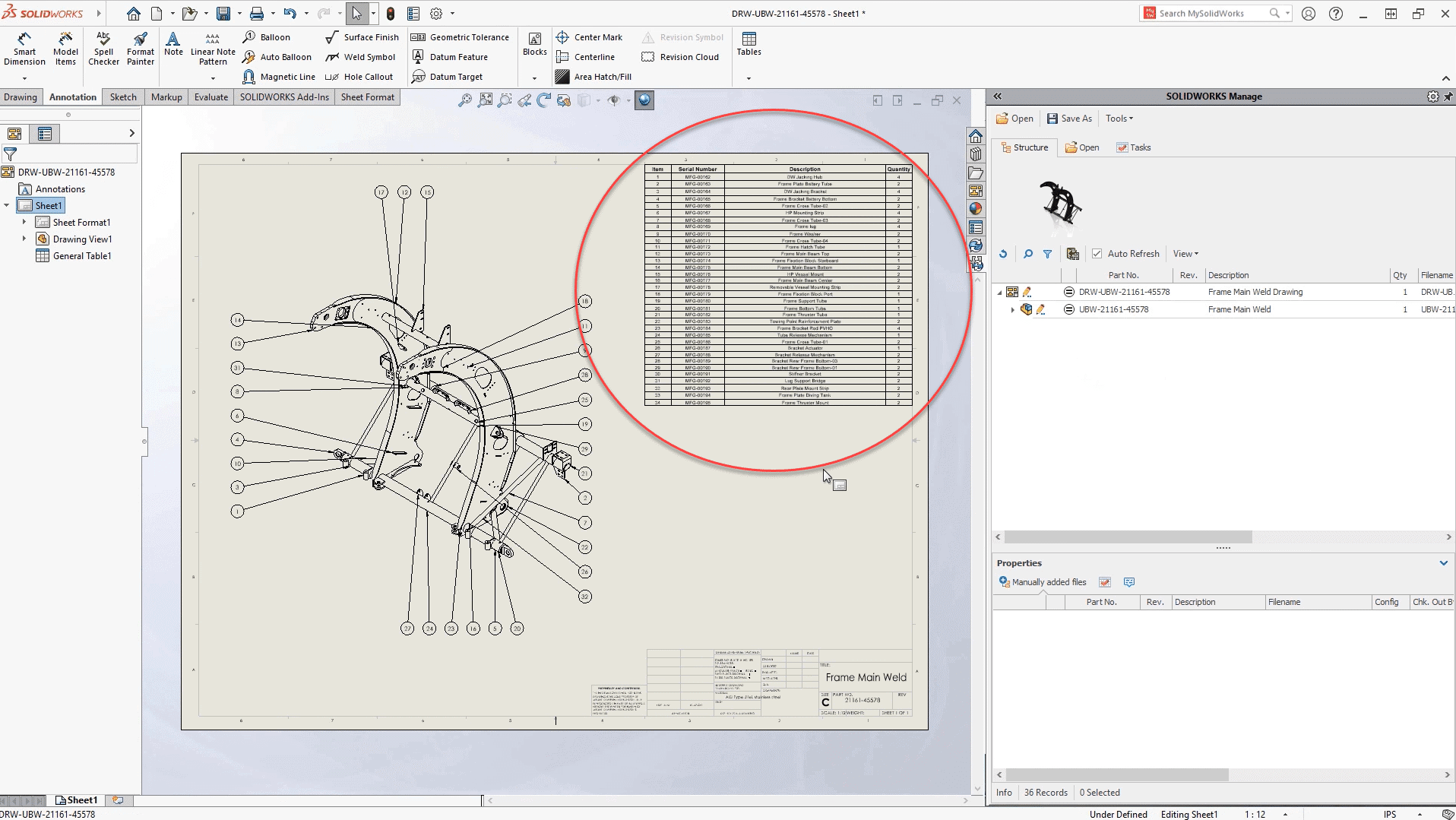 There are additional enhancements to top-down bill material design within the Manage Add-in for SOLIDWORKS users. With them, items that you've manually added to a Manage BOM, will show up in SOLIDWORKS. Additionally, files now show up in a dedicated Tab called "Manually Added Files". Once you open the CAD assembly in SOLIDWORKS, you can easily place items directly from the SOLIDWORKS Manage add-in.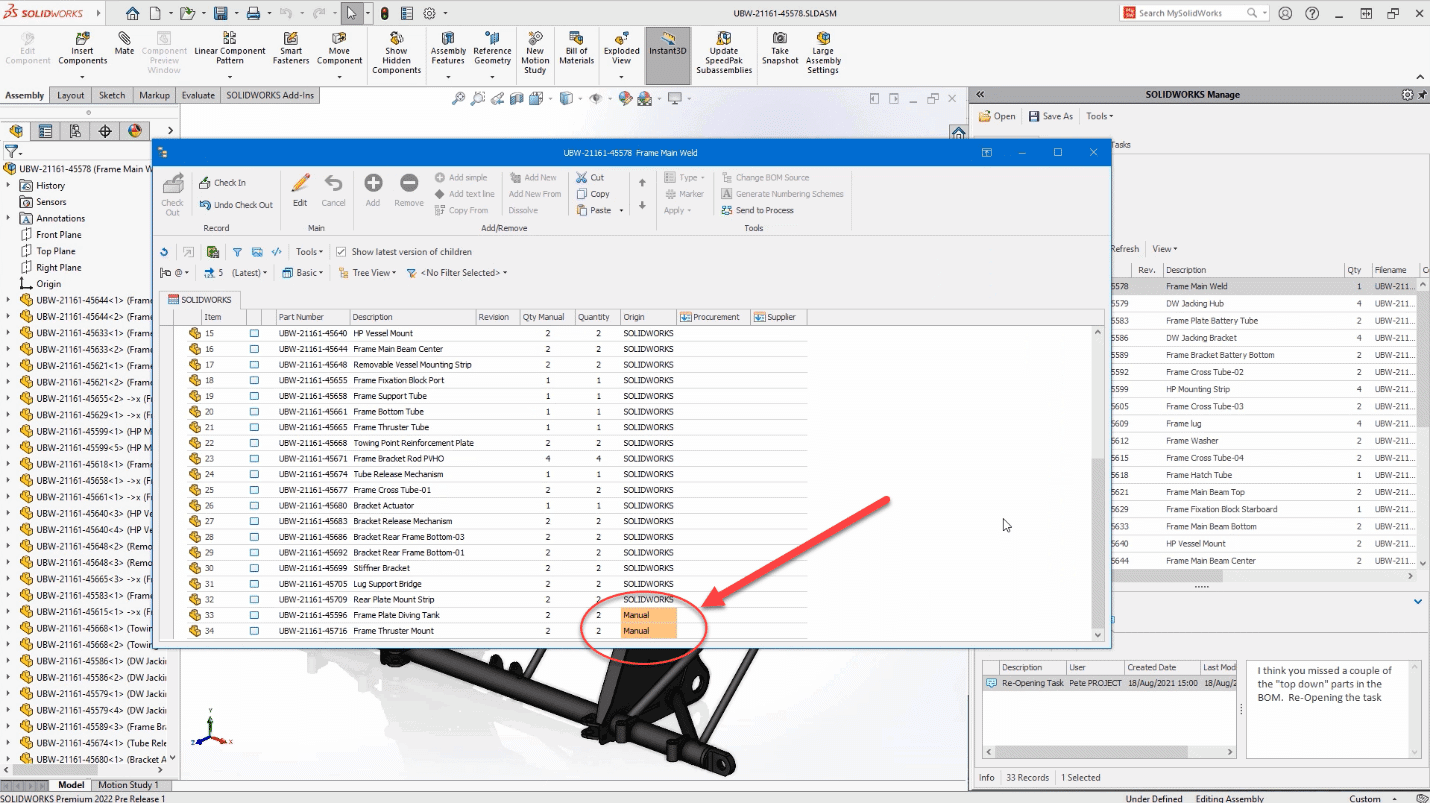 Want more info about SOLIDWORKS Manage or SOLIDWORKS PDM? Give us a call or contact your account manager today!
I hope this part of the What's New series gives you a better understanding of the new features and functions of SOLIDWORKS 2022. Please check back to the CATI Blog as the CATI Application Engineers will continue to break down many of the new items in SOLIDWORKS 2022. All these articles will be stored in the category of "SOLIDWORKS What's New."
Michael King
PLM Solutions Architect
Computer Aided Technology
What is Design Innovation Month?
DESIGN INNOVATION MONTH 2021 – Live Events, Webinars, Virtual Showroom, Contests
Design Innovation Month is CATI's massive "What's New in 2022" event for SOLIDWORKS, 3DEXPERIENCE, and 3D printing & 3D scanning technology.  That's six weeks of in-person events, live and on-demand webinars, demonstrations, in-depth blog posts, and prizes!  Best of all, it's free of charge! Check the DI Month Hub for all the details and to sign up for your nearest live event.