SOLIDWORKS: MasterCAM and GibbsCAM Add-In Sunset
MasterCAM and GibbsCAM both previously developed add-ins for SOLIDWORKS. These allowed for geometry updates, easy transitions between CAD and CAM, and efficiency. The developers will no longer support these add-ins by 2024 (See below for details).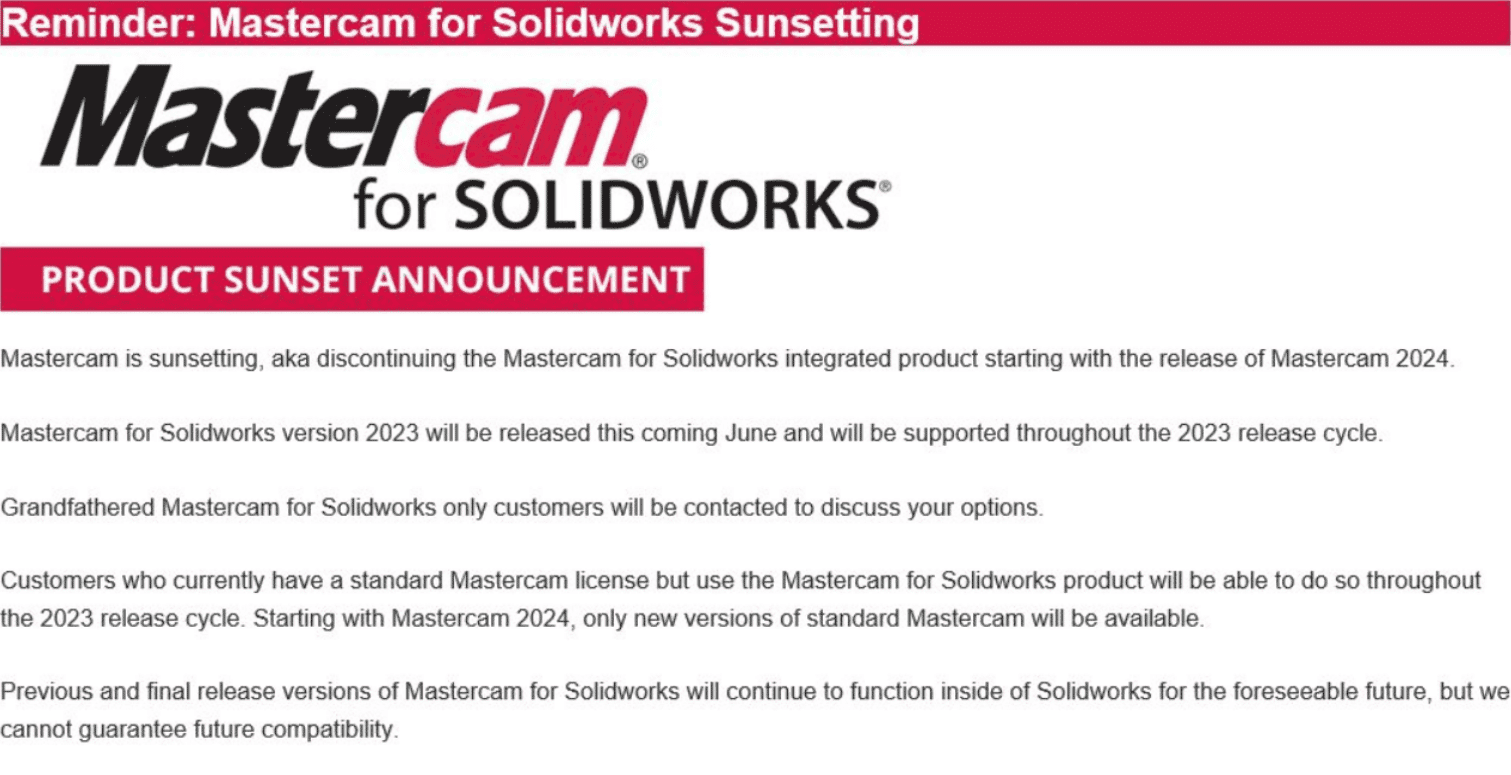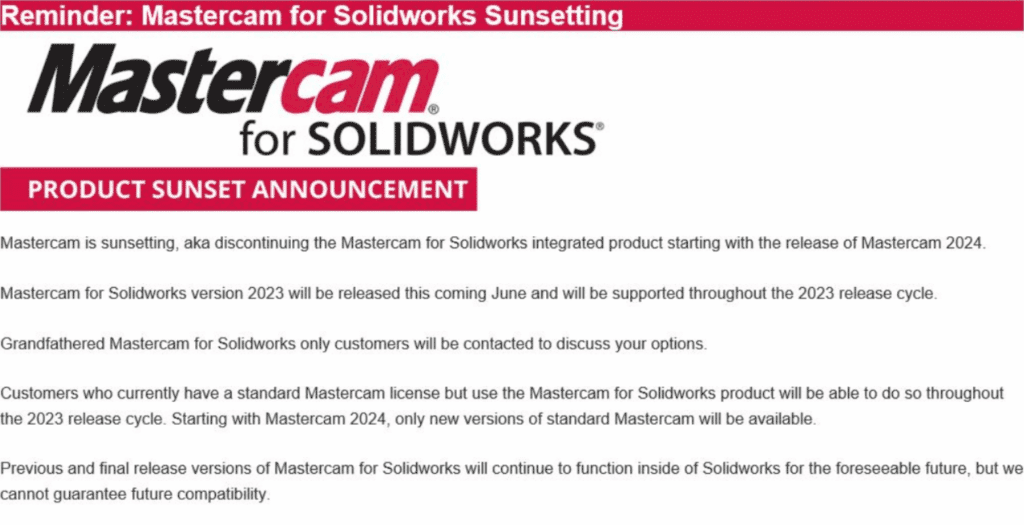 This may be sad news if you've been using these, but there is another, BETTER option for CAD/CAM needs.
SOLIDWORKS CAM and CAMWORKS are seamless integrations with SOLIDWORKS. Plus, SOLIDWORKS subscriptions include SOLIDWORKS CAM Standard for free. Using SOLIDWORKS CAM or CAMWORKS means you're able to work with CAD and CAM data within the same space. Any changes made to the CAD model will update the toolpaths, just like the MC/GC add ins. This all sounds familiar, right? So what IS the difference between these SW CAM and MC/GC add ins?
The SOLIDWORKS CAM Difference
The difference comes down to method. The MC/GC software are operation-based. The user creates operations, one by one, to completely program the part. This requires the user to know the operations, order of operations and tools needed before even starting. This is fine for experienced programmers, but it can limit the productivity of newer programmers as they ramp up. Programmers must also manually align on company standards for consistency. Manual alignment can involve tribal knowledge and human error.
SOLIDWORKS CAM and CAMWORKS are feature-based programs. This means that SOLIDWORKS CAM will automatically recognize features of the part, such as rectangular pockets, hole patterns or circular bosses, and generate a plan to machine those features. YOUR COMPANY STANDARDS set in the Technology Database will then generate the operations needed to cut those features. This reduces variation from programmer to programmer and brings automation and consistency to a traditionally varied manufacturing step.
Although the MasterCAM and GibbsCAM Add-ins are sunsetting, the future of programming is SOLIDWORKS CAM and CAMWORKS. Although it can be intimidating to take on a new CAM tool, CATI is here to help make your switch smooth. Watch this quick SOLIDWORKS CAM Overview to see the integration between SOLIDWORKS CAD and CAM. Even toolpath simulation happens directly within SOLIDWORKS, no extra windows! If you want to learn more in depth about SOLIDWORKS CAM, check out this Getting Started with SOLIDWORKS CAM webcast. Plus, when you are ready to get started with SOLIDWORKS CAM or CAMWORKS, contact CATI for training.
Kit MacDonald
Application Engineer
Computer Aided Technology