SOLIDWORKS MBD 2023 - Top Enhancements
Welcome to SOLIDWORKS 2023! In this newest release, you'll find that SOLIDWORKS MBD has also been updated with several enhancements. As always, SOLIDWORKS spends all year looking through your suggestions to improve their products and incorporates the best ones into the latest release. Let's take a look at some of my top enhancements to SOLIDWORKS MBD in 2023. If you want to follow along in video format, check out the video below.

Improved 3D PDF Dimensions and Annotations
One of my favorite enhancements is the improvement in the display of our dimensions and other annotations. These are now viewable in the 3D views and viewports, with no data loss. This also applies to 3D PDFs showing component dimensions, feature dimensions, and DimXpert annotations.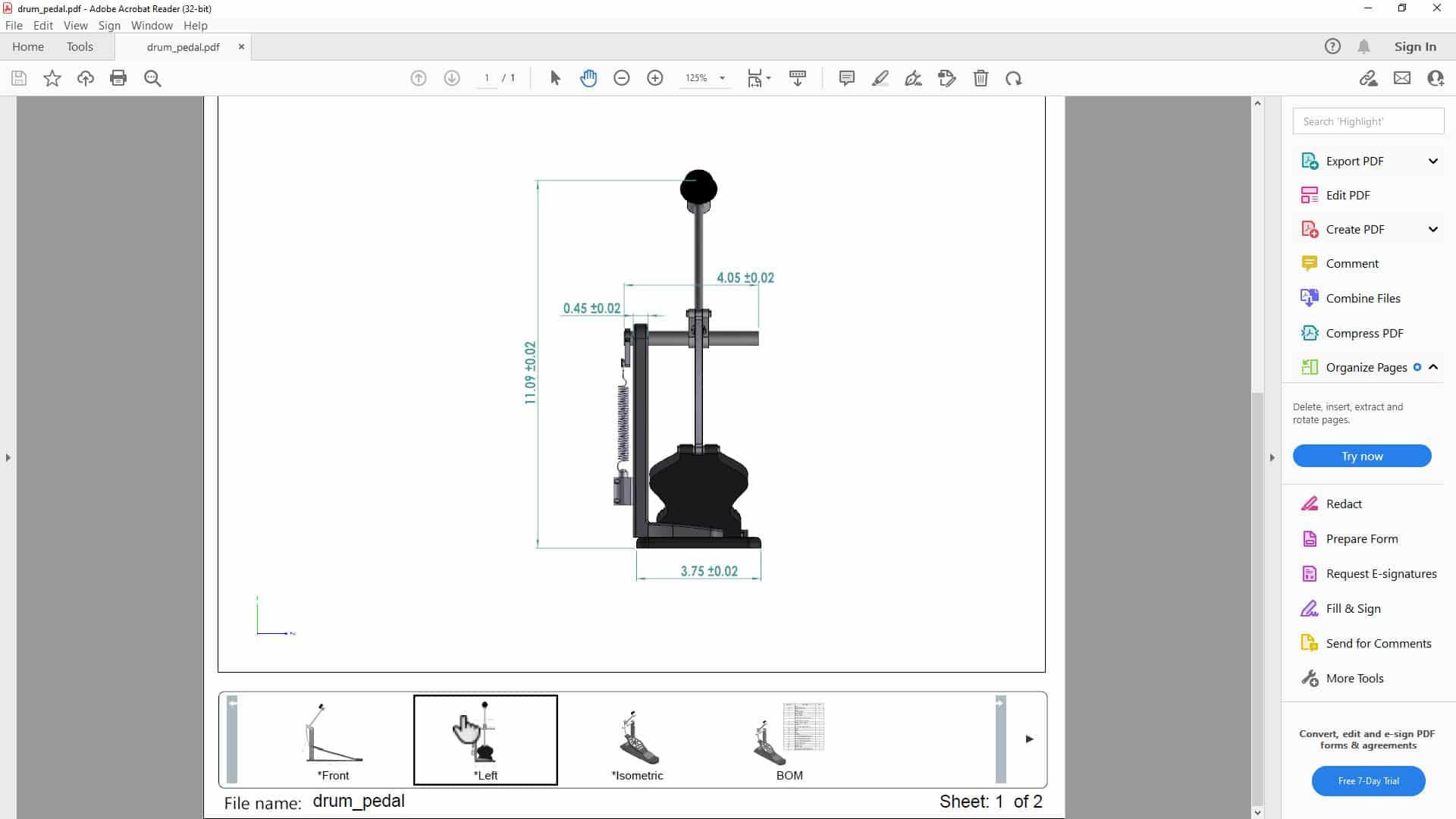 Modify Datum for Auto Dimension Schemes
It is very common to use the Auto Dimension Scheme when you're starting your MBD project. This tool gives us plenty of options, including Plus and Minus or Geometric Tolerancing types. For this prismatic part, we can define the datum planes by model faces. For the primary Datum, we use these four top faces together as a group. The side and bottom faces of the model will round up the selection of the Secondary and Tertiary Datums.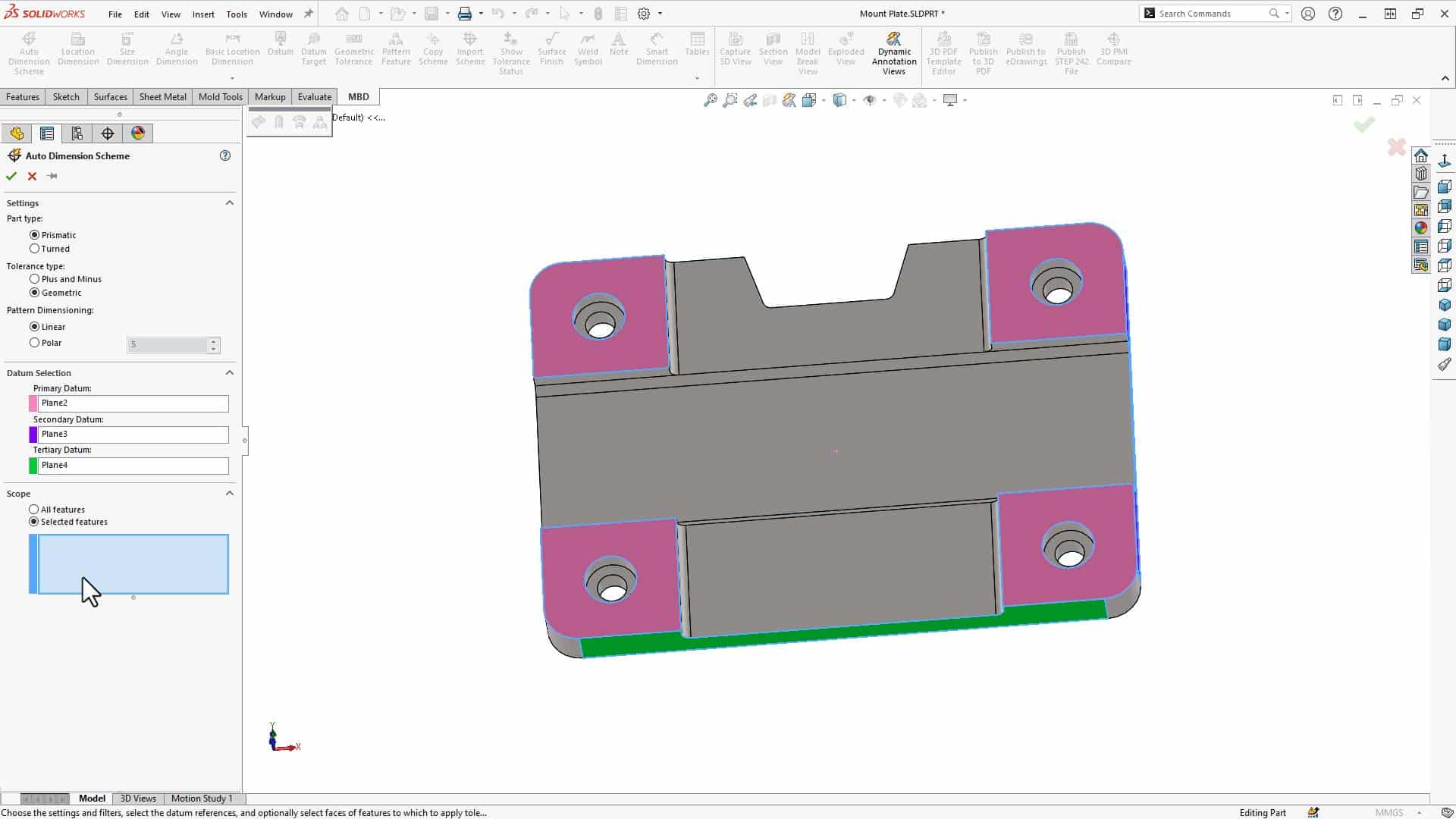 Next, we need to identify the model features that we want to define the tolerancing of. We do this by selecting the faces of the cuts, extrusions, and other features. Once complete, SOLIDWORKS indicates which faces are adequately toleranced with green shading.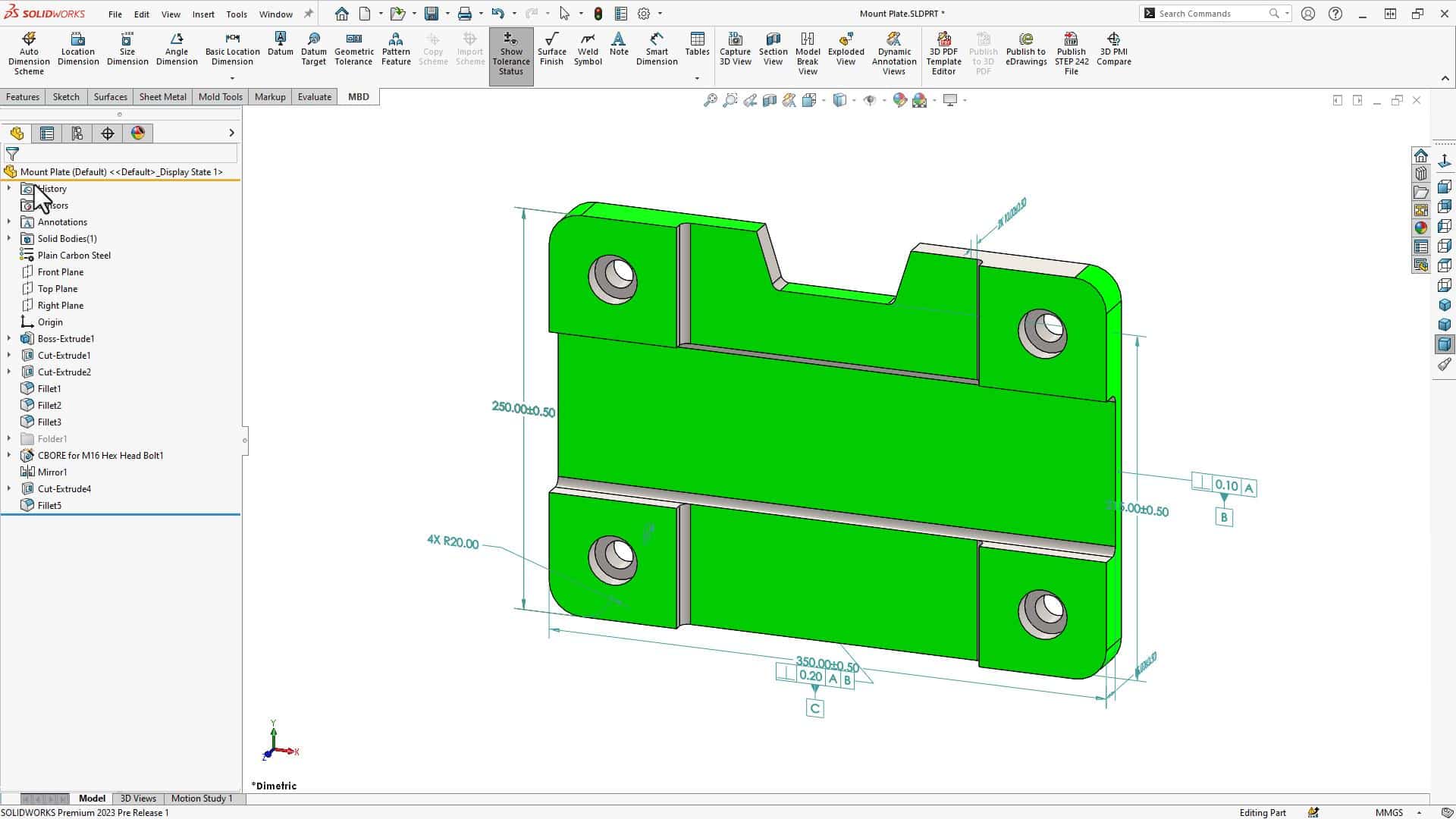 Now, we need to modify the part design to add a boss in the middle. Looking at our tolerance status after this change, SOLIDWORKS isn't highlighting the new geometry in green like the rest of the model.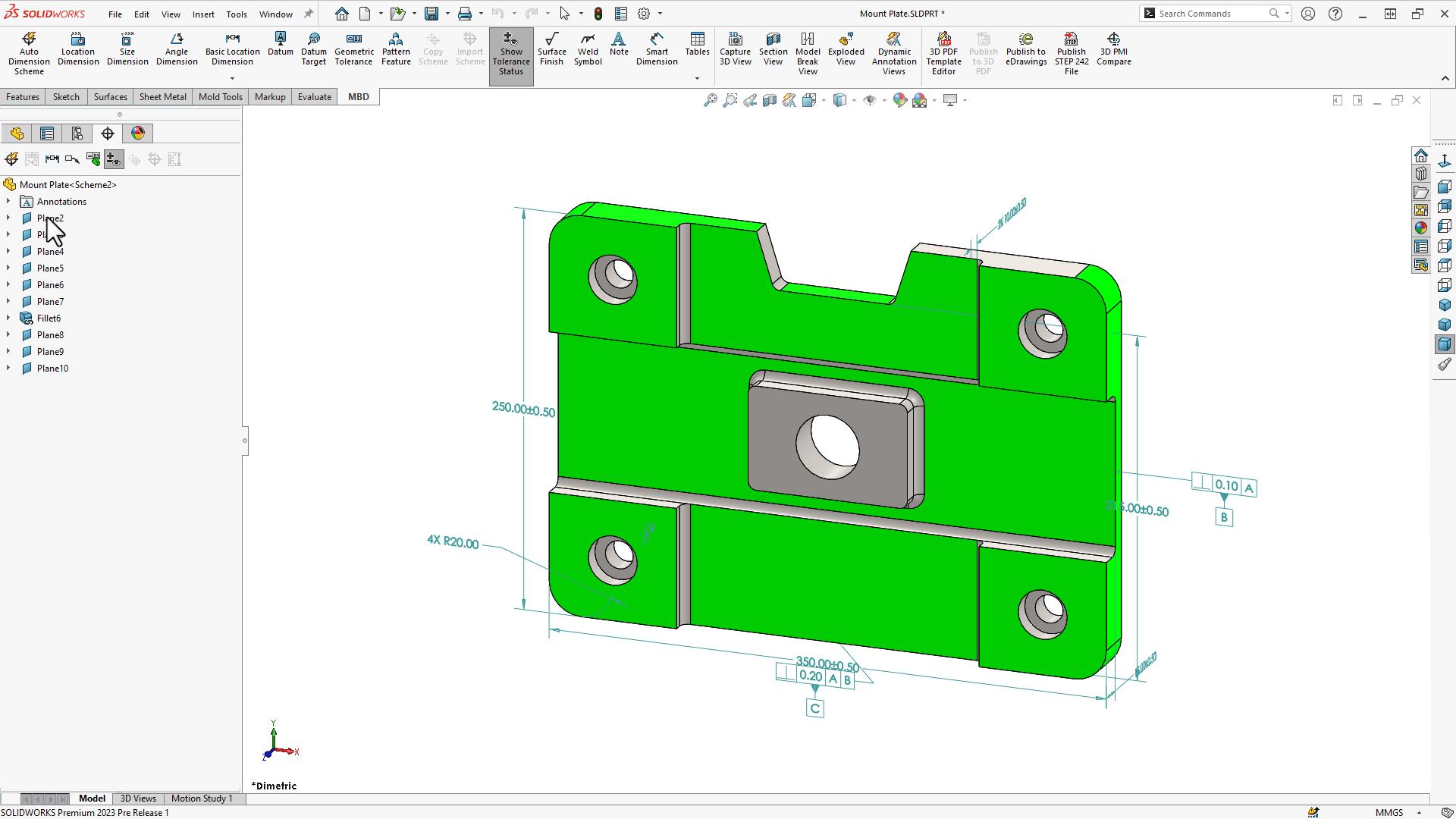 Now, in SOLIDWORKS MBD 2023, we can edit features of items like our previously created datums. This makes it easy to add the top face of this new extrusion to the existing group of faces that represent the Primary Datum.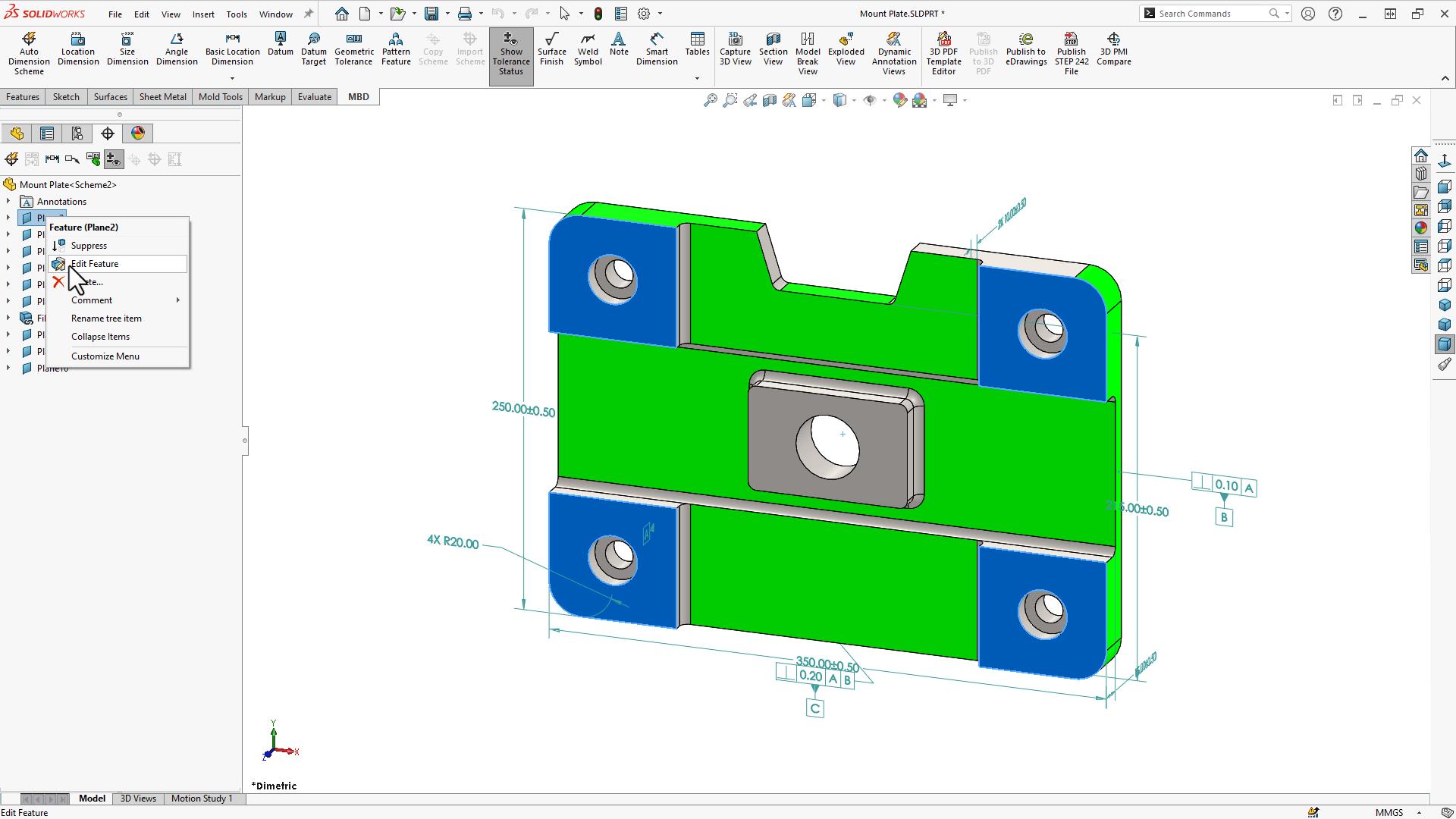 SOLIDWORKS MBD Wedge Feature Support
Let's look at the cut-out at the top edge of this part. Here, we have two opposing nonparallel faces. I have some great news for you. SOLIDWORKS MBD 2023 now supports wedge features! We can use wedge geometry to define a geometric tolerance or even create a wedge datum.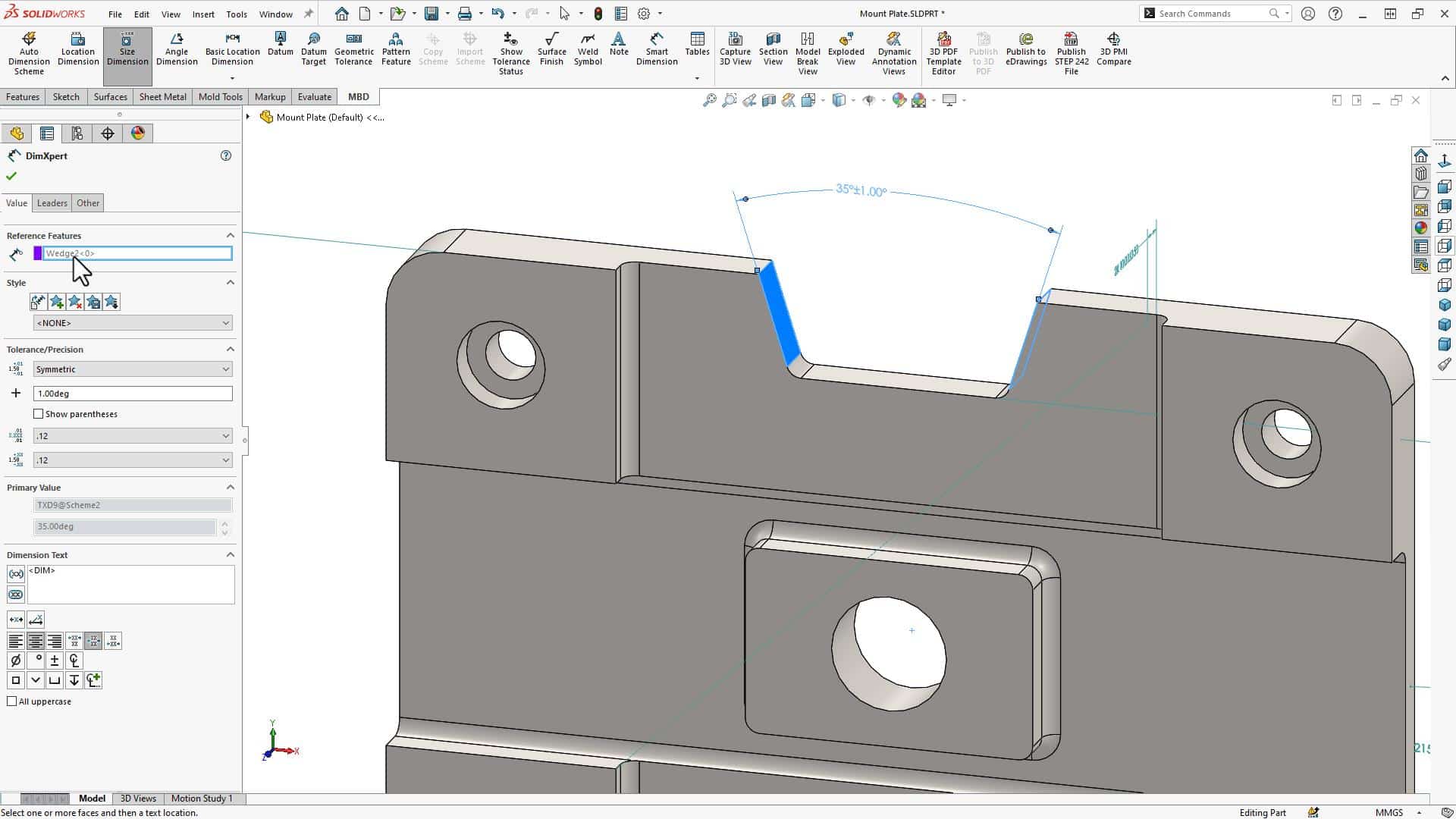 Added ISO Standard Symbols
It is well known that SOLIDWORKS has a massive library of symbols. In 2022, SOLIDWORKS added additional Tolerance symbols. Well, SOLIDWORKS MBD 2023 takes this to a whole new level. You can now apply ISO 14405-1:2016 standards-based symbols to dimensions and tolerances. You can easily add these symbols straight from the symbol library, or from the Tolerance Modifier section in the DimXpert Property Manager.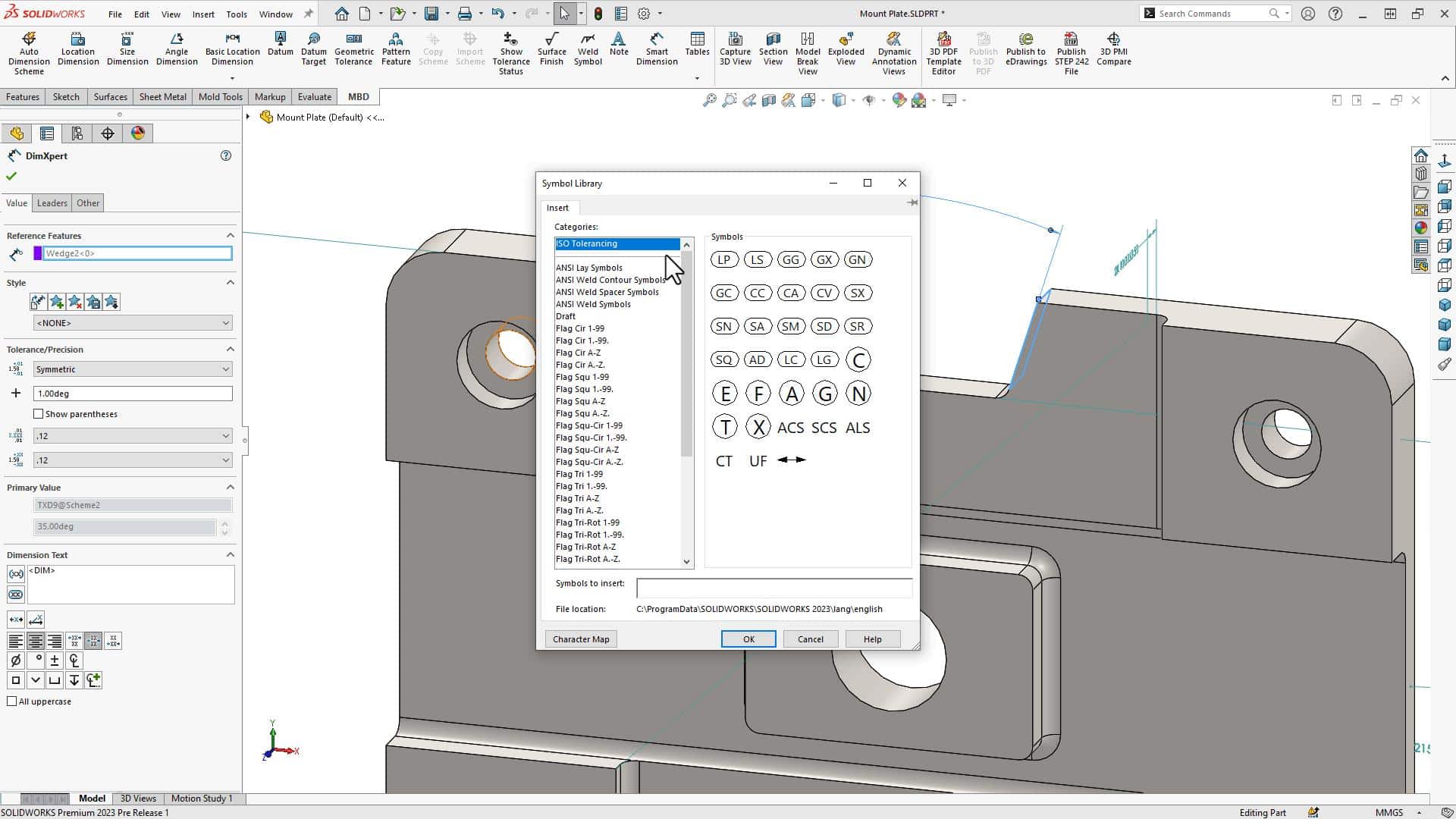 MBD Helps with "Hanging" Dimensions
Here is another excellent enhancement to SOLIDWORKS MBD 2023. This machined part contains holes in overhanging geometry. It is easy to define a locating dimension to call out the vertical position of this hole. Once placed, the annotation can be difficult to interpret due to the dimension's extension line terminating out in space.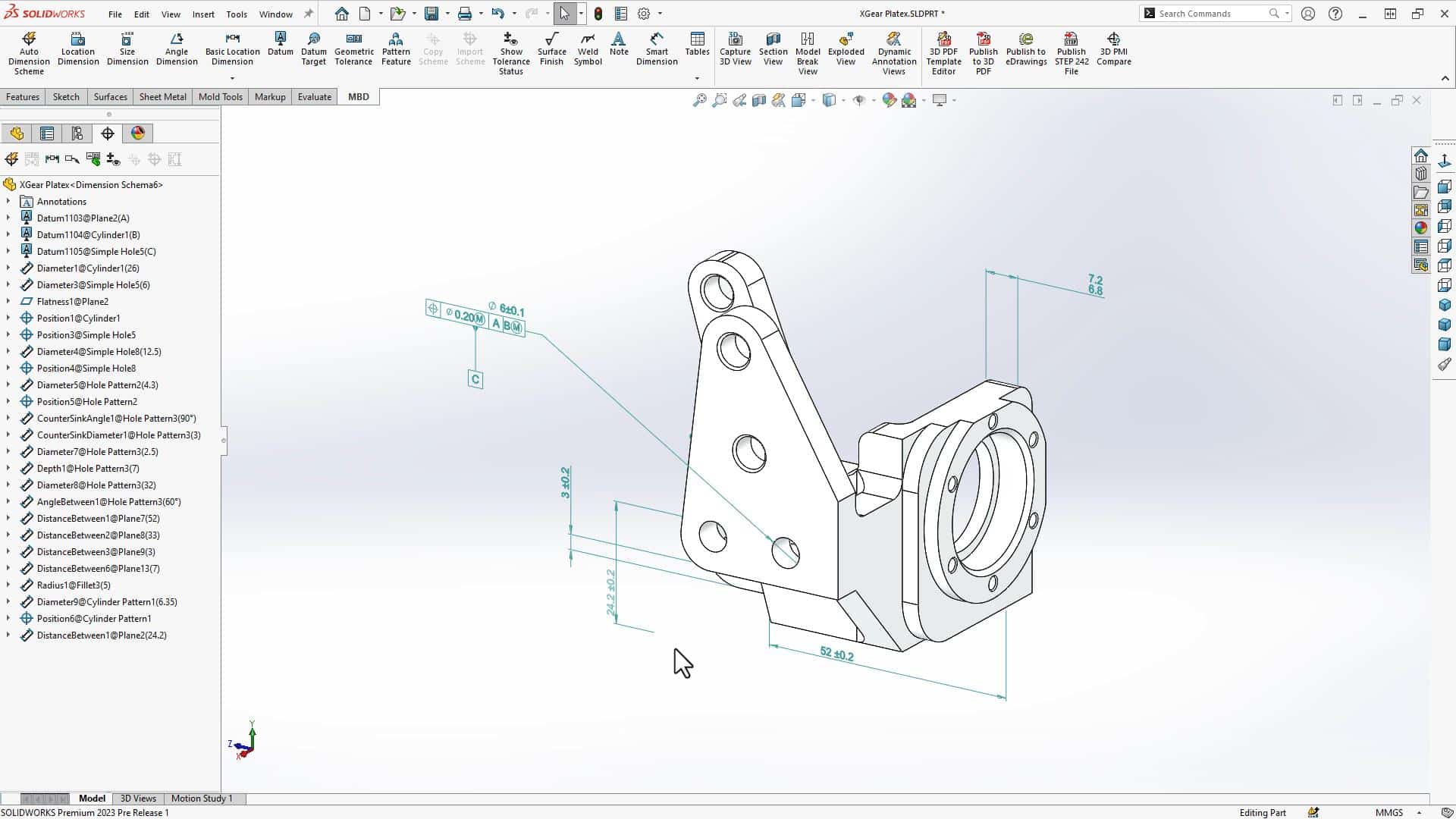 Now, in SOLIDWORKS 2023, we have a new setting that controls the display of the dimension in this situation. In the DimXpert section of our Document Properties, we have several Display Options.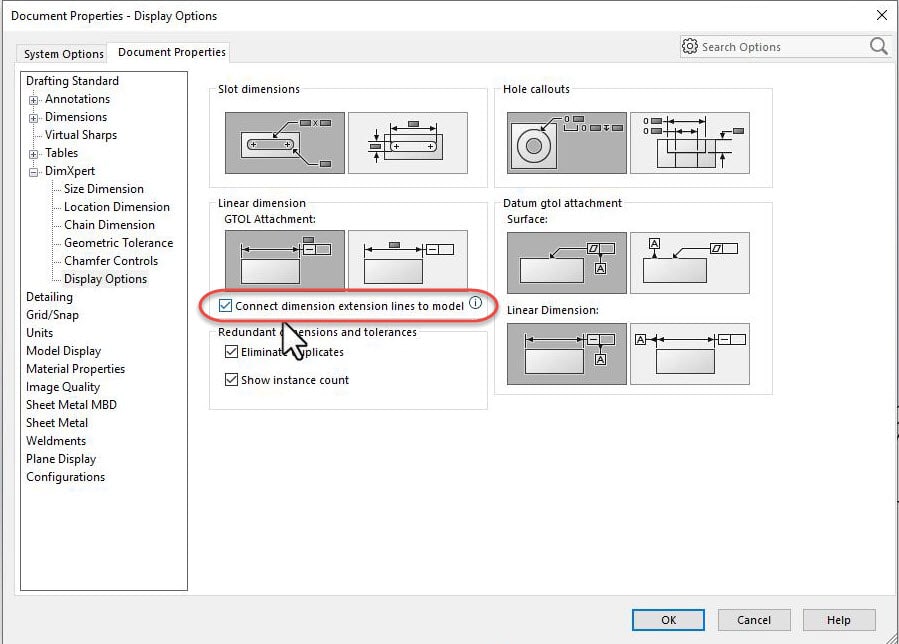 Enabling this new option for "Connect Dimension Extension Lines to Model" can make this annotation much easier to understand.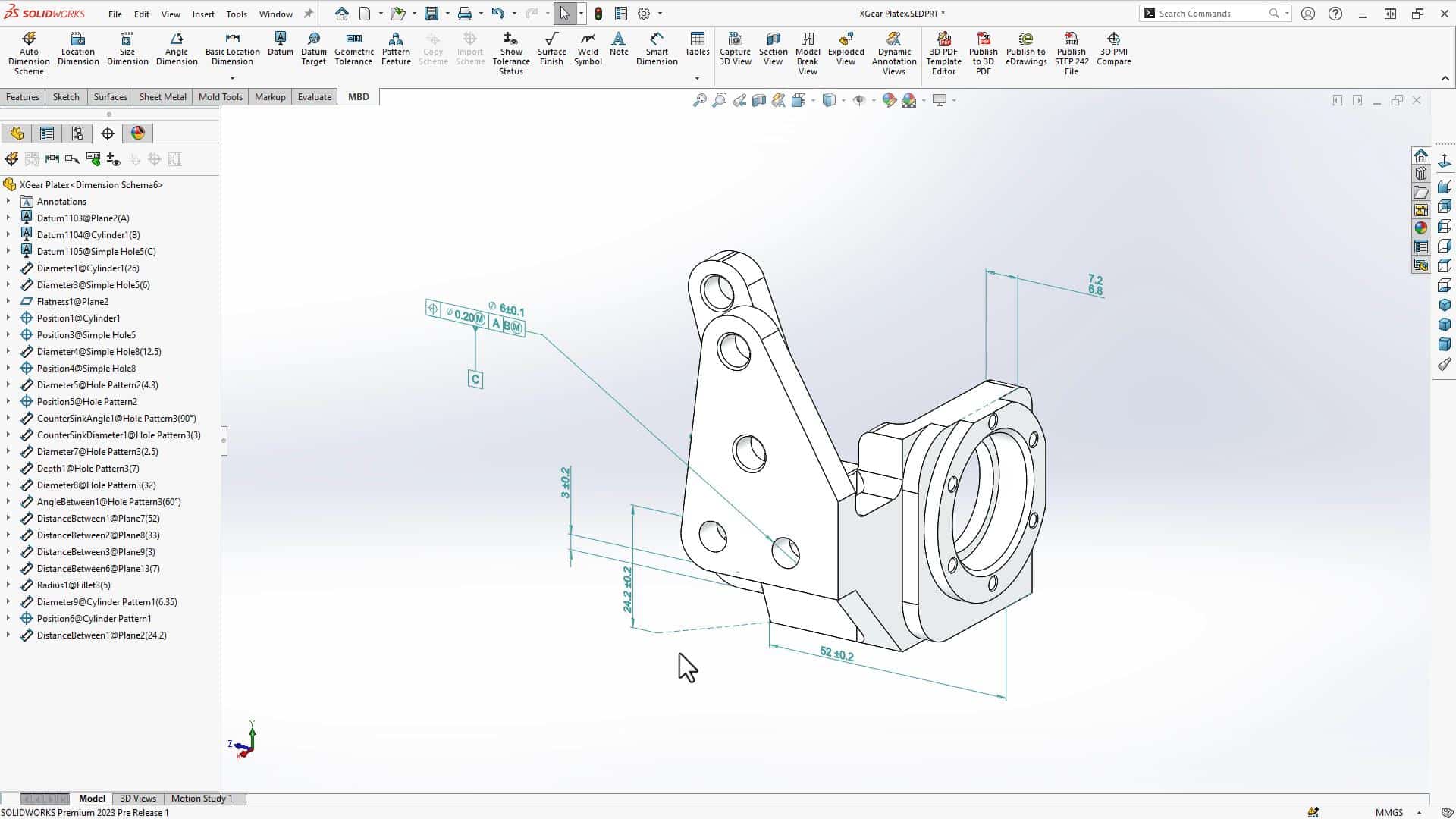 I hope this part of the What's New series gives you a better understanding of the new features and functions of SOLIDWORKS 2023. Please check back to the CATI Blog as the CATI Application Engineers will continue to break down many of the new items in SOLIDWORKS 2023. All these articles will be stored in the category of "SOLIDWORKS What's New."
Greg Buter
Application Engineer Manager
Computer Aided Technology
What is Design Innovation Month?
DESIGN INNOVATION MONTH 2022 – Live Events, Webinars, Virtual Showroom, Contests
Design Innovation Month is CATI's "What's New in 2023" event for SOLIDWORKS, 3DEXPERIENCE, and 3D Printing & 3D Scanning technology. This year we're going back to the future to bring you in-person events, live and on-demand webinars, demonstrations, in-depth blog posts, and prizes! Best of all, it's free of charge! Check the DI Month Hub for all the details and to sign up for your nearest live event.