SOLIDWORKS 2019 What's New – Visualize Automatic Data Recovery – #SW2019
It's quitting time on Friday and you've spent the last few hours getting your SOLIDWORKS Visualize project all set up ready to render out some images over the weekend. You're almost at the point where you can send all your cameras to the queue, start the render queue and head on home. Or maybe you just finished your last set ups for a video to render. When a dreadful crash occurs. AHHHH! Scream to the heavens, WHY GOD?!?! WHY ME?!?! Buckle down for a couple more hours you're not going anywhere until you redo all that work…
Unless….you have SOLIDWORKS Visualize 2019!
New to SOLIDWORKS Visualize 2019 is the ability to set up automatic recovery options for your SOLIDWORKS Visualize sessions. If your SOLIDWORKS Visualize session ends unexpectedly, also known as a crash in layman's terms, you can recover automatically saved data the next time you start a SOLIDWORKS Visualize session.
You can even specify the frequency at which you want to save the files. And where you want that data stored.
Simply go to Tools > Options > Auto-Recover and select Enable auto-recover.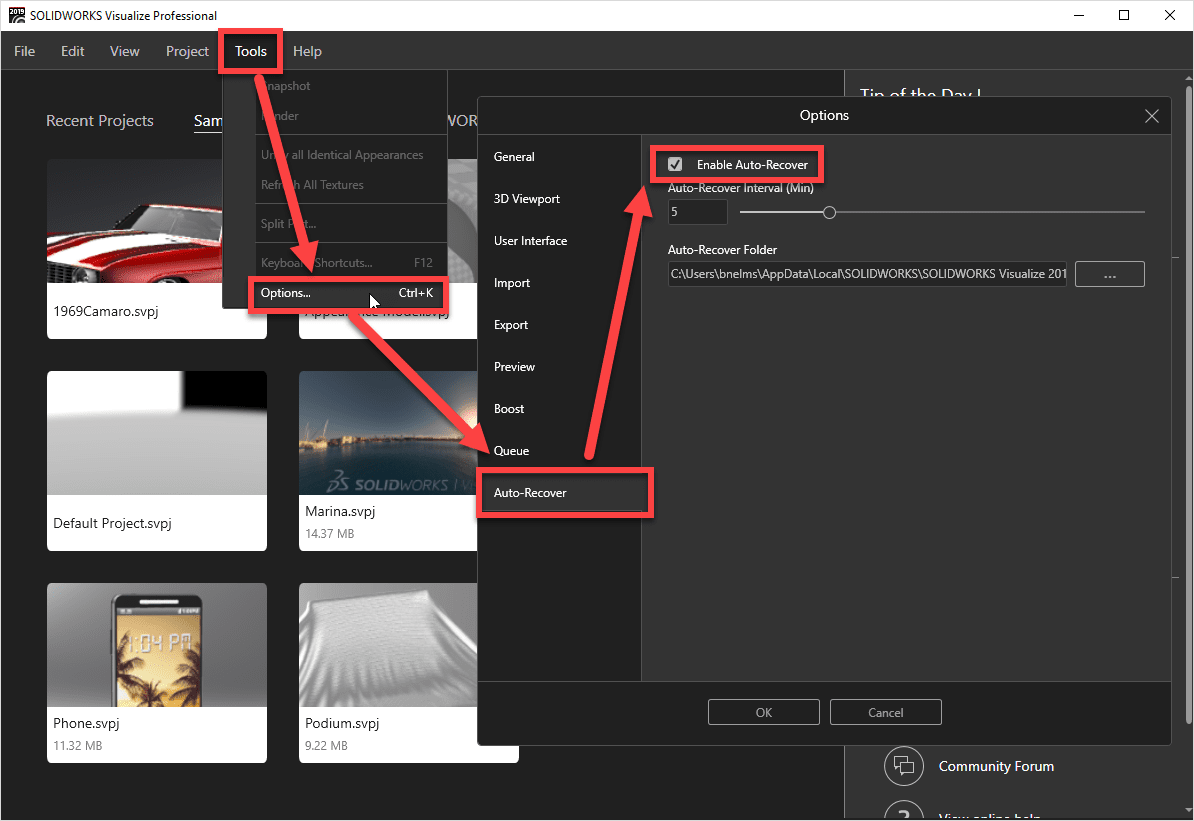 Now SOLIDWORKS Visualize will automatically save unsaved data at the specified interval so you can recover it if you have an unfortunate crash.
You can specify the interval here: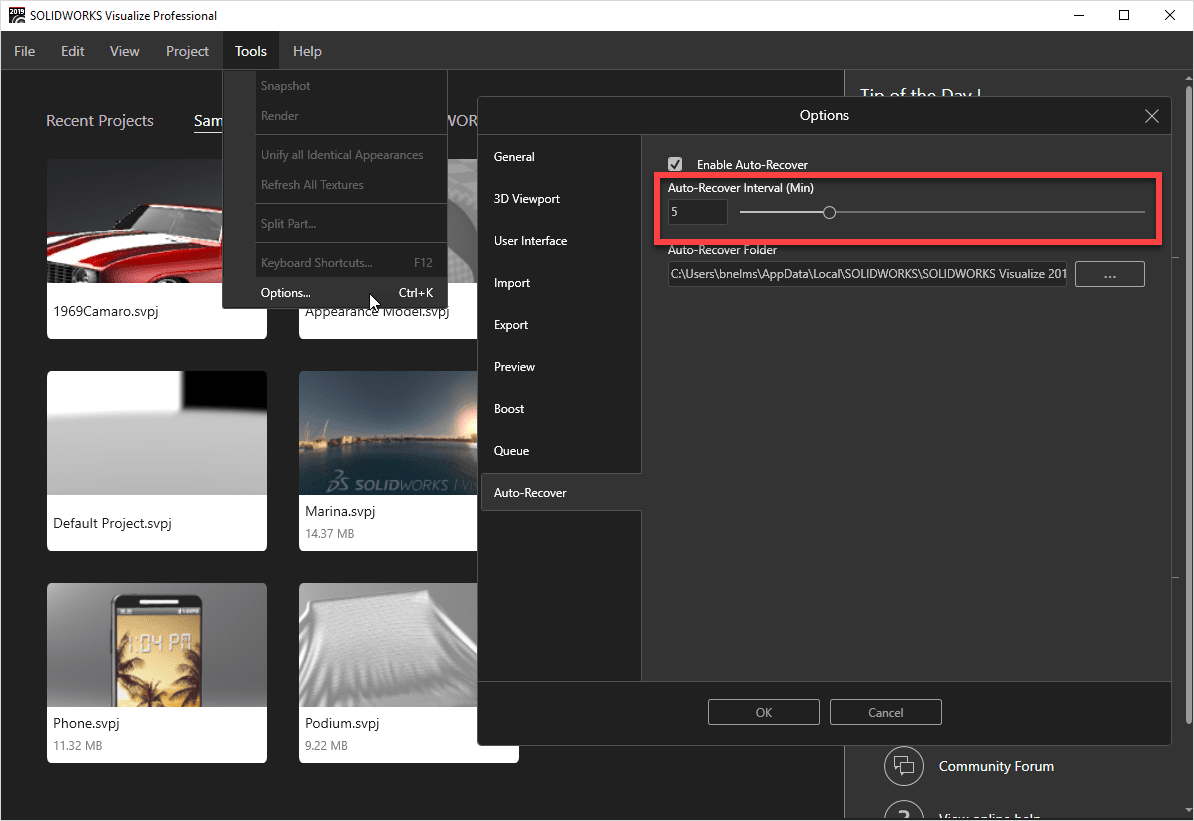 This specifies the number of minutes before an auto-recover file is created and how often it is updated while no work is saved. And as soon as you save your work the file is closed and deleted.
Finally, you can set the location of that auto-recovery file here: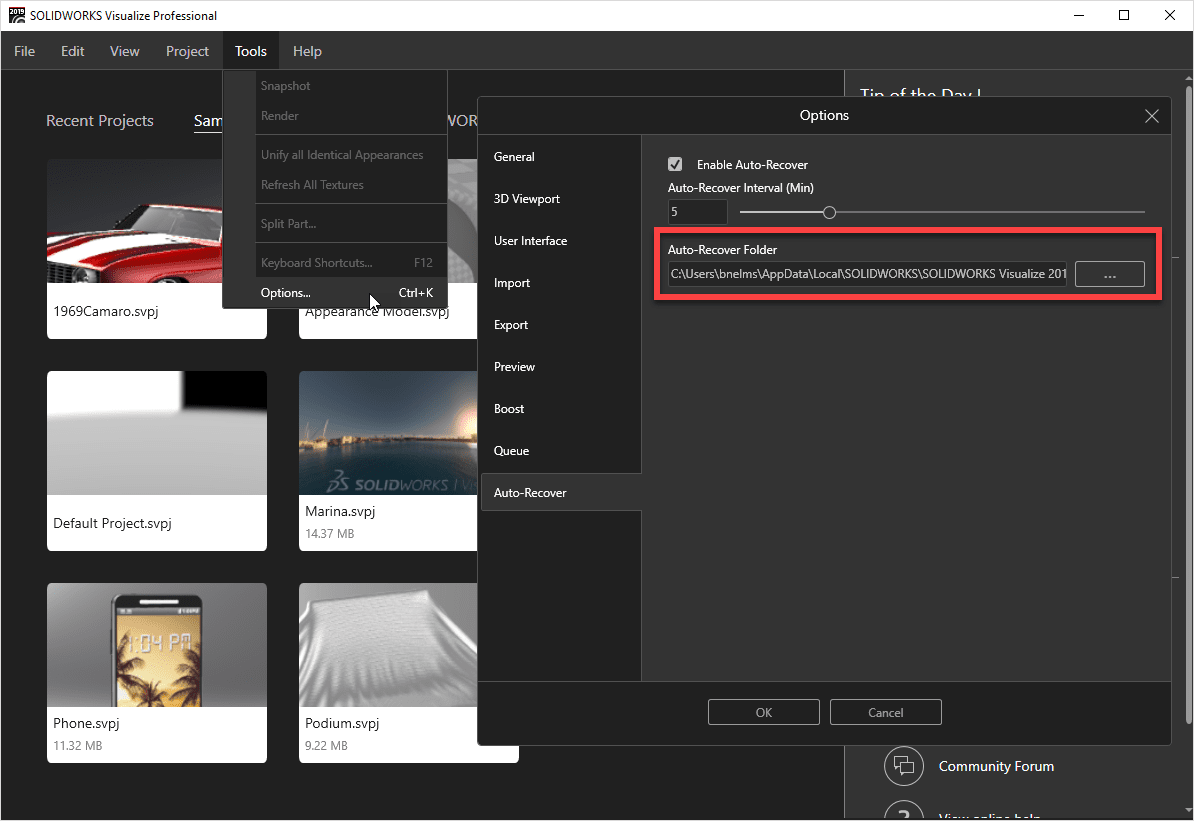 It should be known that auto-recovery folder must be a folder on your local system. So you can't use a network location or mapped drive for this folder.
Now breathe a sigh of relief no more worrying about losing your work. SOLIDWORKS Visualize 2019 has your back!
I hope this part of the What's New series gives you a better understanding of the new features and functions of SOLIDWORKS 2019. Please check back to the CATI Blog as the CATI Application Engineers will continue to break down many of the new items in SOLIDWORKS 2019. All these articles will be stored in the category of "SOLIDWORKS What's New."
Brandon Nelms
Application Engineer
Computer Aided Technology, Inc