Stratasys Announces SUP706 for Polyjet Machines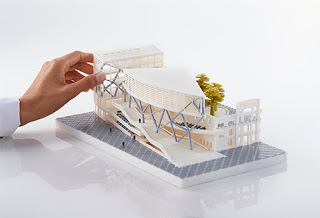 On Tuesday, Stratasys announced a brand new support material
available to all Polyjet Connex
customers, SUP706. Running on all
triple-jetting 3D printers, SUP706 is compatible with all Polyjet materials,
the only exception being specifically identified hearing aid materials. This
new support material opens up doors to print even more detail geometries and
reduces the already low design constrictions Polyjet users have. Key benefits
to the new Sup706 include.
Maximize productivity of your triple-jetting
system and achieve a low TCO per part with easy, two-step automated support
removal
More design freedom with the ability to easily
remove support material from delicate features and small cavities
Faster and easier water-jet removal and improved glossy-mode performance
For more information on how you can take advantage of the
benefits of SUP706 please contact material@fisherunitech.com.