Webinar: Additive Manufacturing 101
Additive manufacturing technologies are also commonly known as "3D Printers." Although they are still being used by design engineers for concept modeling and prototyping, that's not all. Manufacturing engineers are now employing these technologies for various applications such as jigs, fixtures, check gauges, and even as a bridge-to-tooling and low-volume end-use parts.
Join us for a live webcast to learn more about these applications.
When:
Tuesday, January 13, 2014
2:00pm – 3:00pm Central Time
Attend this webinar to see how 3D printers and production systems are changing product development and manufacturing.
CLICK HERE to register.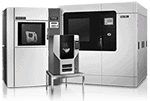 Tracy Golden
Marketing Assistant
Computer Aided Technology, Inc.