What's New in eDrawings | SOLIDWORKS 2019
eDrawings is an excellent tool for viewing CAD models and now gets even more valuable in 2019. eDrawings 2019 now supports several new CAD file formats. Parasolid, Solid Edge, Acis, JT, and NX files are now supported for viewing making eDrawings your go-to choice for CAD file viewing.
Viewing configuration data has always been available for exported EPRT and e-Assembly files. Now with eDrawings 2019, configuration data can be viewed for native SOLIDWORKS parts and assembly files saving the step of exporting the data to eDrawings format. Keep reading to learn more.
New web HTML output
Sharing CAD data from eDrawings is a great way to collaborate with the new web HTML output eDrawings models can be shared in a new format that opens in any browser without the need for extensions or installation.
Familiar tools are also available such as access to the component tree and configurations that exist in the model can be displayed. A handy explode tool is available to see parts contained in the assembly and sectioning allows for better visualization of internal components.
All of the eDrawings viewing tools are available such as view animation, standard views, and model display. Ambient occlusion can be turned on as well for added realism when viewing models.
eDrawings 2018 VS. eDrawings 2019
Finally, performance in eDrawings 2019 gets a big boost. When rotating large assemblies in eDrawings 2018, often times when rotating a model there would be a delay before the assembly catches up to the mouse and small details would also be removed. This removal of detail during rotation is done by design to help speed view manipulation but comes with the expense of the visual appeal.
In eDrawings 2019, when rotating the same assembly there are no noticeable delays and small details remain. All the view manipulations feel immediate and effortless and the same goes for component selection providing a much better user experience when viewing very large assemblies.
eDrawings 2019 extends its capabilities to view more CAD file types, offers better sharing through the new web HTML output, and provides a big performance boost when viewing large assemblies.
To see all the new capabilities in eDrawings 2019 in action check out the video below.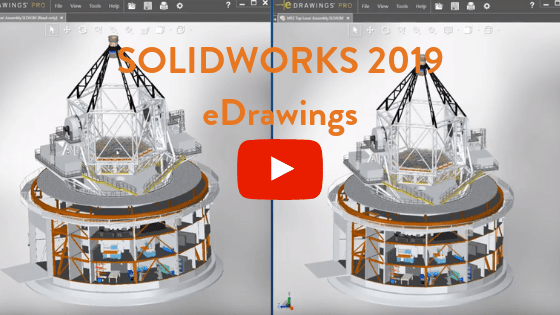 Related Articles
SOLIDWORKS 2019 3D Markup: A Better Way to Communicate Design Ideas
Get a Sneak Peak of SOLIDWORKS 2019
Attend a SOLIDWORKS 2019 Launch Event
About the Author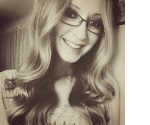 Angelle Erickson writes about how companies are using innovative technologies, such as 3D printers and SOLIDWORKS software to increase productivity, improve product development processes, and maximize business potential.