Get live Abaqus help, read quick tips, and download useful FEA tools.
Simulation Support
Simulation Technical Support
7AM – 7PM Central Time
Monday - Friday
Support Access
Is your model not converging? Don't know how to do something? Think you found a bug? Fill out the form and we can help! Our engineers use and support SOLIDWORKS Simulation, SOLIDWORKS Flow, SOLIDWORKS Plastics, Abaqus, fe-safe, Isight, Tosca, CST Studio Suite, Opera, 3DEXPERIENCE, and FEMFAT everyday.
You can access our customer support system anytime to initiate a new Support Question or check on the status and update an existing call. You also have access to view license information, CATI custom Support videos. You can also view the CATI training schedule and register for classes.
Visit the CATI Customer Portal >>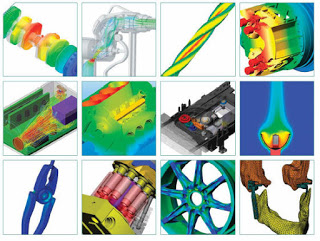 Installation Guides and Helpful Tips
Tips & Hints
General Contact in Abaqus / Standard
General contact in Abaqus/Standard uses the surface-to-surface finite-sliding contact formulation. This formulation can also be used for contact pairs, but it is not the default. The unsymmetric solver (*step, unsymm=yes) is highly recommended to speed convergence for surface-to-surface contact or node-to-surface contact with highly curved master surfaces.
Debug Numerical Singularities
Use a Frequency (normal modes) analysis to verify that a model is fully constrained. All materials will need to have a density assigned for this analysis procedure. Any results with a frequency near zero are indications of an under-constrained model which will show up as NUMERICAL SINGULARITY convergence difficulties in Abaqus/Standard. Animate these modes to visualize the problem.
Simplified Test Model
A simplified test model can quickly help identify many modeling problems in Abaqus/Standard. Consider using linear elements (C3D4 instead of C3D10), linear material properties, and coarser meshes for these initial debugging runs. Set the minimum step size reasonably high so a job with problems will fail quickly.
What information and data are necessary to conduct analysis and how do we get it to you?

CAD data (preferred format is Parasolid, STEP, IGES, or CATIA), material information, and loading scenario. We can create a secure FTP or use your organization's file transfer methods. Be prepared with clean, complete, up-to-date data, and we can get started without delay!

What kind of material properties are necessary for typical analysis?

At minimum, a yield strength, ultimate strength, and elongation at break, as this trio allows us to create a "three-point curve" for simple project analysis. This is sufficient for many use cases, although proper stress-strain curves are, of course, preferred.

From there, what is necessary will depend on the type of analysis being done. Temperature is often a consideration, in which case temperature-dependent stress-strain curves, thermal expansion, conductivity, specific heat, etc., become essential for accurate simulation.

FEA solvers can get extremely advanced with material modeling when necessary!

Which FEA solvers and pre-/post-processors do CATI use?

CATI mostly uses Abaqus for mechanical simulation, fe-safe and FEMFAT for fatigue simulation, 3DEXPERIENCE and Xflow for CFD simulation, and Isight and Tosca for process automation and design optimization. However, we are also very comfortable with LS-Dyna, Nastran, and Optistruct, and have done solver results correlation studies.

We primarily use Abaqus/CAE and HyperWorks for modeling and reporting, depending on the analyst, the client, and the specific task.

How long does it take to get FEA results?

It's hard to answer this in general terms, but at the extremes, the simplest analyses can be conducted in less than a week, while comprehensive analyses of large assemblies can take a month or two to develop and execute. Most things, of course, fall in between.

When a project analysis can be structured and staffed with repeatability in mind, it becomes a very wise investment, as turnaround time for new iterations and product variations can get much faster.

What are deliverables from an FEA Project?

That's up to you! Typically, we deliver results in a PowerPoint presentation on the CATI template. However, we can use your own company templates, and we can produce Word documents or PDFs if preferred. We like to close a project with a screenshare meeting during which we can answer your questions and interactively explore the results in 3D, but we can also do face-to-face meetings with you and/or your customer. We can also send you our input decks and results databases, including standalone H3D viewer files.

How much does FEA work cost?

A typical FEA project budget could range from a couple days and a couple thousand dollars, to several months or years and hundreds of thousands of dollars. On our end, we try to keep services cost down by leveraging global partners, investing in high-performance computing, and being as capable and efficient as possible with our CAE tools.

Do you quote fixd-price or time and material (T&M)?

Either, depending on the project and on your preference. Assignments with well-defined scope and short-term timelines can often be quoted on a fixed price basis. Projects with developing scope (i.e. scope and direction of subsequent steps depends on outcome of prior steps) and/or long-term timelines are often quoted as T&M. We also consider what your quoting preference is and work to accommodate that. Please contact us if you'd like to talk about fixed price vs. T&M in more detail.

What OSes does Abaqus support? What about other SIMULIA products?

Abaqus 2019 supports the following:

Windows 10 Professional and Enterprise

Windows Server 2012 R2, 2016 (with or without HPC Pack)

Red Hat Enterprise Linux Server 7

SuSE Linux Enterprise Server 12

Abaqus 2018 was the last release to support Windows 7 SP1, Windows 8.1, and Windows Server 2008 R2 SP1

Abaqus 2018 was the last release to support RHEL 6 and SLES 11

For more details regarding compilers, interconnects, and other SIMULIA products, contact us or view this page with your 3DS account.

What kind of system specs do I need to run Abaqus?

This really depends on what you're trying to run. Our absolute minimum would be 4 CPU cores (WITHOUT hyperthreading), 8 GB of RAM, a 1 TB hard drive, and an Nvidia GeForce for pre-/post- (NOT compute).

These are by no means recommended specs – do not make a hardware purchase without consulting us to discuss your individual needs, as they will dramatically affect your ideal hardware configuration.

Contact us to have a discussion and benchmark your analysis. With the right information, we can optimize your ROI on this significant software/hardware purchase.

What kind of system specs do I need to run CST Studio Suite?

Visit our CST hardware requirements page for detailed answers.

How do I run Abaqus?

To download Abaqus, you will find step-by-step instructions on our blog. You can also contact us.


How do I update my Abaqus license?

To update your Abaqus license, you will find step-by-step instructions on our blog. You can also contact us.

What is the difference between a "Golden Release" (GA), "Fix Pack" (FP) number, and a "Hot FIx" (HF) number?

The GA release is the initial release of a specific version (year). Cumulative Fix Packs may be optionally applied once the GA is installed; the FP number corresponds with the time of date of the revision. For example, FP1923 was released in the 23rd week of 2019.

The HF number is a sequentially increasing revision number, similar to the old "dash" number. The Fix Pack Table found in the online Program Directories shows the conversion between this FP number and the HF number.

Where can I get support for SIMULIA software including Abaqus, Tosca, Isight, and fe-safe?

Check the SIMULIA Knowledge Base. If you can't find an answer there, then you can:

create a support ticket with DS

fill out our support request form up above.

call us at 888-285-2284 for support

Where is the Abaqus manual?

Since Abaqus 2017, we do not recommend the locally installed HTML manual due to severe restrictions in its search capability. Visit 3DS Help and choose a version that ends with the word "SIMULIA", or just click here for the 2020 version.

There are still PDF versions of the manual available for download as Knowledge Base articles. Start with this pre-entered Knowledge Base search.

How do I show my expertise in Dassault Systemes software?

You can show your expertise through certifications. Visit our certifications section to learn more, and contact us to schedule an exam.

How do I install Abaqus 2017-2020 on Windows?

Get the setup files for Abaqus by following these instructions for download SIMULIA software. The setup files will be in the form of .TAR archives.

The retrieved .TAR files need to be extracted in a way that allows their contents to mix together. We recommend installing the free 7-Zip program and using the "Extract here" option (see screenshots in the Abaqus 2016 section below). After extraction you should have a subdirectory named "AM_SIM_Abaqus_Extend.AllOS" containing all the installation software.

During the installation process, you will need to choose between two types of license servers, DSLS and FLEXLM. Ask your IT manager which type your company uses and what address to use for the license server.

We do not recommend installing the local documentation with the latest versions of Abaqus. The local search does not work well and the files require a lot of disk space. The online documentation is much better and is available here: http://help.3ds.com

The "Suite Installer" will step you through the separate installation programs for each of the software components (Abaqus solver, CAE, Tosca, Isight, etc). Start the Suite Installer found at this location amongst the extracted files: "AM_SIM_Abaqus_Extend.AllOS1setup.exe".

How do I install Abaqus 2016 on Windows?

Note: If you need help installing a different version of Abaqus or help installing on a different operating system, the instructions are different than those below.

The contents of the tar files need to be extracted in a way that allows them their contents to overlap directories. One way to do this is by using 7-zip: select all files, right click, 7-zip "extract here". You should find a subdirectory named "AM_SIM_Abaqus_Extend.AllOS" with the installation software within.

You will find the license server setup buried within that subdirectory (and many more) at this location: AM_SIM_Abaqus_Extend.AllOS1SIMULIA_FLEXNetWindows641setup.exe

The documentation will need to be installed next, either on a central computer or on each client's workstation. Once you extract the "2016.AM_DOC_SIM_EstPrd.AllOS.tar" file you will find the documentation server setup program here: AM_DOC_SIM_EstPrd.AllOS1DOC_SIMULIA_Abaqus_fe-safe1Abaqus_2016setup.exe

By the way, the Installation and Licensing Guide, which explains this whole process in detail is located here: AM_DOC_SIM_EstPrd.AllOS1DOC_SIMULIA_Abaqus_fe-safe1Abaqus_2016INSTALL_LIC.pdf

Once the license and documentation are set up then you may begin installing software on the client machine(s). The client programs are currently broken into many separate installers that should be run in this order: AM_SIM_Abaqus_Extend.AllOS13DEXPERIENCE_AbaqusSolverWindows641setup.exe AM_SIM_Abaqus_Extend.AllOS1CAA_3DEXPERIENCE_AbaqusSolverWindows641setup.exe AM_SIM_Abaqus_Extend.AllOS1SIMULIA_Abaqus_CAEWindows641setup.exe

For additional installation help, contact us using the form at the top of the page.

How do I read Abaqus release notes?

Abaqus release notes are substantial documents full of useful information. They are the place to learn about new features, new conveniences, and new performance upgrades. These release notes are well organized so you can easily navigate to what is relevant to you, so be sure to give it a look!

Here's how you get to them:

1. Visit help.3ds.com and log in.

2. Pick a SIMULIA year from the pulldown menu.

3. Click for SIMULIA/Abaqus products.

Finding Abaqus release notes

Finding Abaqus release notes (Click to enlarge)

4. Expand Abaqus.

5. Click Release Notes.

6. Explore!

Finding Abaqus release notes, cont.

Finding Abaqus release notes, continued (Click to enlarge)
Abaqus Token Calculator
To find out how many tokens you need, look up how many cores you would like to run:
| Cores | Tokens Needed | Cores | Tokens Needed | Cores | Tokens Needed | Cores | Tokens Needed |
| --- | --- | --- | --- | --- | --- | --- | --- |
| 1 | 5 | 5 | 9 | 9 | 12 | 13 | 14 |
| 2 | 6 | 6 | 10 | 10 | 13 | 14 | 15 |
| 3 | 7 | 7 | 11 | 11 | 13 | 15 | 15 |
| 4 | 8 | 8 | 12 | 12 | 14 | 16 | 16 |
Or use our custom quantity calculator: