Communication Software
3DEXPERIENCE 3D RENDER
Easily create and share photorealistic renderings to deliver the right content for customer engagement.
Get Cloud Rendering Today.
Contact our 3DEXPERIENCE team to get started.

Request a Demo
3DEXPERIENCE 3D RENDER enables makers, designers, and CGI artists to easily create high-quality photorealistic renderings of their products without having to buy an expensive 3D workstation.
It allows anyone to create world-class marketing assets, anytime and anywhere, from a web browser, with endless scalability through cloud-based rendering of the final images.
---
GOT QUESTIONS ABOUT THE SOLIDWORKS RENDERING PORTFOLIO?
Richer, more compelling product information is made available to consumers and partners


Create appealing product content for product marketing and sales much earlier in the design cycle

Easy-to-use, scene-based, real-time 3D user interface


Render preview in the web browser supports superior material appearance and render quality in Global Illumination (GI) mode

As a web app, connect and continue working, anytime and anywhere, with no client installation

Tweaks are possible (e.g. material refinement) on the experience level without breaking the link to the product data

Direct, native, immediate access to up-to-date design data via 3DEXPERIENCE CLOUD PDM


Fully-scalable infrastructure for large-scale productions and teams via "render-as-a-service"

Pay only when rendering through the power of the cloud
Is Cloud-Based Rendering Right for You?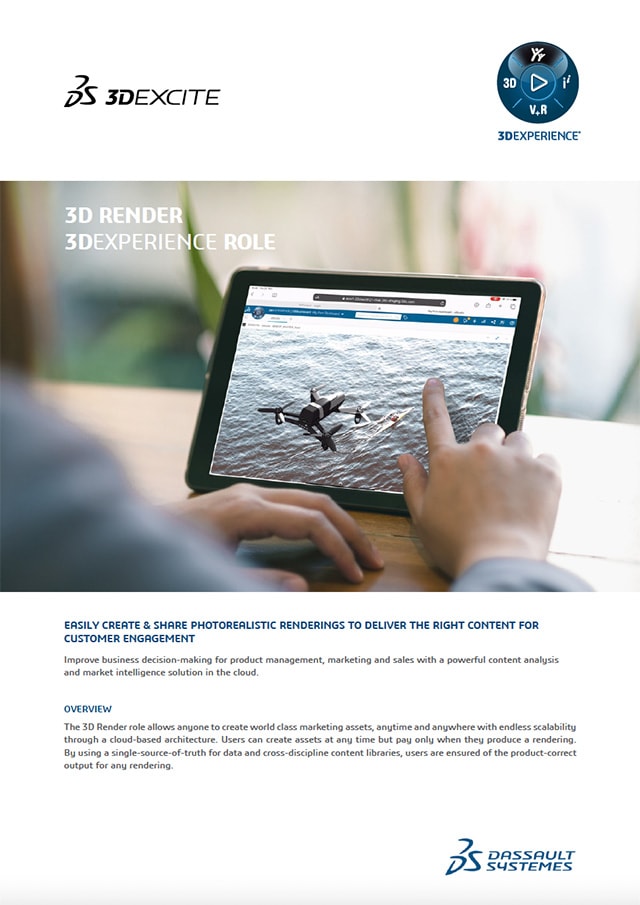 3DEXPERIENCE 3D RENDER Datasheet
3DEXPERIENCE 3D Render puts extreme rendering capability in the hands of anyone, anywhere, anytime. Learn more in this informative datasheet.
Download Datasheet
Key Features of 3DEXPERIENCE 3D RENDER
The Web-Based Evolution of 3D Rendering Technology

3DEXPERIENCE 3D RENDER brings physically-based, 100% unbiased rendering to you — without the need to purchase huge workstations with expensive GPUs.
Communicate your final product early with photorealistic graphics
Connect with your audience in a way you only can with true-to-life visualizations. You don't need a prototype and photographer, and you can do it as soon as design data is available.
Leverage a powerful, easy-to-use scene setup interface
3DEXPERIENCE 3D RENDER shares a UI with all the rest of the Platform tools, making it easy to learn.  Pull models from 3DEXPERIENCE CLOUD PDM, create scenes with backdrops, ambience, and lighting, and produce variations to investigate the possibilities with minimal effort.
Work with high-quality real-time viewport preview

3DEXPERIENCE 3D RENDER features high-quality in-app preview rendering, giving you an accurate idea of the final output as you work.
Work from anywhere, anytime

As a web app, 3DEXPERIENCE 3D RENDER can be launched on any 3D-enabled, internet-connected device once you log into the 3DEXPERIENCE Platform.  You can work where and when you want, not tethered to a workstation in the office.
Launch pay-as-you-go cloud render operations

As a cloud-based solution, 3DEXPERIENCE 3D RENDER produces final renders via cloud compute, so you don't have to buy, maintain, and replace expensive hardware.  Expend credits only when you make final renders.
3DEXPERIENCE Learning and Support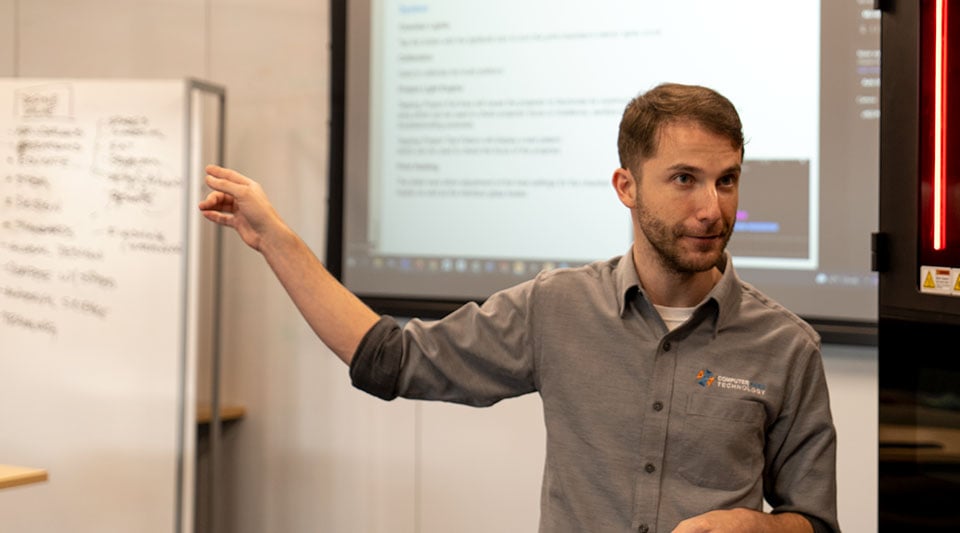 3DEXPERIENCE Learning Resources
---
3DEXPERIENCE is powerful and transformative software, so learning to make the most of it isn't trivial. Thankfully, Dassault Systèmes and CATI provide plenty of resources on the path to proficiency:
Official and custom-tailored classroom training
Online training courses on the Learning Space
CATI's quick-response technical support
Extensive official documentation
Dassault Systèmes Knowledge Base of supplemental materials, technical articles, and support tickets
CATI simulation mentorship programs
CATI consultative methodology development
Why 3DEXPERIENCE with CATI?
---
Computer Aided Technology (CATI) has been implementing solutions on the 3DEXPERIENCE Platform since 2012. No one has more experience when it comes to 3DEXPERIENCE Platform solutions, especially when it comes to implementing the platform with SOLIDWORKS or CATIA.
Watch this video to learn more about why companies choose to partner with CATI for 3DEXPERIENCE solutions.
Get Started with 3DEXPERIENCE from CATI.
We're ready to help figure out the right product development solution plan for you. Contact us today to get started with a quote, a trial, a demo, or just ask questions.
Other Design & Engineering Software
Related articles on our blog
We Empower The
Innovators