3DEXPERIENCE CATIA Systems Engineering
A fully-integrated, cross-discipline systems development process with CATIA design tools at the heart.
Ready to Purchase?
Get 3DEXPERIENCE CATIA from the 3DEXPERIENCE experts.
Get a Quote
Developing smart products has never been more challenging. Developers need an integrated systems-engineering approach that enables them to manage the whole process. Requirements-engineering, systems architecture definition, detailed modeling and simulation of complex systems, and the development of embedded software – they all need to be mastered in the context of the complete product.
The Systems Engineering solution from Dassault Systèmes delivers a unique, open, and extensible development platform – a platform that fully integrates the cross-discipline modeling, simulation, verification, and business process support needed for developing complex 'cyber-physical' products. It enables organizations to quickly and easily evaluate requests for changes or develop new products or system variants, while utilizing a unified, performance-based systems-engineering approach that reduces the overall cost of development.
Leverage a best-in-class model-based system development platform to accelerate the development and validation of complex designs.

Ensure compliance with market requirements and regulations while improving time-to-market and reducing costs through world-class requirements engineering.

Collaborate across all disciplines to define a complete systems architecture through multiple operational, functional, and component views.

Using Modelica-based modeling and simulation, verify the behavior of complex products and systems that span multiple engineering disciplines.

Integrate intelligent embedded systems and 3D product design processes into the simulation of complex mechatronics.
3DEXPERIENCE CATIA Systems Engineering Packages
Systems Schematic Engineer
CREATE DISCIPLINE-SPECIFIC INTELLIGENT SCHEMATICS FOR WIRING, CABLING, PIPING/TUBING AND HVAC SYSTEMS
---
This package provides a complete, integrated workflow that links systems architecture definitions through to detailed 3D electrical & fluid systems design. Schematic designers can capture functional and logical architecture and connectivity using discipline-specific extensions of the logical model, with an efficient user interface and automation of common tasks:
Enable RFLP (requirement, functional, logical, and physical) design in CATIA.
Route in CATIA Systems Logical 3D Architecture.
Capture electrical and fluid systems architecture & connectivity.
Design check and automation with knowledgeware.
Import/export electrical definition in ixfElec format and electrical systems in ELOG format.
Generate reports based on templates defined by Report Template Designers
Ensure end-to-end holistic traceability & collaboration on system models
Dynamic Systems Engineer
RAPIDLY MODEL AND SIMULATE COMPLEX ENGINEERING SYSTEMS USING MODELICA
---
CATIA Dynamic Systems Engineer offers a Modelica- and FMI-compliant solution to efficiently model and simulate multiphysics dynamic systems. With model-based systems engineering, system architectures can be quickly assessed based on behavior and performance simulation. Informed decisions can be made long before detailed design or physical prototyping:
Multi-discipline modeling & simulation, fully-compliant with the open Modelica language.
Enables the usage of company's own or commercial domain-specific Modelica libraries for rapid modeling & simulation of complex multiphysics systems.
Integrated workgroup environment with shared digital representation for accurate model-based design.
Powerful integrated systems-simulation environment and systems-model management.
Functional Mock-up Interface (FMI) import capability enables co-simulation of models coming from heterogeneous solutions.
Piping & HVAC 3D System Engineer
AN INTEGRATED 3D DEVELOPMENT ENVIRONMENT FOR THE PHYSICAL DESIGN OF PIPING AND HVAC SYSTEMS
---
This package enables the design of complex piping and HVAC systems from concept to detail phases.  With tight 2D-to-3D integration, it avoids many of the limitations and constraints experienced with traditional tools:
Design and optimize the physical system of pipes and HVAC from basic routing to detailing.
Perform design integrity checks to ensure clean integration between 2D schematics and 3D designs.
Take advantage of specification- and schematic-driven design with automated part placement capabilities, ensuring ensure compliance with corporate and industry standards
Automate spool generation and piping assembly decomposition based on rules
Automate report generation based on company templates for all disciplines and purposes (fabrication, installation, supplier, etc.)
Automate drawing generation for fabrication and installation
Electrical 3D System Engineer
DESIGN 3D WIRE HARNESSES AND CABLING IN AN INTEGRATED DESIGN ENVIRONMENT
---
This package is a process-specific solution for designing physical wire harnesses. It is driven by logical specifications (schematics) and realistic simulation of the design and environment, and it is integrated with harness manufacturing preparation:
Create an extended range of electrical 3D components (equipment, mountings, connectors, shells, wires, cables, harness supports and protections, etc.) and define their electrical and mechanical behavior
Efficiently store, manage, and reuse all electrical objects in easy-to-use catalogs
Design and route 3D electrical networks in context (harnesses and cableways), with accurate finite element modeling to provide realistic harness shape and behavior characteristics.
Leverage analysis tools to check design connectivity and quality.
Wire/cable content import and routing into network.
New 3D design capability from 2D schematics.
Semantic Tolerancing Advisor guides compliance with standards like ISO, ANSI/ASME and JIS.
Additional Packages
---
3DEXPERIENCE CATIA has process-oriented packages for a variety of other users:
Additional Packages (cont.)
---
Additional Packages (cont.)
---
3DEXPERIENCE Learning and Support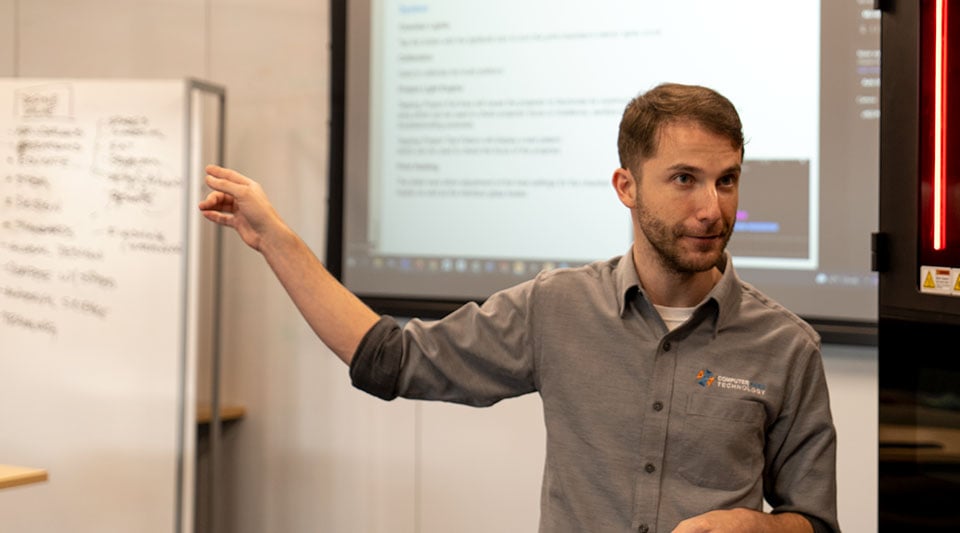 3DEXPERIENCE Learning Resources
---
3DEXPERIENCE is powerful and transformative software, so learning to make the most of it isn't trivial. Thankfully, Dassault Systèmes and CATI provide plenty of resources on the path to proficiency:
Official and custom-tailored classroom training
Online training courses on the Learning Space
CATI's quick-response technical support
Extensive official documentation
Dassault Systèmes Knowledge Base of supplemental materials, technical articles, and support tickets
CATI simulation mentorship programs
CATI consultative methodology development
Why 3DEXPERIENCE with CATI?
---
Computer Aided Technology (CATI) has been implementing solutions on the 3DEXPERIENCE Platform since 2012. No one has more experience when it comes to 3DEXPERIENCE Platform solutions, especially when it comes to implementing the platform with SOLIDWORKS or CATIA.
Watch this video to learn more about why companies choose to partner with CATI for 3DEXPERIENCE solutions.
Get Started with 3DEXPERIENCE from CATI.
We're ready to help figure out the right product development solution plan for you. Contact us today to get started with a quote, a free trial, a demo, or just ask questions.
Other Design & Engineering Software
We Empower The
Innovators