Design Software
3DEXPERIENCE CLOUD CAD
Complete design freedom is here. Take your business to the next level with new browser-based, 3D design and lifecycle management solutions.
Ready to Purchase?
Get cloud CAD tools from SOLIDWORKS today!
Get a Quote
From the team that brought you SOLIDWORKS comes the next generation of design tools, in-browser and cloud-connected.
3DEXPERIENCE CLOUD CAD is a portfolio of 3D CAD apps that run entirely in your web browser, meaning you can access them from any 3D-enabled device with an internet connection.  And thanks to the cloud nature of your design data, it's all stored in one unified cloud environment where you can seamlessly take advantage of 3DEXPERIENCE's data and lifecycle management, simulation, manufacturing, and rendering tools and get to market faster than ever.
Full-featured design tools for parametric modeling, surfacing, sheet metal, frame structures, and complex generative patterning.


All browser-based tools, usable on any 3D-enabled, internet-connected device.


Includes collaborative and lifecycle management tools for more efficient teamwork.


Full platform integration of tools and data for instant, native access to downstream workflows in simulation, manufacturing, and more.


Focus on ease-of-use with intuitive interface and plentiful learning resources.

The 3DEXPERIENCE CLOUD CAD Portfolio

Want to Know More About Cloud CAD?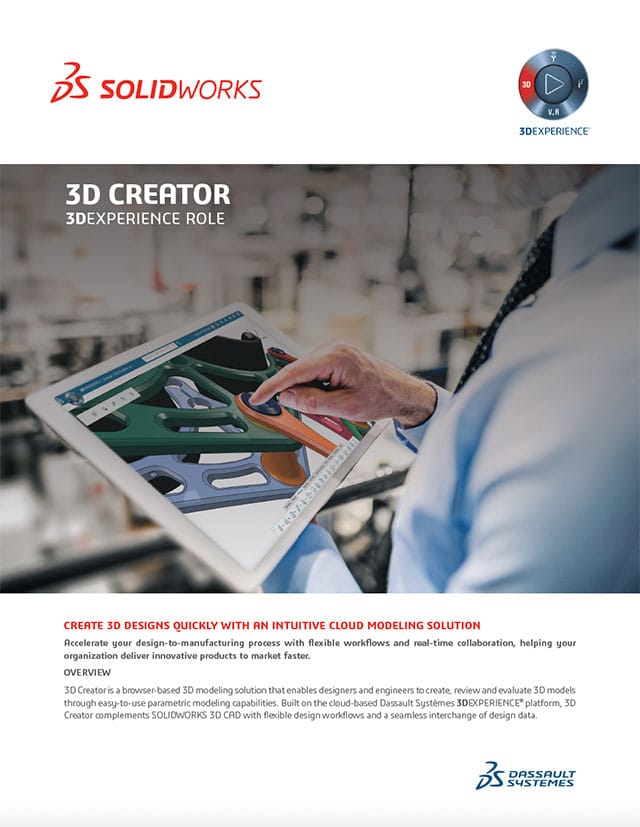 3DEXPERIENCE CLOUD CAD Datasheets
The 3DEXPERIENCE cloud design portfolio is rich with capabilities for various design applications:
Get a Quote
Cloud CAD Portfolio Details
3D Creator
BROWSER-BASED PARAMETRIC MODELING

---
3D Creator allows you to create, evaluate, and collaborate in an easy-to-use, browser-based solution that meets all your parametric 3D design needs:
Parametric 3D solid and surface modeling, assembly modeling and more
Design Guidance inspires new designs based on real-world loads
Design Assistant cuts repetitive tasks with artificial intelligence
The patented "super features" allow change of design intent anytime
Design for Manufacturability Checks to reduce time and cost of production
Single modeling environment eliminates planning assembly structures
A special "Touch Mode" for use on mobile and touch screen devices
3D Sculptor
BROWSER-BASED SUBDIVISION SURFACE MODELING
---
3D Sculptor enables the fast and intuitive creation of organic, complex shapes:
Push and pull interaction to create complex surfaces quickly
Sketch guides where images and sketches can be used to create 3D surface geometry
Ability to automatically convert subdivision surfaces to NURBS geometry
Creation of stylized models faster than with parametric tools
Seamlessly switch between conceptual modeling and detailed modeling environments and eliminate the need for rework
Native integration with all 3DEXPERIENCE tools, including 3D Creator for parametric design
3D SheetMetal Creator
BROWSER-BASED SHEET METAL MODELING
---
3D SheetMetal Creator streamlines the design of complex sheet metal components, assemblies, and enclosures:
Sheet metal-specific feature set and context toolbars such as walls, flanges and corner reliefs.
Create complex 3D sheet metal models for press brake manufacturing, and automatically generate 2D patterns that update instantly with the folded geometry.
Utilize existing mechanical or electrical assemblies as reference geometry to model enclosures and easily insert commercial, off-the-shelf items into sheet metal assemblies.
Intuitive single-modeling environment to convert features to components, and components to assemblies, making enclosure assembly design more flexible and efficient.
Rapidly create and iterate designs in a matter of clicks, avoiding the assembly structure constraints and upfront planning required by traditional CAD applications.
3D Structure Creator
BROWSER-BASED FEATURE-BASED FRAME MODELING
---
3D Structure Creator provides a dedicated tool set for designing manufacturable structures:
Create structure members based on model edges, 2D sketch elements, or curves
Choose profiles from a library of standard types and sizes
Automatically trim members at endpoints and corners
Automatically add gussets, end caps, and plates
Automatically generate a cutlist based on the design to use for fabrication
Add detail to structure designs by adding cutouts to structure members
Increase productivity with streamlined structure design workflows and a dedicated design environment
Manufacturing Definition Creator
BROWSER-BASED MODEL-BASED DEFINITION
---
Manufacturing Definition Creator lets users define products in a more integrated and flexible way, but with the ease and familiarity of 2D drawings:
Define design requirements with annotations directly & intuitively on 3D models
Organize, and communicate definition with various orthogonal, axonometric, and custom views
Eliminate rework & boost productivity, by utilizing 3D annotations to create 2D drawings
Eliminate costly errors and keep your definition in sync by seamlessly sharing annotations, dimensions, and tolerances between 2D & 3D
Make changes with confidence; annotations, dimensions, and tolerances update automatically with model changes for both 3D & 2D definition
3D Pattern Shape Creator
BROWSER-BASED GENERATIVE PATTERN DESIGN

---
3D Pattern Shape Creator is a parametric, logic-based design automation tool for creating complex and bio-inspired shapes:
Quickly generate simple to complex and non-regular shapes and patterns
Extend the styling capabilities to create 3D innovative patterns and bio-inspired shapes
Amplify the design process, increase creative flexibility, and explore more alternatives
Interactive & 3D centric: make more informed design-decisions and shape research
Capture and reuse the knowledge and design best practices
Bring automation technology to a wider audience to reduce repetitive activities
Guarantee the best geometry quality and accuracy for the downstream detailed activities
Drafter
LIGHTWEIGHT 2D DRAWINGS FOR 3DEXPERIENCE CLOUD CAD

---
With Drafter, rapidly generate and detail 2D drawings from 3D models, speeding up the design-to-manufacturing process:
Quickly generate production-ready 2D drawings from your 3D parts and assemblies.
Automatically and accurately create standard and detail views, sections, and more.
Apply dimensions, annotations, and dress-up elements to the drawings.
Drawings are always up-to-date with instant refresh from the 3D model.
3DEXPERIENCE Learning and Support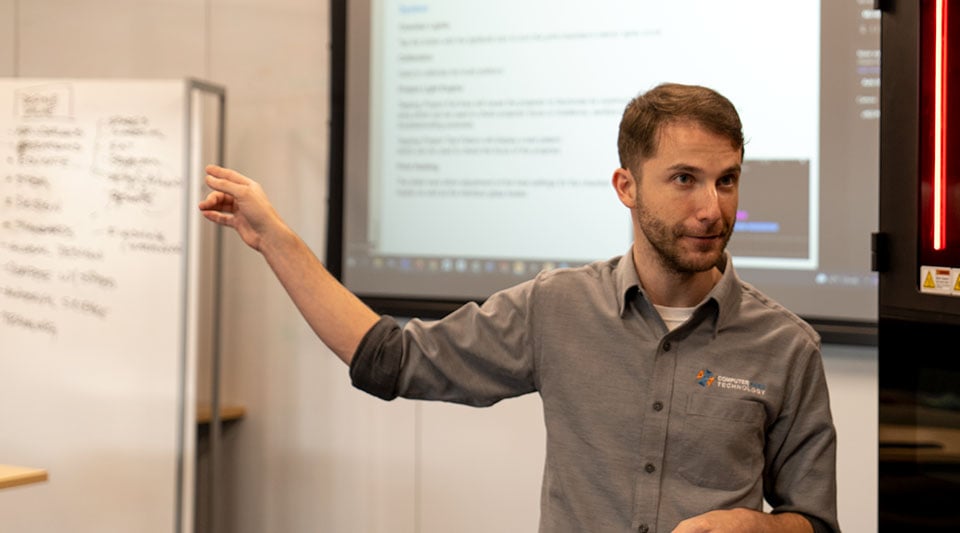 3DEXPERIENCE Learning Resources
---
3DEXPERIENCE is powerful and transformative software, so learning to make the most of it isn't trivial. Thankfully, Dassault Systèmes and CATI provide plenty of resources on the path to proficiency:
Official and custom-tailored classroom training
Online training courses on the Learning Space
CATI's quick-response technical support
Extensive official documentation
Dassault Systèmes Knowledge Base of supplemental materials, technical articles, and support tickets
CATI simulation mentorship programs
CATI consultative methodology development
Why 3DEXPERIENCE with CATI?
---
Computer Aided Technology (CATI) has been implementing solutions on the 3DEXPERIENCE Platform since 2012. No one has more experience when it comes to 3DEXPERIENCE Platform solutions, especially when it comes to implementing the platform with SOLIDWORKS or CATIA.
Watch this video to learn more about why companies choose to partner with CATI for 3DEXPERIENCE solutions.
Get Started with 3DEXPERIENCE from CATI.
We're ready to help figure out the right product development solution plan for you. Contact us today to get started with a quote, a free trial, a demo, or just ask questions.
Other Design & Engineering Software
We Empower The
Innovators