Management Software
3DEXPERIENCE CLOUD PDM
Secure, hassle-free, cloud-based data management and powerful cloud collaboration tools for product development companies of all sizes.
Get Started on 3DEXPERIENCE.
Our 3DEXPERIENCE and PDM expertise is here for you. Ask us anything.
Request a Demo
Business systems of all kinds, from email to HR to accounting, are all moving to the cloud so companies can operate more efficiently and effectively in highly competitive industries.  Dassault Systèmes is bringing the transformative benefits of the cloud to product developers of all sizes with 3DEXPERIENCE CLOUD PDM.
By transitioning to a cloud-based data management system like 3DEXPERIENCE, these companies can make their data simultaneously more accessible and more secure.  Project stakeholders can collaborate in real-time from a single source of truth.  Teams can scale up their software and hardware capabilities virtually instantaneously.
Start with Your CAD Solution of Choice

SOLIDWORKS, CATIA, and many popular third-party CAD solutions can all work together on the 3DEXPERIENCE Platform.


Access Your Data Where and When You Want It

Your product data is available through the web and your CAD tools from wherever you can log into the 3DEXPERIENCE Platform.


Secure Your Data from All Threats

Dedicated experts safeguard your data 24/7, on multiple levels, and in compliance with strict regulations and standards.


Work Together with Powerful Collaborative Tools

Each 3DEXPERIENCE CLOUD PDM user gets an array of tools for data management, task management, communication, and more.


Eliminate Hardware Costs & Responsibilities

Save on computing costs and IT workhours -- no more purchasing, maintaining, housing, upgrading, and replacing of servers.


Simplify Your Expenditures

Turn your CapEx to OpEx and get a complete PDM system in a single licensed service from one vendor.


Scale and Implement in an Instant

Grow your organization's infrastructure and technical capabilities as fast as you can buy new licenses.

Are you keeping up with your competitors in the cloud?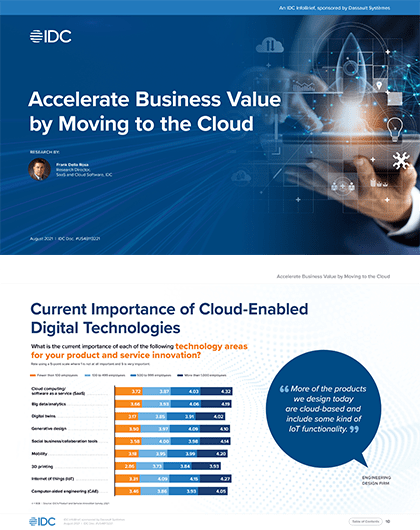 Accelerate Business Value by Moving to the Cloud
The global pandemic has forever changed the operational reality for businesses in every industry and geography. This InfoBrief highlights how businesses are responding to the opportunities and challenges created by the virtuous circle of change and innovation.
Download Whitepape

r
Key Features of 3DEXPERIENCE CLOUD PDM
It Starts with CAD
Plugins for a variety of first- and third-party CAD software automatically sync your design work to the 3DEXPERIENCE cloud and make it available for collaborative efforts with colleagues and further downstream use (for example, by 3DEXPERIENCE STRUCTURAL simulation):
Altium Designer
AutoCAD
Allegro
CATIA
Creo Parametric
DraftSight
Inventor
NX
OrCAD
Solid Edge
SOLIDWORKS
Cloud Data Infrastructure: Safe, Unified, Accessible

The web-based 3DEXPERIENCE Platform environment is your gateway to product development data and related tasks.
Lightweight web apps serve up your data (in 3D!) for review and management from wherever you have web access, even mobile.
Heavier desktop programs such as CAD or CAE software also launch from the web interface.
One source of data for all contributors — CAD, CAE, CAM, PLM, and beyond, all up-to-date and collaborating in real time.
Data is organized, version controlled, and searchable so you can always find the right files when you need them.
Your data is backed up and secure at Dassault Systèmes managed facilities.  Learn more about security in our blog post.
No background hardware or software to manage or maintain for 3DEXPERIENCE solutions — always up-to-date, always room to grow.
Social & IP Collaboration Tools
3DSwym: Spark conversation and feedback and collect knowledge in public and private communities
Collaborative Tasks: Create and manage tasks and collaborate with other team members
3DNotification: Get instant update on content all in one place through notifications
Collaborative Lifecycle: Collaboratively manage the lifecycle of an object
3DMarkup: Clearly explain design concerns to team members in 3D
Issue Management & Issue 3D Review: Submit, track, prioritize, and assign issues with quick resolution processes
Change Action: Manage and trace change implementations
User Groups: Create and manage group of users for effective collaboration
Route Management: Instantiate and accomplish business activities with visual task routing
Compare: Easily compare 3D content to understand differences
Storage, Organization, and Sharing Tools



3DDrive: Share any type of file with internal and external stakeholders
3DSpace: Create and manage focused, collaborative spaces
Document Management: Create, organize, and manage documents of all kinds
Bookmark Editor: Build and share content repositories around business needs
IP Classify & Reuse: Classify IP into Libraries and search by classification attributes
Search, Navigation, and Discovery Tools



3DSearch: Intelligent search capabilities and refine results using 6WTags
Relations: Graphically navigate through complex data object relationships and paths
Product Explorer: Navigate product structure and visualize in 3D with cross highlight support
3DPlay: Intuitively and interactively view 3D models and 2D content in real tim

e
Why Go with 3DEXPERIENCE for Cloud Product Development?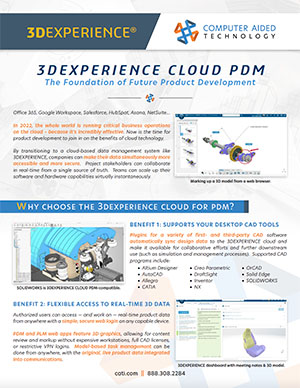 The Benefits of 3DEXPERIENCE CLOUD PDM
Now is the time for product development to join in on the benefits of cloud technology. But why 3DEXPERIENCE over other potential solutions?
This brochure discusses 3DEXPERIENCE CLOUD PDM and CAD compatibility, data accessibility, internet security, the cloud-based collaborative toolkit, the impact on hardware purchasing, and more.
Download Now
3DEXPERIENCE Learning and Support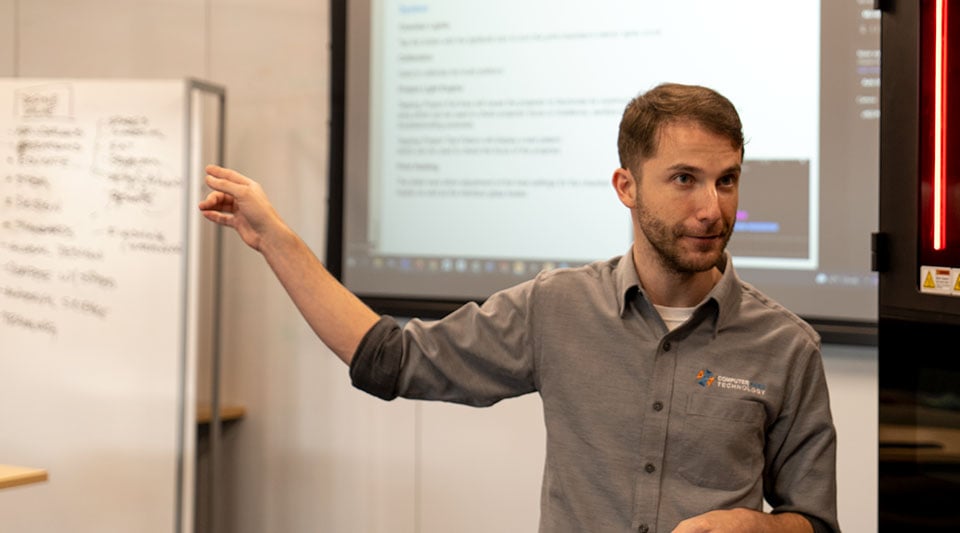 3DEXPERIENCE Learning Resources
---
3DEXPERIENCE is powerful and transformative software, so learning to make the most of it isn't trivial. Thankfully, Dassault Systèmes and CATI provide plenty of resources on the path to proficiency:
Official and custom-tailored classroom training
Online training courses on the Learning Space
CATI's quick-response technical support
Extensive official documentation
Dassault Systèmes Knowledge Base of supplemental materials, technical articles, and support tickets
CATI simulation mentorship programs
CATI consultative methodology development
Why 3DEXPERIENCE with CATI?
---
Computer Aided Technology (CATI) has been implementing solutions on the 3DEXPERIENCE Platform since 2012. No one has more experience when it comes to 3DEXPERIENCE Platform solutions, especially when it comes to implementing the platform with SOLIDWORKS or CATIA.
Watch this video to learn more about why companies choose to partner with CATI for 3DEXPERIENCE solutions.
Get Started with 3DEXPERIENCE from CATI.
We're ready to help figure out the right product development solution plan for you. Contact us today to get started with a quote, a trial, a demo, or just ask questions.
Other Design & Engineering Software
We Empower The
Innovators