Management Software
3DEXPERIENCE CLOUD PLM
Plan your definition of success with web-based cloud PLM tools connecting your entire enterprise on the 3DEXPERIENCE Platform.
Get Started on 3DEXPERIENCE.
Our 3DEXPERIENCE and PLM expertise is here for you. Ask us anything.
Request a Demo
The Industry Renaissance we are experiencing today is touching all industries, bringing new ways – real and virtual – of seeing the world, inventing, learning, producing and trading.
3DEXPERIENCE CLOUD PLM (also known as ENOVIA) — in combination with 3DEXPERIENCE CLOUD PDM — opens up a new range of opportunities for you to successfully deliver transformational product and business innovations that create magical experiences for your customers.
With a broad portfolio of technical and business applications for all users across your enterprise, it enables you to securely collaborate and innovate together to build and execute a successful plan — one that is flexible, allowing continuous optimization, real-time progress tracking, and compliance with standards and regulations to transform market opportunities into marketplace advantages.
Collaborative Innovation

No more information silos -- unite employees, partners, suppliers, customers, consumers and regulators into a framework for sustainable innovation.

Collaborative IP Management

A model-based approach allows stakeholders to securely collaborate on a well-managed multi-discipline 3D product definition.

Collaborative Product Development

Full visibility, strict controls, and traceability over coordinated product change activities from concept through to release -- an efficient, reliable, repeatable process.


Customization & IP Exchange

Customized behaviors and apps support business-specific needs, engineering and manufacturing definitions can be published to other systems, and legacy PDM can be imported onto the 3DEXPERIENCE Platform.


Enterprise Planning & Collaboration

Planning and monitoring tools improve performance, mitigate risk, and enable effective capitalization on market opportunities.


Global Sourcing & Value Network

Centralized global sourcing and standardization processes reduce costs and improve compliance with organizational policies and strategies.

Total Quality Management

Effective total quality management solution reduces recalls, reworks, batch wastage, improves customer satisfaction, and support global and local regulatory requirements.
The 3DEXPERIENCE CLOUD PLM Portfolio

Learn how combining PLM and analytics will set your team up to conquer business challenges.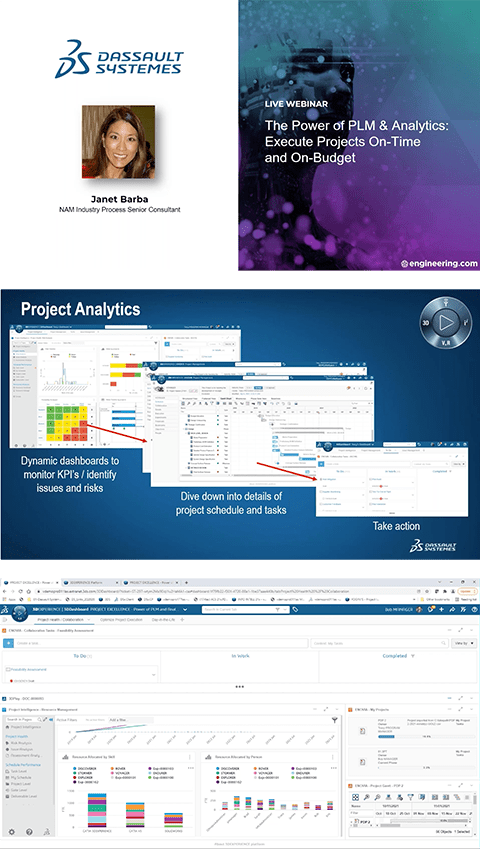 The Power of PLM and Analytics for Project Execution
Simply put – project managers and their teams need the right tools to eliminate non-value added tasks. Team members should focus on producing innovative experiences, while project managers ensure projects are delivered on time and under budget.
Watch the webinar, presented by Janet Barba from Dassault Systèmes, and learn how combining PLM and analytics can achieve this by:
Providing real-time access to project pipelines for rapid analysis and decision making
Improving decisions by tracking real-time progress on project KPIs including deliverables, risks, and issues
Providing a single source of trusted data
WATCH WEBINAR
3DEXPERIENCE CLOUD PLM Portfolio Details
Product Release Engineer
MANAGE THE ENGINEERING DEFINITION OF PRODUCTS FROM EARLY DEFINITION TO FINAL VALIDATION IN COLLABORATION ACROSS DISCIPLINES AND THE VALUE NETWORK

---
With a single, shared engineering product definition, this package enables engineering and other disciplines to easily complete and validate the product structure and access up-to-date information to advance product innovation:
Improve productivity through a smart data organization that fits user needs.
Categorize IP & navigate on the engineering definition with category filtering capabilities to facilitate access to data.
Reduce errors and rework through a single, shared engineering product definition.
Reduce engineering definition complexity with flexible visualization, mass editing capabilities, and lifecycle operations.
Drive the adoption of company part numbering conventions.
Avoid production errors by defining the quantity of the required material in the engineering definition.
Maximize data reuse, saving time and money, with the ability to duplicate, reuse, and exclude existing engineering definitions.
Accelerate cross-team collaboration and product development with engineering responsibility assignment and tracking.
Maximize carryover with a configured engineering definition.
Change Manager
A STRATEGIC CLOSED-LOOP COLLABORATIVE CHANGE PROCESS THAT CLEARLY COMMUNICATES CHANGE DECISIONS AND ASSIGNMENTS TO ALL IMPACTED DOMAINS
---
Change Manager helps companies improve operational efficiencies for global product development. The role brings organizations together under a single change methodology to streamline the coordination of change activities from product governance to work-in-process activities, while maintaining strict controls and traceability:
Provide closed-loop traceability on issues from submission to resolution.
Make informed decisions by obtaining a full impact assessment of change requests from all impacted organizations.
Orchestrate change scenarios from product governance to work-in-process activities while maintaining strict controls and traceability.
Support a consistent, systems-based, multi-discipline change process.
Provide change dashboards that clearly communicate change decisions and status across impacted organizations.
Improve product development while maintaining controls and traceability by establishing a single set of change processes.
Clearly communicate change decisions and assignments to all impacted organizations.
Reduce change orchestration time and cost with intelligent change management rules and automation.
Project Manager
IMPROVE PROJECT PERFORMANCE WITH REAL-TIME MONITORING AND ASSESSMENT BY CONNECTING PRODUCT DEVELOPMENT DATA TO A GOVERNING PROJECT
---
Project Manager provides deliverables-based project management that links product development data to a project to enable real-time monitoring and assessment. Project managers no longer need to consult multiple systems or spend time manually collecting project statuses. They can focus more time on true project management activities: evaluating progress, identifying and reducing risks, and aligning resources to maintain or accelerate schedules:
Connect product development data and deliverables to the project.
Monitor and assess projects in real-time.
Easily create and update tasks using interactive Gantt charts.
Efficiently manage large complex projects using classifications and libraries.
Use task weightage to provide a realistic view of project's progress.
Leverage project templates that capture work structures, resources or budget.
Staff projects using resource request processes.
Effectively manage changing project schedules using baselines and experiments.
Reveal and manage risks and issues to minimize their project impact.
Configuration Engineer
OPTIMIZE REUSE OF CONFIGURABLE PRODUCT DATA WHILE SATISFYING ALL POSSIBLE VARIANTS OF THE PRODUCT DEFINITION
---
Configuration Engineer enables users to define all product variants in a single configured product structure. It allows them to retrieve parts from impacted variants in real-time through an "overloaded" design session to rapidly converge on the optimum design:
Design in Configured Context capability: simultaneously develop multiple products to address different markets with unique needs while maximizing component reuse.
Connect the dots from configuration governance to configuration implementation across all domains.
Make the enterprise configuration available for engineering definition.
Assign accurate evolution and variant/option effectivity on components against governed criteria to address intent, while maximizing reuse across configurations.
Enable design structure verification and impact analysis for configured products.
Apply product unit or option effectivity expressions directly to the 3DEXPERIENCE design environment.
Classification Manager
IMPROVE REUSE AND REDUCE COSTS WITH FLEXIBLE, SECURE INTELLECTUAL PROPERTY CLASSIFICATION AND RETRIEVAL
---
Classification Manager offers powerful, flexible, library classification schemes and features to organize and retrieve intellectual property, enabling an efficient IP reuse process across the entire organization, with the right level of organization and qualification:
Extend IP reuse across the organization with standardized, enterprise-wide product content catalogs, using flexible library classification schemes to fit company requirements.
Improve efficiency with use-based library classifications where different functional groups can simultaneously organize the same content from the perspective of different disciplines.
Make more informed decisions with consistent, flexible and comprehensive classification search and compare capabilities.
Enhance user productivity with embedded access to classified IP content directly from 3DEXPERIENCE platform applications.
Product Manager
PROVIDE THE RIGHT OFFERS AT THE RIGHT TIME TO MEET THE DEMAND AND PERSONALIZATION OF CUSTOMERS
---
Product Manager enables users to define, plan, and develop a product portfolio aligned with product strategy. Consider the conceptual and commercial aspects of complex products while maximizing the reuse of existing assets and minimizing configuration complexity and costs. Capture the "voice of the customer" and translate it into product offerings that align with existing product capabilities:
Bridge the gap between marketing requirements and engineering, to make compelling product and service offerings.
Define a product customization strategy that can rapidly expand to address new markets and evolving consumer preferences while minimizing costs and maximizing profits.
Coordinate portfolio strategy with strategic planning to accelerate "go to market" and reduce risk.
Improve market share by defining the right product offerings that meet portfolio, market, and regulatory needs.
3D Product Architect
NAVIGATE AND AUTHOR MULTI-CAD PRODUCT STRUCTURES WITH A SHARED EXPERIENCE BETWEEN STRUCTURE AND 3D VISUALIZATION
---
This package provides the ability to explore and author multi-CAD product structures. Navigation and authoring is made available through a shared experience between a structure widget and a 3D visualization widget.
Visualize, explore, and edit multi-CAD product structures within a web-browser.
Easily navigate product structures to visualize designs and related changes.
Create web-based 3D digital mockups and conduct design reviews.
Modify products under the governance of a change process.
Implement design changes in accordance with specific product configurations.
Build mockup sessions that can be loaded into CAD directly from a browser.
Selectively duplicate existing products to quickly derive new products.
Measure and section in 3D for quick analysis.
Explore related objects and load-specific products in the context of a full assembly.
Filter content using volume of space queries or proximity to an existing product.
Additional Packages
---
3DEXPERIENCE CLOUD PLM has process-oriented packages for a variety of other users:
Additional Packages (cont.)
---
Additional Packages (cont.)
---
3DEXPERIENCE Learning and Support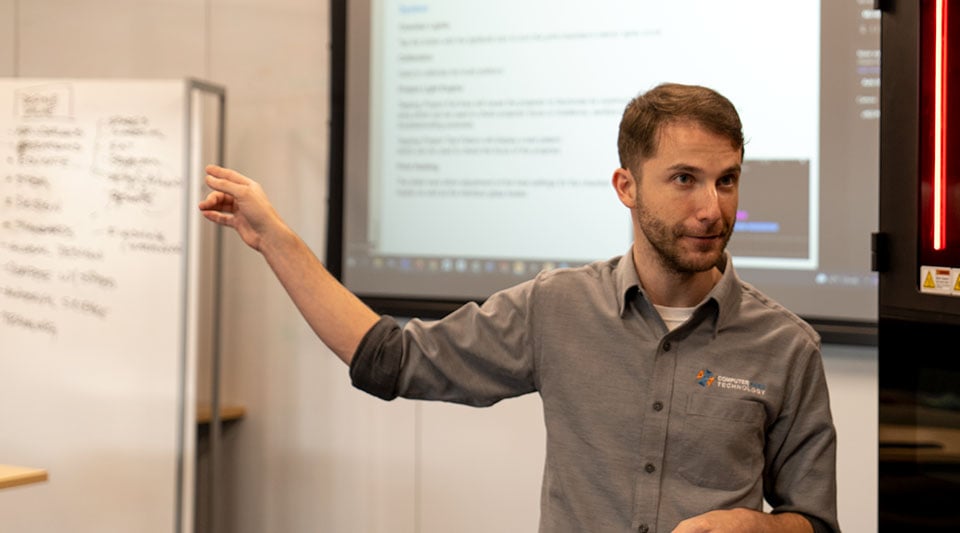 3DEXPERIENCE Learning Resources
---
3DEXPERIENCE is powerful and transformative software, so learning to make the most of it isn't trivial. Thankfully, Dassault Systèmes and CATI provide plenty of resources on the path to proficiency:
Official and custom-tailored classroom training
Online training courses on the Learning Space
CATI's quick-response technical support
Extensive official documentation
Dassault Systèmes Knowledge Base of supplemental materials, technical articles, and support tickets
CATI simulation mentorship programs
CATI consultative methodology development
Why 3DEXPERIENCE with CATI?
---
Computer Aided Technology (CATI) has been implementing solutions on the 3DEXPERIENCE Platform since 2012. No one has more experience when it comes to 3DEXPERIENCE Platform solutions, especially when it comes to implementing the platform with SOLIDWORKS or CATIA.
Watch this video to learn more about why companies choose to partner with CATI for 3DEXPERIENCE solutions.
Get Started with 3DEXPERIENCE from CATI.
We're ready to help figure out the right product development solution plan for you. Contact us today to get started with a quote, a free trial, a demo, or just ask questions.
Other Design & Engineering Software
Related articles on our blog
We Empower The
Innovators