Manufacturing Software
3DEXPERIENCE MANUFACTURING BOM
Define the manufacturing BOM from 3D design data in a powerful, cloud-connected web app on the 3DEXPERIENCE Platform.
Get Started on 3DEXPERIENCE.
Our 3DEXPERIENCE and manufacturing expertise is here for you. Ask us anything.
Request a Quote
3DEXPERIENCE MANUFACTURING BOM (also known as DELMIA Manufactured Items Manager) allows the manufacturing bill of materials to be defined, managed, and updated directly from the 3D design data.
It is a web-based solution that uses the 3D product structure as input for authoring the MBOM, allowing it to be leveraged across manufacturing and production. When creating the MBOM, users can choose to display the engineering structure, the manufacturing structure, or both. Users can easily create a manufacturing BOM from scratch, build it from the engineering BOM, or start from template they have previously created.
Easily create the manufacturing BOM directly from 3D design data

Update the whole MBOM for all impacted manufacturing items

Work from anywhere, instantly, via easy-to-use web client with accurate 3D visualization.


User-defined templates save time by reducing rework

It couldn't be easier: MBOM definition on the cloud.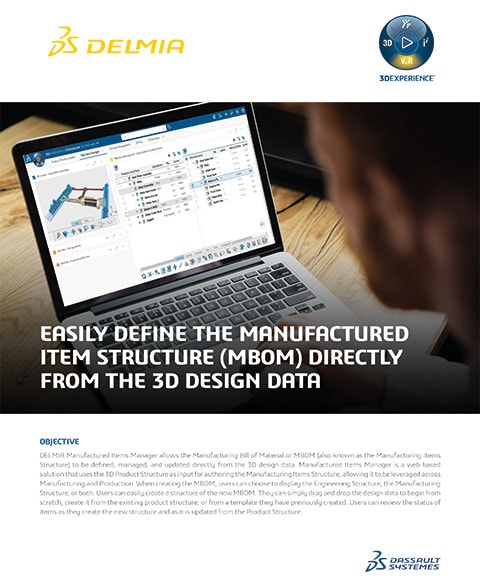 3DEXPERIENCE MANUFACTURING BOM Datasheet
3DEXPERIENCE MANUFACTURING BOM puts a complete, 3D model-based MBOM creation tool in your hands, usable from anywhere as a cloud-connected web app. Learn more about it in this brief datasheet.
Download Datasheet
3DEXPERIENCE Learning and Support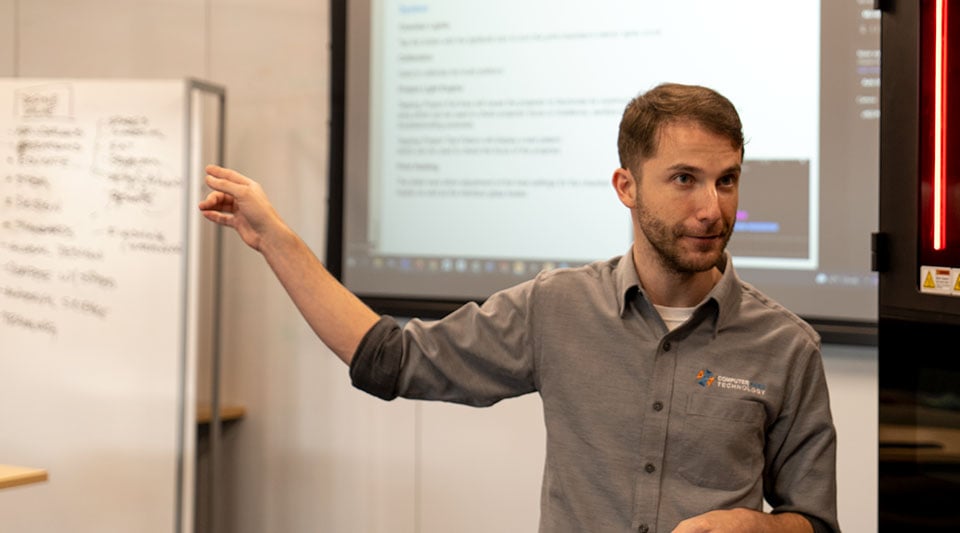 3DEXPERIENCE Learning Resources
---
3DEXPERIENCE is powerful and transformative software, so learning to make the most of it isn't trivial. Thankfully, Dassault Systèmes and CATI provide plenty of resources on the path to proficiency:
Official and custom-tailored classroom training
Online training courses on the Learning Space
CATI's quick-response technical support
Extensive official documentation
Dassault Systèmes Knowledge Base of supplemental materials, technical articles, and support tickets
CATI simulation mentorship programs
CATI consultative methodology development
Why 3DEXPERIENCE with CATI?
---
Computer Aided Technology (CATI) has been implementing solutions on the 3DEXPERIENCE Platform since 2012. No one has more experience when it comes to 3DEXPERIENCE Platform solutions, especially when it comes to implementing the platform with SOLIDWORKS or CATIA.
Critically, our simulation team consists of career power users of CFD software, including Abaqus/CFD, XFlow, and now 3DEXPERIENCE Simulation. Watch this video to learn more about why companies choose to partner with CATI for 3DEXPERIENCE solutions.
Get Started with 3DEXPERIENCE from CATI.
We're ready to help figure out the right product development solution plan for you. Contact us today to get started with a quote, a trial, a demo, or just ask questions.
Other Design & Engineering Software
We Empower The
Innovators