Simulation Software
3DEXPERIENCE STRUCTURAL
With the ease-of-use of SOLIDWORKS, the sophistication of Abaqus, and HPC-for-all on the cloud, do the complex simulations that drive cutting-edge innovation.
Get Started on 3DEXPERIENCE.
Our 3DEXPERIENCE and FEA expertise is here for you. Ask us anything.
Request a Demo
3DEXPERIENCE STRUCTURAL lets you perform reliable strength and durability assessment during the design process, when it can have maximum impact.
It offers the powerful and intuitive tools needed to easily perform sophisticated multistep structural simulations, powered by market-leading Abaqus and fe-safe technology.
With a single cloud data source and on-demand cloud computing resources from the 3DEXPERIENCE platform, CAD and CAE teams can work closer together and faster than ever.
Realistic Simulation for Better Innovation

Powered by Abaqus implicit and explicit FE solvers for structural and multiphysics analysis, with complex materials, contact, and loading.

Efficient & Streamlined CAD-CAE Collaboration

Two-way, native CAD-CAE connection makes validating iterations fast and easy with minimal rework.


Less Labor for More Simulation

Minimize wasted time by using modern tools and automation to quickly generate high-quality FE models from CAD.


Affordable Enterprise-Level Compute in the Cloud

Save on hardware purchase and maintenance by using the cloud to access up to 144-core compute -- and keep working while it solves.

When Is It Time to Step Up to 3DEXPERIENCE?
SOLIDWORKS
3DEXPERIENCE STRUCTURAL
Guided Modeling Wizard

SOLIDWORKS

3DEXPERIENCE STRUCTURAL

Step-by-step, easy-to-follow user interface for setting up an FE model.

CAD Associativity

SOLIDWORKS

3DEXPERIENCE STRUCTURAL

Nondestructively propagate CAD changes into your FEA model.

Automated Preprocessing

3DEXPERIENCE STRUCTURAL

Automated mesh generation, connector building, and scenario definition, at scale. With templates, build entire models automatically.


Static & Frequency Analysis

SOLIDWORKS

3DEXPERIENCE STRUCTURAL

Static stress & displacement, fatigue, buckling, thermal, and vibration analyses.

Motion Analysis

SOLIDWORKS

Rigid-body kinematics with time-based motion and event-based motion analysis.

High-Speed Dynamic Analysis

3DEXPERIENCE STRUCTURAL

Highly nonlinear transient events solved explicitly, such as impacts and explosions.

Multiphysics

3DEXPERIENCE STRUCTURAL

Solvers, element types, and integrations to handle multiphysics events combining thermal, fluid, electromagnetic, and other effects.

Complex Loading Scenarios

3DEXPERIENCE STRUCTURAL

Mix and match sequential loading with different solvers to analyze real-world behavior.

Advanced Material Behavior

3DEXPERIENCE STRUCTURAL

Powerful material modeling for extreme deformation, dependent properties, material failure, and more.

Robust General Contact

3DEXPERIENCE STRUCTURAL

Automatic contact detection and efficient convergence of small-sliding interfaces.

Cloud Compute

3DEXPERIENCE STRUCTURAL

Includes 8 cores of "embedded" compute access to be used locally or in the cloud. For additional purchase, add more cores of cloud (up to 144) or local compute.


See Results from Anywhere

3DEXPERIENCE STRUCTURAL

Thanks to the 3DEXPERIENCE cloud data structure, results can be quickly reviewed in a web app, even from your phone.


Cloud Postprocessing

3DEXPERIENCE STRUCTURAL

Extremely large results files may be reviewed in a cloud viewing session.


View More
Learn more about adding powerful cloud simulation to your design process.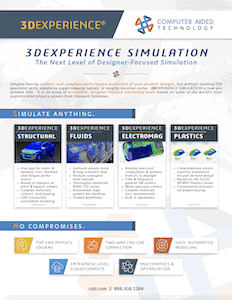 3DEXPERIENCE SIMULATION Buyer's Guide
The 3DEXPERIENCE SIMULATION portfolio brings structural, fluid, plastics, and electromagnetic simulation onto the 3DEXPERIENCE Platform. Learn more about the solver capabilities and Platform integrations in this detailed brochure.
Download Brochur

e
Key Features of 3DEXPERIENCE STRUCTURAL
CAD-Connected & Convenient Preprocessing
Guided workflows to aid in the model setup process, and the native CAD-CAE connection of the 3DEXPERIENCE Platform enables one-click FE model updates.  Templating automates the process of generating FE models when designs are similar, and the native CAD access allows for intelligent identification and modeling of connectors and other geometry features.
Robust Implicit and Explicit Solvers
Ideal for everything from nonlinear, high-fidelity static loading to high-speed dynamic events.
Specialized and Multiphysics Solvers
Electromagnetics, smoothed particle hydrodynamics, thermostructural, thermal-electrical, structural acoustics, and more.
Interoperable Solvers and Complex Loading
Mix and match solvers and load steps in series to study assemblies in complicated, real-world states of loading.
Real Material Behavior and Contact Interactions
Alloys, rubbers, thermoplastics, composites, soils, powder metals, biomaterials – it can all be accurately simulated up to the most extreme strains and even into failure and cracking. General Contact allows for automatic contact detection and solves those interactions with robust contact code.
High-Performance Cloud Compute

3DEXPERIENCE STRUCTURAL includes eight-core compute access on your choice of local or cloud hardware.  Users may also purchase cloud compute time and leverage up to 144 cores of processing power without having to research, buy, and maintain a workstation or server system.
Accelerated, Accessible Post-Processing

3DEXPERIENCE users may view and share 3D basic simulation results in their browser, including on mobile. For full postprocessing, they may download results files locally or launch a cloud viewing session.
3DEXPERIENCE STRUCTURAL Comes in Many Levels
3DEXPERIENCE STRUCTURAL is a multi-tiered solution. CATI will help you figure out which level is right for you:
3DEXPERIENCE Learning and Support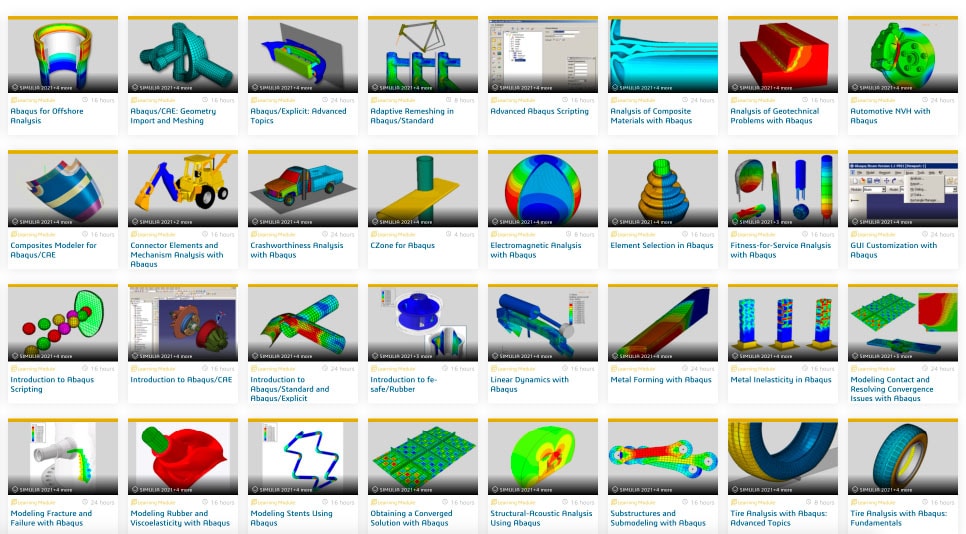 3DEXPERIENCE Learning Resources
---
3DEXPERIENCE is powerful and transformative software, so learning to make the most of it isn't trivial. Thankfully, Dassault Systèmes and CATI provide plenty of resources on the path to proficiency:
Official and custom-tailored classroom training
Online training courses on the Learning Space
CATI's quick-response technical support
Extensive official documentation
Dassault Systèmes Knowledge Base of supplemental materials, technical articles, and support tickets
CATI simulation mentorship programs
CATI consultative methodology development
Why 3DEXPERIENCE with CATI?
---
Computer Aided Technology (CATI) has been implementing solutions on the 3DEXPERIENCE Platform since 2012. No one has more experience when it comes to 3DEXPERIENCE Platform solutions, especially when it comes to implementing the platform with SOLIDWORKS or CATIA.
Critically, our simulation team consists of career power users of FEA software, including Abaqus and now 3DEXPERIENCE Simulation. Watch this video to learn more about why companies choose to partner with CATI for 3DEXPERIENCE solutions.
Get Started with 3DEXPERIENCE from CATI.
We're ready to help figure out the right product development solution plan for you. Contact us today to get started with a quote, a trial, a demo, or just ask questions.
Other Design & Engineering Software
We Empower The
Innovators