Simulation Software
Abaqus Unified FEA
The best solution for high-performance FEA with complex assemblies, materials, interactions, and multiphysics. Realistic simulation unlocks innovation.
Abaqus Unified FEA is an industry-standard, flagship solution for world-class FEA.  Leading companies use Abaqus to make informed design choices and get to market faster, with better products that are cheaper to manufacture.
The Abaqus physics solver code is renowned for its speed and accuracy and its ability to handle complex loading, extreme material behavior, and dynamic part interactions.  Altogether, that means trustworthy simulation of difficult real-world performance scenarios, and that is the difference-maker in highly competitive innovative fields.
Which Abaqus experience is right for you?
Abaqus Unified FEA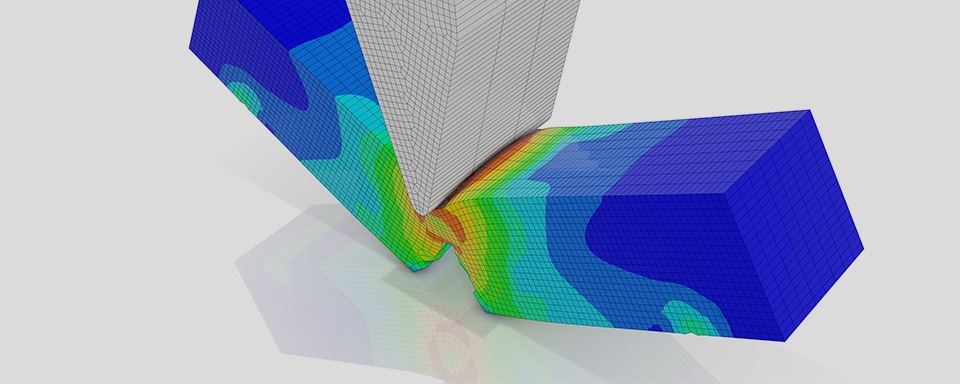 Abaqus Unified FEA is the traditional desktop Abaqus package users have known for decades, the premier solution for advanced structural analysis with complex interactions and material behavior.
It now comes with additional products: fe-safe for fatigue, Tosca/Structure for topology and shape optimization, and Isight for parametric optimization and design exploration.
Request a Quote
3DEXPERIENCE STRUCTURAL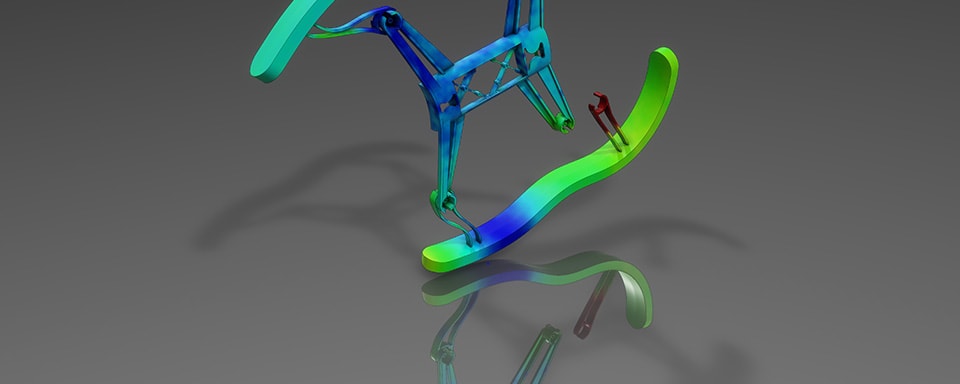 3DEXPERIENCE STRUCTURAL brings Abaqus to the 3DEXPERIENCE Platform. It includes the same powerful Abaqus solvers, but in a new cloud platform setting.
This 3DEXPERIENCE integration brings native CAD connectivity, new and advanced pre-/post-processing capabilities, and cloud compute.
Learn More
When Is It Time to Step Up to Abaqus?
SOLIDWORKS Simulation
Abaqus
3DEXPERIENCE STRUCTURAL
Guided Modeling Wizard

SOLIDWORKS Simulation

3DEXPERIENCE STRUCTURAL

Step-by-step, easy-to-follow user interface for setting up an FE model.


CAD Associativity

SOLIDWORKS Simulation

Abaqus

3DEXPERIENCE STRUCTURAL

Nondestructively propagate CAD changes into your FEA model.


Advanced Pre-processing Capabilities

Abaqus

3DEXPERIENCE STRUCTURAL

Extensive feature recognition and model templating speeds up the setup phase.

Static & Frequency Analysis

SOLIDWORKS Simulation

Abaqus

3DEXPERIENCE STRUCTURAL

Static stress & displacement, fatigue, buckling, thermal, and vibration analyses.


Parametric & Topology Optimization

SOLIDWORKS Simulation

Abaqus

3DEXPERIENCE STRUCTURAL

FEA-based design exploration for performance and lightweighting.


Motion Analysis

SOLIDWORKS Simulation

Rigid-body kinematics with time-based motion and event-based motion analysis.

High-Speed Dynamic Analysis

Abaqus

3DEXPERIENCE STRUCTURAL

Highly nonlinear transient events solved explicitly, such as impacts and explosions.

Multiphysics

Abaqus

3DEXPERIENCE STRUCTURAL

Solvers, element types, and integrations to handle multiphysics events combining thermal, fluid, electromagnetic, and other effects.


Complex Loading Scenarios

Abaqus

3DEXPERIENCE STRUCTURAL

Mix and match sequential loading with different solvers to analyze real-world behavior.


Advanced Material Behavior

Abaqus

3DEXPERIENCE STRUCTURAL

Powerful material modeling for extreme deformation, dependent properties, material failure, and more.


Robust General Contact

Abaqus

3DEXPERIENCE STRUCTURAL

Automatic contact detection and efficient convergence of small-sliding interfaces.


High-end CPU Acceleration

Abaqus

3DEXPERIENCE STRUCTURAL

Effective utilization of very high CPU core counts.


High-end GPU Acceleration

Abaqus

Dramatically accelerate select types of analyses with a compute GPU.

Cloud Compute

Abaqus

3DEXPERIENCE STRUCTURAL

Optional access to cloud HPC (up to 144 cores) on-demand via credit system.


Complete Customizability

Abaqus

As a traditional, open-ended desktop solution, Abaqus is open to all manner of integrations and customizations.

Full Cloud PLM Integration

3DEXPERIENCE STRUCTURAL

Unified CAD-CAE-CAM-PLM cloud database powered by 3DEXPERIENCE eliminates the need for loose-file handling and associated mistakes.

View More
Why Abaqus over other FEA solutions? What's it like to own & use it? How will CATI help you succeed?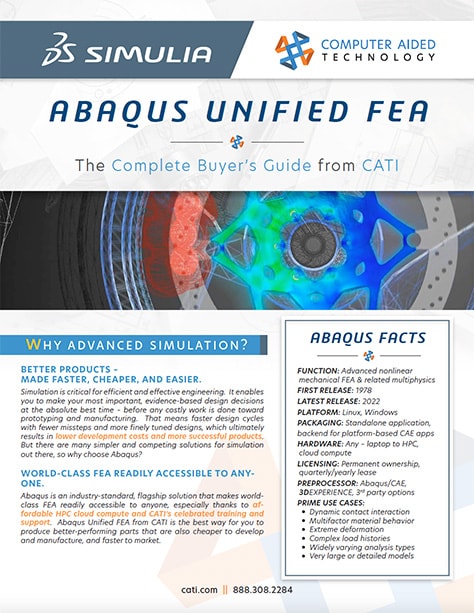 The Complete Abaqus Buyer's Guide
This substantial guide will show you what makes Abaqus a uniquely powerful FEA solution, how it's licensed, system requirements, packaging options, learning resources, and how CATI will support you.
Download Now
Robust Implicit and Explicit Solvers
Ideal for everything from nonlinear, high-fidelity static loading to high-speed dynamic events.
Specialized and Multiphysics Solvers
Electromagnetics, smoothed particle hydrodynamics, thermostructural, thermal-electrical, structural acoustics, and more.
Interoperable Solvers and Complex Loading
Mix and match solvers and load steps in series to study assemblies in complicated, real-world states of loading.
Extended Portfolio Tools
Abaqus comes with fe-safe, a high-powered advanced fatigue analysis tool; Tosca, a solver-agnostic nonlinear topology and shape optimization tool; and Isight, the parametric optimization and process automation engine.
Real Material Behavior and Contact Interactions
Alloys, rubbers, thermoplastics, composites, soils, powder metals, biomaterials – it can all be accurately simulated up to the most extreme strains and even into failure and cracking. Abaqus General Contact allows for automatic contact detection and solves those interactions with robust contact code.
Extreme Compute Capability
Abaqus scales very well with powerful CPUs and GPUs, allowing you to push the limits of model size and complexity.  Users can even purchase official cloud compute services to access on-demand enterprise HPC capability.
Flexible User Experience
Abaqus continues to be available as the traditional, permanently-licensed, standalone simulation tool it has always been.  It is now also available in the SaaS model on the 3DEXPERIENCE Platform so you can login and use it from anywhere, with cloud compute capabilities for when it comes time to solve.  This version of Abaqus — 3DEXPERIENCE STRUCTURAL — features a brand-new, modern user interface with native CAD integration and a host of preprocessing automation enhancements.
Abaqus Learning and Support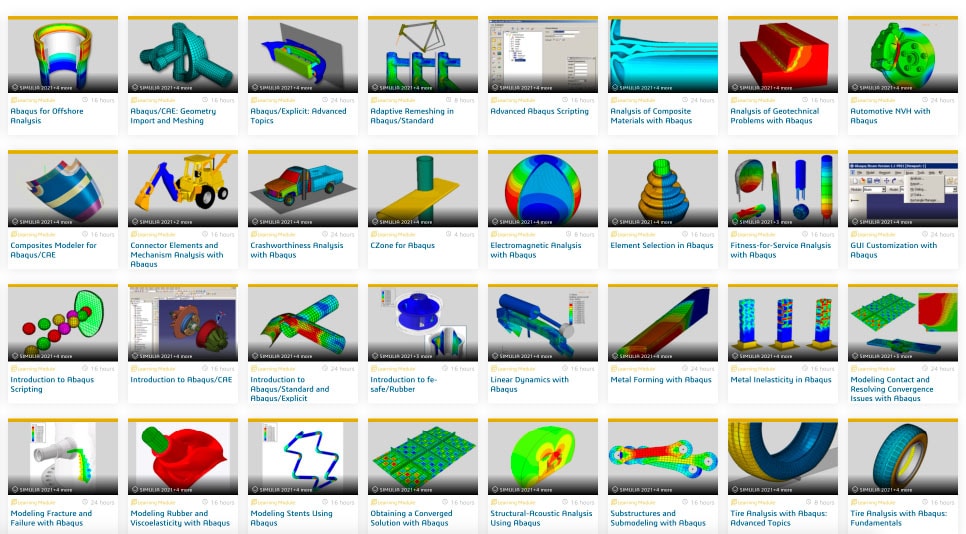 Abaqus Learning Resources
---
Abaqus is powerful software, so learning to make the most of it isn't trivial. Thankfully, Dassault Systèmes and CATI provide plenty of resources on the path to proficiency:
Official and custom-tailored classroom training
Online training courses on the Learning Space
CATI's quick-response technical support
Extensive official Abaqus documentation
Dassault Systèmes Knowledge Base of supplemental materials, technical articles, and support tickets
CATI Abaqus mentorship programs
CATI consultative methodology development
North America's #1 Abaqus Support Team
---
CATI's Abaqus support team is our simulation consulting team.  That means we're career power users of the software ourselves.  For you, that means an unrivaled CAE software experience that even wins over Abaqus customers from other vendors.
Our CAE industry experience provides valuable guidance in licensing, hardware, tech support, and training.  We will help you develop a cutting-edge CAE strategy tailored to achieve your goals.
Get Started with Abaqus from CATI.
We're ready to help figure out the right product development solution plan for you. Contact us today to get started with a quote, a trial, a demo, or just ask questions.
Other Design & Engineering Software
We Empower The
Innovators