Manufacturing Software
CAMWorks
CAMWorks is a next generation best-of-class CNC programming solution that enables its users to program smarter and machine faster.
Ready to Purchase?
Connect with one of our experts to get started today!
Request a Quote
CAMWorks® with Machining Intelligence is the most advanced CAM programming software available for getting products to market faster, more efficiently, and within budget. CAMWorks is a next generation best-of-class CNC programming solution that enables its users to program smarter and machine faster.
With seamless integration within the SOLIDWORKS design environment, CAMWorks offers true associative machining automatically accommodating changes to the part model, which eliminates time-consuming CAM system rework due to design updates.
Which CAMWorks Bundle Is Right for You?

Can You Reduce Your Programming by as Much as 90%?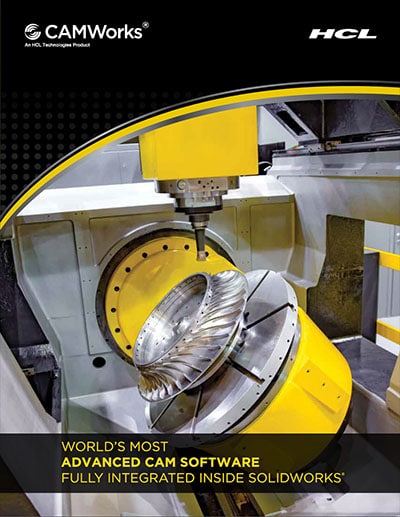 CAMWorks: The World's Most Advanced CAM Software
The CAMWorks family of SOLIDWORKS-integrated products lets you program smarter, machine better, and setup faster. Learn the what and the why of CAMWorks in this informative brochure.
Download Now
CAMWorks 2.5-Axis Milling includes automatic roughing, finishing, thread milling, face milling, and single-point cycles.
CAMWorks 3-Axis Milling routines to machine complex, contoured surfaces routinely encountered in mold making and aerospace applications.
With CAMWorks Multi-Axis Milling software, take advantage of 4/5-axis machines for greater productivity and quality from your CNC machine.
CAMWorks Mill-Turn provides a solution for both milling and turning on the same machine tool. Allowing for increased productivity and flexibility.
CAMWORKS Turning programs CNC lathe machines including automatic roughing, finishing, grooving, threading, cutoff and single point cycle.
CAMWorks VoluMill is an ultra high-performance tool-path engine within CAMWorks for 2.5 axis and 3 axis roughing operations.
CAMWorks Wire EDM is fully integrated into SOLIDWORKS, providing a more intuitive, automatic, and efficient method of generating EDM tool-paths and machine code.
With CAMWorks Virtual Machine, dry-runs for program validations are completely eliminated. Verify g-code with 1 click!
Do You Have a CAMWorks Success Plan?
Implementation Services
Through our comprehensive set of mentoring and consulting services, our team of advisors and technicians will help you introduce transformative new technology to your product development process. Drawing on our years of experience and industry knowledge, we take on the sometimes daunting challenge of making these complex tools work the way you need them to.
Services available for SOLIDWORKS CAD, Electrical, PDM, Manage, Simulation, Composer, Inspection, 3DEXPERIENCE Platform, ENOVIA, SIMULIA, CATIA, DriveWorks, CAMWorks, and more.
Learn more about:
CAMWorks Support
The ability to support our customers is the cornerstone of our business. With 90+ engineers on staff available 12 hours per day, 5 days per week, our award-winning technical team can assist you with your CAMWorks challenges in a timely manner.
Call: 888-285-2284
Email: support@cati.com
Support Hours: 7AM – 7PM Central Time
Support Days: Monday – Friday
CATI Is Your CAMWorks Success Plan
As North America's first SOLIDWORKS partner, no one is more qualified to build and support your product development process.  We believe everyone should have access to our curated portfolio of transformative engineering and manufacturing technologies.
By listening to and working with you, we will find the right solution for you at the right time, with an implementation and growth plan to support your business ambitions.
Get Started with CAMWorks from CATI.
We're ready to help figure out the right product development solution plan for you. Contact us today to get started with a quote, a free trial, a demo, or just ask questions.
Other Design & Engineering Software
We Empower The
Innovators