DriveWorks Solo
Quickly and easily configure custom products inside SOLIDWORKS, outputting CAD data, detailed manufacturing drawings, and quotes for each new order-specific design.
Ready to purchase?
Our DriveWorks experts are here to answer your questions and move you forward.

Request a Quote
DriveWorks Solo design automation projects are easy to set up, easy to manage, and easy to use. Begin automating your designs, document creation, and more by setting up a project. Run your automation project as many times as you like, use it by filling out forms, and to quickly generate multiple new versions of your designs along with manufacturing or sales documentation.
Powerful SOLIDWORKS CAD Automation

Control dimensions, features, instances, custom properties, advanced feature parameters, and much more.


Advanced Drawing Control

Save time and boost product quality by automatically creating accurate manufacturing drawings.

Customizable Documents

Quickly respond to sales enquiries with accurate documents using quote, cover letter, and BOM templates.

Preview Results

Preview results as you enter design requirements before you generate final models, drawings, and documents.

Custom Input Forms

The built-in form designer to help you configure valid permutations.

Static Tabular Data

Leverage your existing static tabular data on your forms and in your rules, with 60 table functions to manipulate that data.

Which DriveWorks package is right for you?
DriveWorksXpress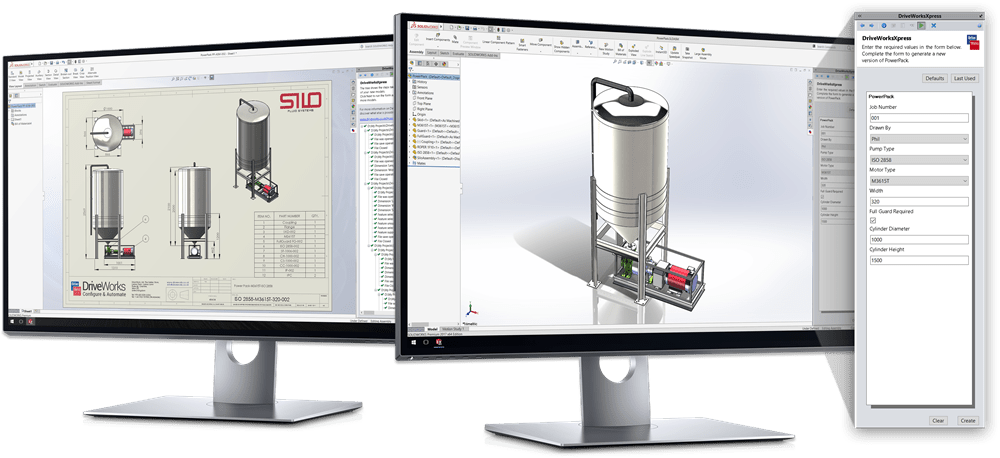 DriveWorksXpress is a free product that provides entry-level design automation in SOLIDWORKS, ideal for everyday repetitive design tasks. Easily create multiple variations of SOLIDWORKS parts, assemblies and drawings without complex macros, design tables, or configurations.
FREE
Learn More & Activate Now
DriveWorks Solo
DriveWorks Solo is design automation software which allows you to quickly and easily create and configure custom products inside SOLIDWORKS. Generate 3D designs, detailed manufacturing drawings, and quotes for each new order-specific design without taking too much of your engineers' time.
Request a Quote
Contact Us
DriveWorks Pro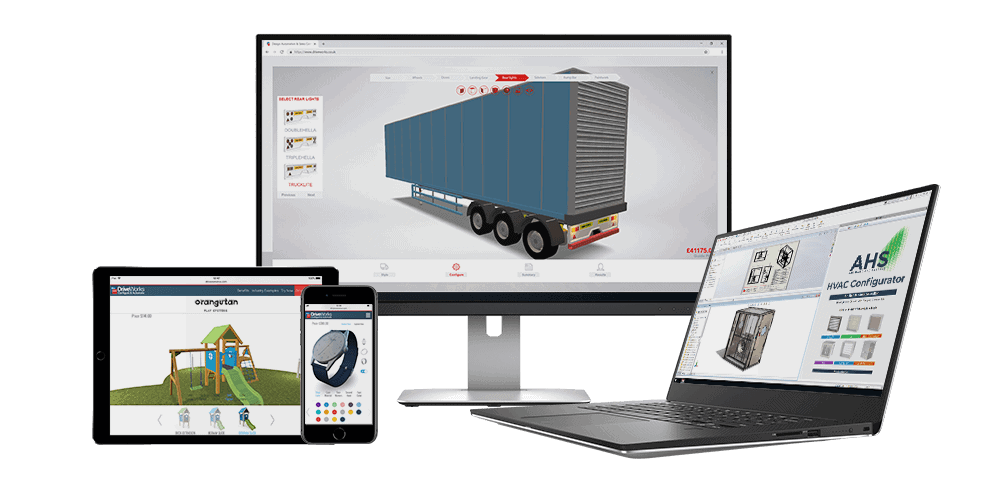 With DriveWorks Pro you can create a custom configurator that ANYONE can use. Use DriveWorks locally or on the web to configure custom designs and produce the associated manufacturing and sales documents automatically and error-free. The modularity of DriveWorks Pro makes it easy to build a solution that suits you and your company needs.

Request a Quote
Learn More
What is it like to manage an automation project within DriveWorks Solo?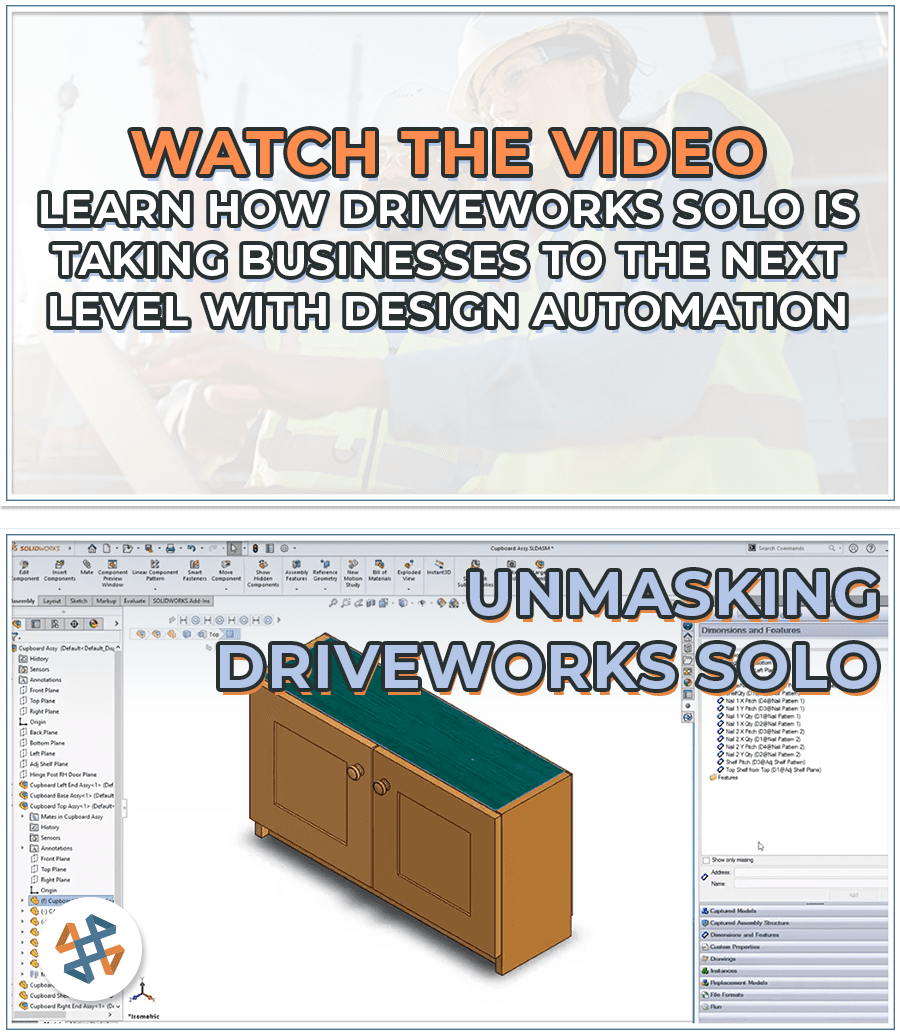 Unmasking DriveWorks Solo
Take a look under the hood of DriveWorks Solo. In this session, you'll see the basics of managing a DriveWorks project. We'll start by looking at creating a new project or modifying an existing one. Then we'll talk about customizing your forms and making sure it gathers the information you need. Next, you'll see what it looks like to link inputs to a SOLIDWORKS model and then testing the model to see the results.
Watch the Video
DriveWorks Solo FAQs
Why should by business be using DriveWorks Solo?
If your engineers are commonly recreating custom designs that can be automated, you can reduce the cost and labor that goes into that process while also reducing inquiry wait time and enhancing product quality.
I have DriveWorksXpress, why do I need DriveWorks Solo?
Our Getting Started guide will tell you some of the reasons why, but to name a few, a MUCH more powerful rules engine, dynamic forms that will allow you to create a tremendously interactive and engaging user experience, and increased control over many elements of your drawings, allowing your engineers to create custom drawings in minutes!  See the feature matrix on the DriveWorks page for a more exhaustive list of capabilities.
Do You Have a DriveWorks Success Plan?
DriveWorks Support
The ability to support our customers is the cornerstone of our business. With 90+ engineers on staff available 12 hours per day, 5 days per week, our award-winning technical team can assist you with your DriveWorks challenges in a timely manner.
Call: 888-285-2284
Email: technical.support@cati.com
Support Hours: 7AM – 7PM Central Time
Support Days: Monday – Friday
CATI Is Your DriveWorks Success Plan
As one of DriveWorks' top partners, no one is more qualified to build and support your product development process.  We believe everyone should have access to our curated portfolio of transformative engineering and manufacturing technologies.
By listening to and working with you, we will find the right solution for you at the right time, with an implementation and growth plan to support your business ambitions.
Get Started with DriveWorks from CATI.
We're ready to help figure out the right product development solution plan for you. Contact us today to get started with a quote, a free trial, a demo, or just ask questions.
Other Design & Engineering Software
We Empower The
Innovators