Communication Software
SOLIDWORKS Composer
Quickly create assembly instructions, marketing collateral, technical illustrations, interactive animations, or training materials.
SOLIDWORKS Composer is easy-to-use software that anyone associated with product development can use to quickly create 2D and 3D images and animations, allowing you to create a full range of product documentation – whether for assembly instructions, marketing collateral, technical illustrations, interactive animations, or training materials.
With SOLIDWORKS Composer's CAD-associative approach to content creation, design and documentation can be produced on parallel tracks, realizing substantial and consistent time-savings for engineers, who can spend more time innovating. By leveraging SOLIDWORKS Composer, businesses can enjoy reduced time-to-market and better technical product communications that help customers and partners understand and retain information more effectively.
Supports multiple CAD and file formats

Get documentation started early in the design process


Create interactive 3D content

Create high-res 3D renderings and animations

Create interactive BOMs and part lists


Create assembly instructions, product manuals, and training materials 

Improved clarity of technical communications

Publish for online viewing

Which
SOLIDWORKS

Composer package is right for you?
SOLIDWORKS Composer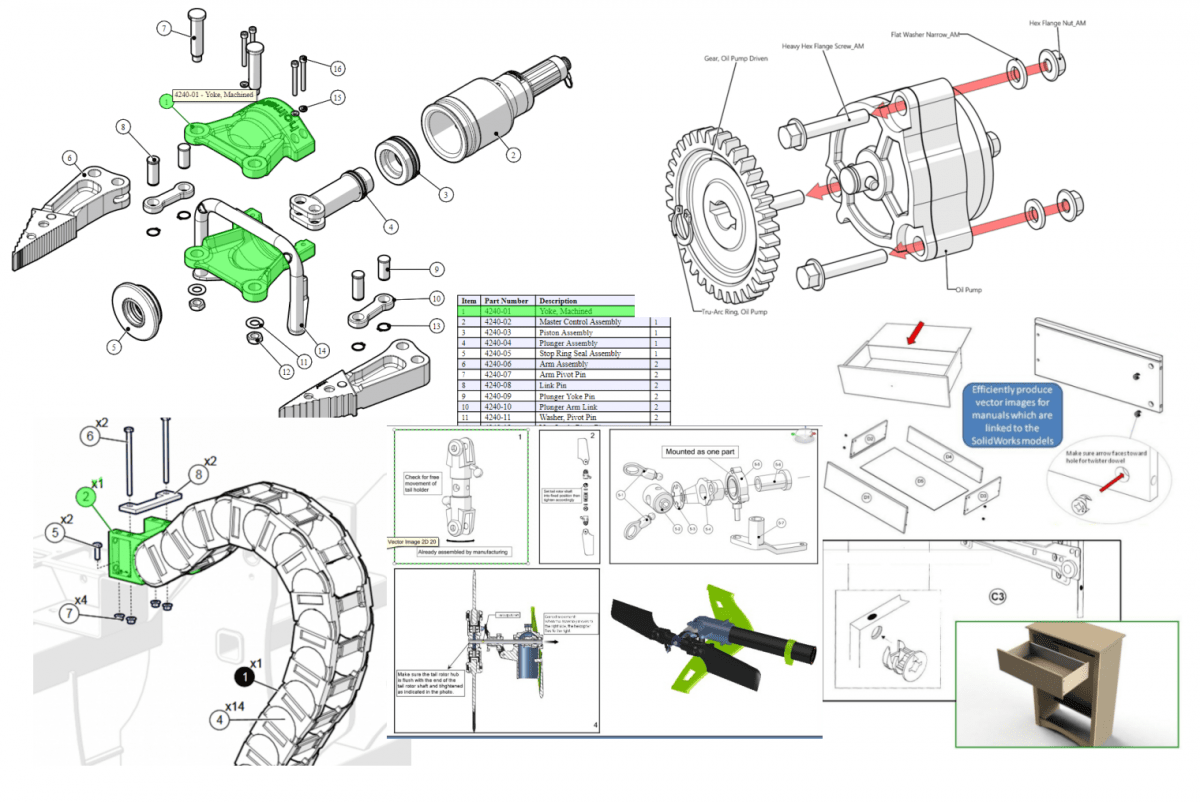 SOLIDWORKS Composer allows you to quickly create 2D and 3D graphical content to clearly explain and present your product or process. The tools let you work directly from 3D CAD data to create high-quality illustrations, photorealistic images, and interactive animations, and to import design data.
$5,765.00
Buy Now
SOLIDWORKS Composer Player Professional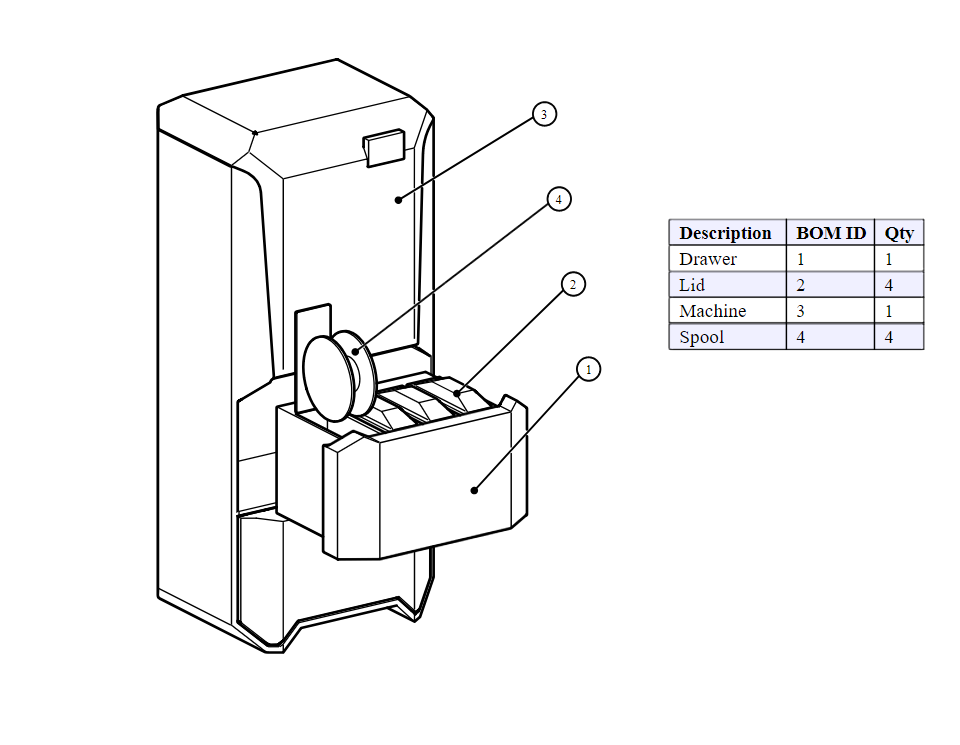 Interact with 3D content using SOLIDWORKS Composer Player Professional. It includes all the features of the SOLIDWORKS Composer Player, but also enables you to interrogate a model, adjust the viewing angle, and rotate/pan/zoom in real time. You can also use custom APIs to customize the Player.
Request a Quote
SOLIDWORKS Composer Sync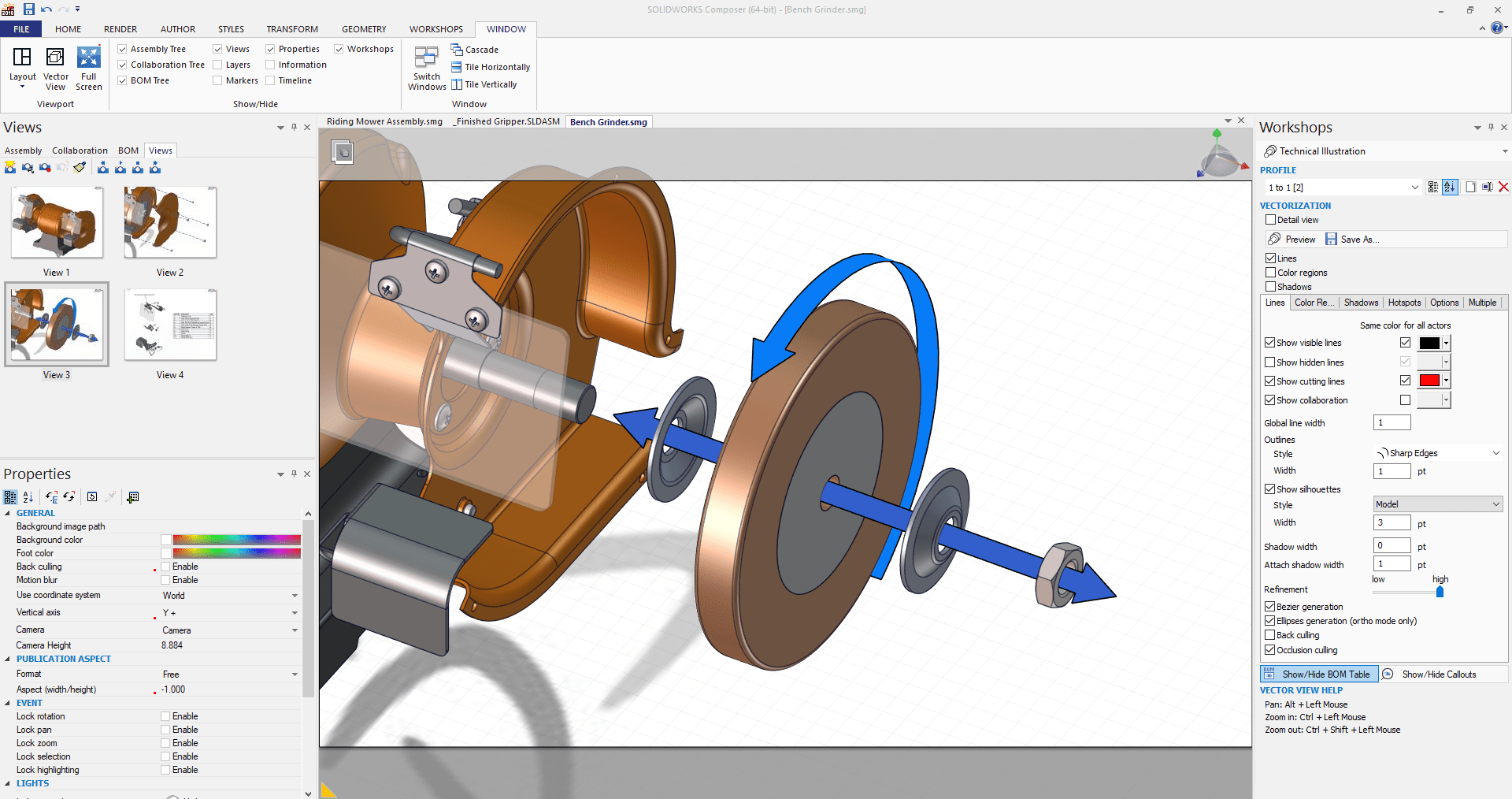 SOLIDWORKS Composer Sync creates batch conversion process from SOLIDWORKS and other 3D CAD Formats. Changes in product data or manufacturing information can automatically be updated in SOLIDWORKS Composer deliverables.
Request a Quote
SOLIDWORKS Composer Features
Composer
Composer Player Professional
Composer Sync
CAD Format Support

Composer

SOLIDWORKS Composer supports a wide range of 3D CAD formats, including SOLIDWORKS, Pro/ENGINEER/Creo®, and Autodesk® Inventor, as well as neutral file formats such as STEP, IGES, and others.

Update Visual Content

Composer

Update content with the latest design changes (geometry, Bill of Materials (BOM) tree, metadata,and others.)

Faster Content Development

Composer

Work directly from 3D CAD data and create 2D and 3D graphical content in multiple formats, such as raster images (JPG, BMP, TIF, PNG); vector images (SVG, EPS, SVGZ, CGM); videos (AVI); and 3D interactive animations (3D PDF, HTML, SMG); executable package, (ActiveX control). Add annotations (auto balloons, BOM table, arrows, and detail views). Change appearances (hide/show, transparency, and colors).

Document Processes

Composer

Create step by step step-by-step procedures showing incremental components.

Create Animations

Composer

Create interactive storyboards by adding links to relevant views. Animate appearances and custom properties. Create keyframe animation by drag-and-drop views on timeline. Create interactive animations with markers and filter timeline keys for finer control.

Customize BOMs

Composer

Create a manufacturing BOM independent of an engineering BOM. Customize parts lists and properties for each view.

Automate Processes

Composer

Composer Sync

Automate batch mode import of 3D files and publishing content. Automate document creation within existing workflow systems. Automate document translation by using custom XML programming.

Viewing Customization

Composer Player Professional

View step-by-step interactive instructions with no additional user interface required. Rotate, zoom, animate, measure, view BOM, section (rights-controlled by author). Create custom applications to distribute internally or through a website.

Multiple Output Formats

Composer Player Professional

Provide multiple formats for 2D output (such asBMP, PNG, EPS) and animation (such as AVI).

Keep All Product Information Current

Composer Sync

Keep all graphical content and technical communication deliverables current.

Automatically Update Product Information

Composer Sync

Minimize the time it takes to update graphical assets and critical design information. Automatically update metadata, geometry, BOM, and other manufacturing information.

Command Line Interface Accessibility

Use the interface of Sync and a command line interface to enable integration with PLM applications throughout your organization.

Check for Design Errors

Identify errors before products hit the shop floor giving you instant validation for assembly procedures after a design change.

Clash Detection

Interactive static and dynamic collision detection for service qualification and assembly procedures and path planning.

View More
Turn Your 3D Design Data into Engaging Content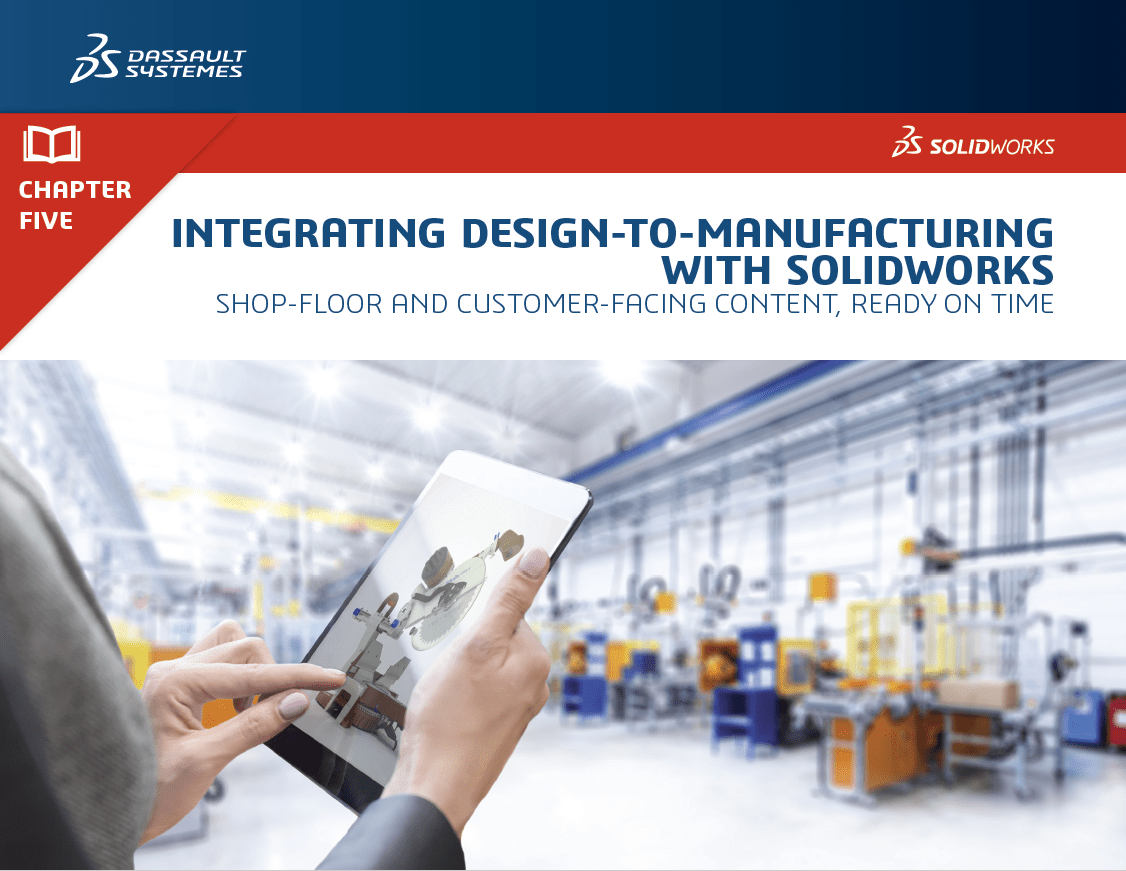 Shop-Floor and Customer-Facing Content, Ready On Time
Whether presenting your ideas or products to internal company management or your customer, you'll want to make the best impression possible. If you are looking for initial approval for your concept, or creating final sales, marketing, and customer service content, SOLIDWORKS provides tools to quickly and easily create the exciting content you need. This includes artistic renderings, photo-quality images and animations, content for user manuals and assembly instructions, augmented-reality (AR) capabilities, as well as options for interactive and immersive 3D experiences.
With SOLIDWORKS, you can start creating demand for your product, before it even exists.
Download eBook
The SOLIDWORKS Composer Solutions
SOLIDWORKS Composer Player
The SOLIDWORKS Composer Player is a free utility to distribute the content you create to end-users. More than a simple viewer, the player provides your customers and partners with an interactive 3D product experience. Anyone can see your animated files, just by using the free software. Show how your product works, what you can do with it, and how to do it with interactive 3D content.
SOLIDWORKS Composer Player Professional
Available as an upgrade, the Professional version includes all of the features of the original Composer Player. In addition, Professional allows you to use custom APIs to customize the player, interrogate a model, adjust the viewing angle, and rotate/pan/zoom in real time. Request a quote below.
SOLIDWORKS Composer Sync
SOLIDWORKS Composer Sync creates a batch conversion process from 3D CAD and other 3D formats into SOLIDWORKS Composer format. Changes in product data or manufacturing information can be automatically updated to SOLIDWORKS Composer deliverables. You can save batch job settings to XML for future use.
SOLIDWORKS Composer Check
With SOLIDWORKS Composer Check, you can identify costly design errors by examining clearances and planning production paths before the products hit the shop floor, giving you instant validation for assembly procedures after a design change.
SOLIDWORKS Composer Enterprise Sync
SOLIDWORKS Composer Enterprise Sync is the enterprise version of SOLIDWORKS Composer Sync with additional features to update information for maintaining accurate product technical communication. Changes in product or manufacturing information can also be updated for SOLIDWORKS Composer deliverables.
Do You Have a SOLIDWORKS Success Plan?
SOLIDWORKS Support
The ability to support our customers is the cornerstone of our business. With 90+ engineers on staff available 12 hours per day, 5 days per week, our award-winning technical team can assist you with your SOLIDWORKS challenges in a timely manner.
Call: 888-285-2284
Email: support@cati.com
Support Hours: 7AM – 7PM Central Time
Support Days: Monday – Friday
SOLIDWORKS Training
SOLIDWORKS provides powerful tools, but without the right know-how, the full potential of these tools cannot be attained.  CATI provides our customers with comprehensive SOLIDWORKS training in both beginning and advanced topics.
Instruction by our certified trainers is available throughout the year at our nationwide campuses.  We focus on small class sizes that afford you the individual attention you need to learn and thrive.
Learn more about:
SOLIDWORKS Subscription
The SOLIDWORKS Subscription Service Program gives you immediate access to a number of items that will improve your CAD experience, expertise, and return on investment:
Live, local tech support with CATI
Software upgrades and new releases
Free access to SOLIDWORKS CAM Standard and SOLIDWORKS Visualize Standard (for SOLIDWORKS Professional and Premium subscribers)
Free CSWA and CSWP SOLIDWORKS Certification Exams
Access to MySolidWorks eLearning
SOLIDWORKS Customer Portal for info repository, enhancement requests, and beta access
Learn more in our SOLIDWORKS Subscription datasheet.
CATI Is Your SOLIDWORKS Success Plan
As North America's first SOLIDWORKS partner, no one is more qualified to build and support your product development process.  We believe everyone should have access to our curated portfolio of transformative engineering and manufacturing technologies.
By listening to and working with you, we will find the right solution for you at the right time, with an implementation and growth plan to support your business ambitions.
Get Started with SOLIDWORKS from CATI.
We're ready to help figure out the right product development solution plan for you. Contact us today to get started with a quote, a free trial, a demo, or just ask questions.
Other Design & Engineering Software
Related articles on our blog
We Empower The
Innovators