Manufacturing Software
SOLIDWORKS MBD
Define, organize, and publish 3D product manufacturing information (PMI) including 3D model data in industry-standards.
Ready to Purchase?
Connect with one of our experts to get started today!

Request a Quote
SOLIDWORKS® Model-Based Definition (MBD) is a model-based 3D annotation tool that streamlines production, cuts cycle time, reduces cost and errors, and supports industry standards.
Unlike 2D drawings, SOLIDWORKS MBD defines, organizes, and publishes annotations directly into the 3D data in widely accepted formats, such as eDrawings, STEP 242, and 3D PDF. This helps automate downstream manufacturing processes such as tolerance analysis, machining, and inspections.
Define PMI directly in 3D


Share and archive intelligent and intuitive 3D data


Seamless integration with SOLIDWORKS 2D drawings.

Clean and structured 3D presentation

Customize 3D output templates

Easy 3D output and distribution with 3D PDF and eDrawings

Comply with industry standards
SOLIDWORKS MBD Features
SOLIDWORKS MBD
Define 3D Annotations

SOLIDWORKS MBD

SOLIDWORKS MBD helps you define feature-based annotations in Parts and assemblies (DimXpert), and import 3D annotations from common CAD formats for more efficient design.

Organize 3D Annotations

SOLIDWORKS MBD

When the number of 3D annotations becomes too many, you can show and hide annotations automatically as a model rotates, capture comprehensive settings with 3D views similar to visual bookmarks, compare 3D annotation differences between revisions to capture subtle but critical differences, and reuse 3D views in 2D drawings when necessary.

Publish 3D Data with Annotations and Views

SOLIDWORKS MBD

SOLIDWORKS MBD helps you communicate directly in 3D. If you like 3D PDF, the software can customize the templates, control accuracies and PDF sizes, publish BOM tables and notes, attach multiple files upon publishing, create and attach STEP242 files. SOLIDWORKS MBD can also output eDrawings or STEP 242 with software-readable annotations.

Minimize Scrap and Rework

SOLIDWORKS MBD

Unlike miscommunications in 2D drawings and manufacturing based on dated 2D drawings, SOLIDWORKS MBD facilitates 3D engineering communication with integrated 3D specifications, greater clarity, reduced ambiguity, and a shorter update path.

Eliminate Time-to-market Delays

SOLIDWORKS MBD

SOLIDWORKS MBD adds clarity in manufacturing communication with 3D integrated specifications, which can also drive downstream applications automatically, such as CAM and CMM programming. SOLIDWORKS MBD enables 3D annotations beyond geometry-based programming.

Reduce Service Costs

SOLIDWORKS MBD

SOLIDWORKS MBD defines and organizes intuitive 3D specifications integrated with models, which shortens the learning curve. The output of high-quality STEP 242 and 3D PDF complies with the Long Term Archival and Retrieval (LOTAR) standard.

View More
MBD: A More Efficient Drawingless Approach to Manufacturing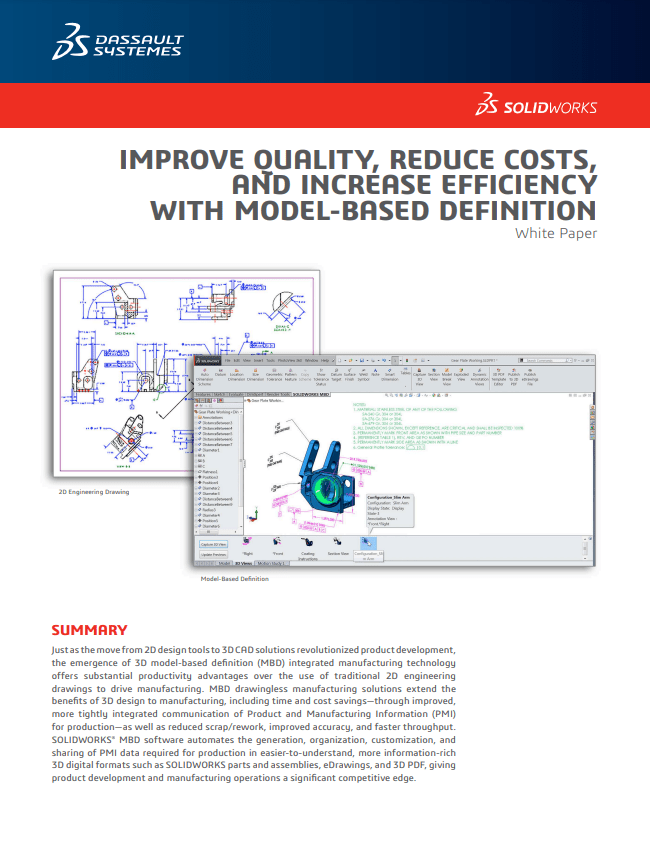 Improve Quality, Reduce Costs, and Increase Efficiency with Model-Based Definition
The emergence of 3D model-based definition (MBD) integrated manufacturing technology offers substantial productivity advantages over the use of traditional 2D engineering drawings to drive manufacturing.
MBD drawingless manufacturing solutions extend the benefits of 3D design to manufacturing, including time and cost savings—through improved, more tightly integrated communication of Product and Manufacturing Information (PMI) for production—as well as reduced scrap/rework, improved accuracy, and faster throughput.
Download White Paper
Do You Have a SOLIDWORKS Success Plan?
SOLIDWORKS Support
The ability to support our customers is the cornerstone of our business. With 90+ engineers on staff available 12 hours per day, 5 days per week, our award-winning technical team can assist you with your SOLIDWORKS challenges in a timely manner.
Call: 888-285-2284
Email: support@cati.com
Support Hours: 7AM – 7PM Central Time
Support Days: Monday – Friday
SOLIDWORKS Training
SOLIDWORKS provides powerful tools, but without the right know-how, the full potential of these tools cannot be attained.  CATI provides our customers with comprehensive SOLIDWORKS training in both beginning and advanced topics.
Instruction by our certified trainers is available throughout the year at our nationwide campuses.  We focus on small class sizes that afford you the individual attention you need to learn and thrive.
Learn more about:
SOLIDWORKS Subscription
The SOLIDWORKS Subscription Service Program gives you immediate access to a number of items that will improve your CAD experience, expertise, and return on investment:
Live, local tech support with CATI
Software upgrades and new releases
Free access to SOLIDWORKS CAM Standard and SOLIDWORKS Visualize Standard (for SOLIDWORKS Professional and Premium subscribers)
Free CSWA and CSWP SOLIDWORKS Certification Exams
Access to MySolidWorks eLearning
SOLIDWORKS Customer Portal for info repository, enhancement requests, and beta access
Learn more in our SOLIDWORKS Subscription datasheet.
CATI Is Your SOLIDWORKS Success Plan
As North America's first SOLIDWORKS partner, no one is more qualified to build and support your product development process.  We believe everyone should have access to our curated portfolio of transformative engineering and manufacturing technologies.
By listening to and working with you, we will find the right solution for you at the right time, with an implementation and growth plan to support your business ambitions.
Get Started with SOLIDWORKS from CATI.
We're ready to help figure out the right product development solution plan for you. Contact us today to get started with a quote, a free trial, a demo, or just ask questions.
Other Design & Engineering Software
Related articles on our blog
We Empower The
Innovators