Communication Software
SOLIDWORKS Visualize
Create lifelike images and animations for use in design reviews, multimedia marketing content, and even interactive experiences.
A compelling, realistic image or animation of your product is a powerful thing.  It can inform design decisions early in the process, when changes are easy to make.  It can show clients and collaborators exactly how a planned product will appear in its finished state.   It can promote your product in the best possible light.  With SOLIDWORKS Visualize, this can all be done without budgeting for costly photoshoots of prototypes or by compromising quality with simple screen grabs.
SOLIDWORKS Visualize is a powerful and easy-to-use content creation tool that accurately simulates real-world lighting and advanced materials in images, animations, and interactive experiences that you can share with your audience.  You can show your product in multiple visual configurations with different scenes, lighting, and artistic filters; and because it's directly connected to SOLIDWORKS, you can automatically update your models using  "Live CAD Update" for a truly seamless workflow.
---
GOT QUESTIONS ABOUT THE SOLIDWORKS RENDERING PORTFOLIO?
Photo-Quality Product Visualizations

Powered by NVIDIA® Iray® and AMD Radeon™ ProRender physically-based rendering engines

Many Ways to Render Faster

Multi-GPU support, AI denoiser, distributed render queuing, and even network-based viewport rendering


Create Exciting Multimedia Experiences

Images, animations, interactive web content, and 360° VR content


Full Toolset for Motion Content

Animation creation suite, physics engine, and SOLIDWORKS animation and motion study import


Focus on Ease-of-Use

Simple, intuitive UI and extensive high-quality camera presets


Powerful Material Controls

Easy texture mapping, stickers, and decals, advanced materials with NVIDIA MDL and PBR


Extensive CAD Compatibility

Supports 25+ CAD file formats with live update to eliminate rework

Which
SOLIDWORKS

Visualize package is right for you?
SOLIDWORKS Visualize Standard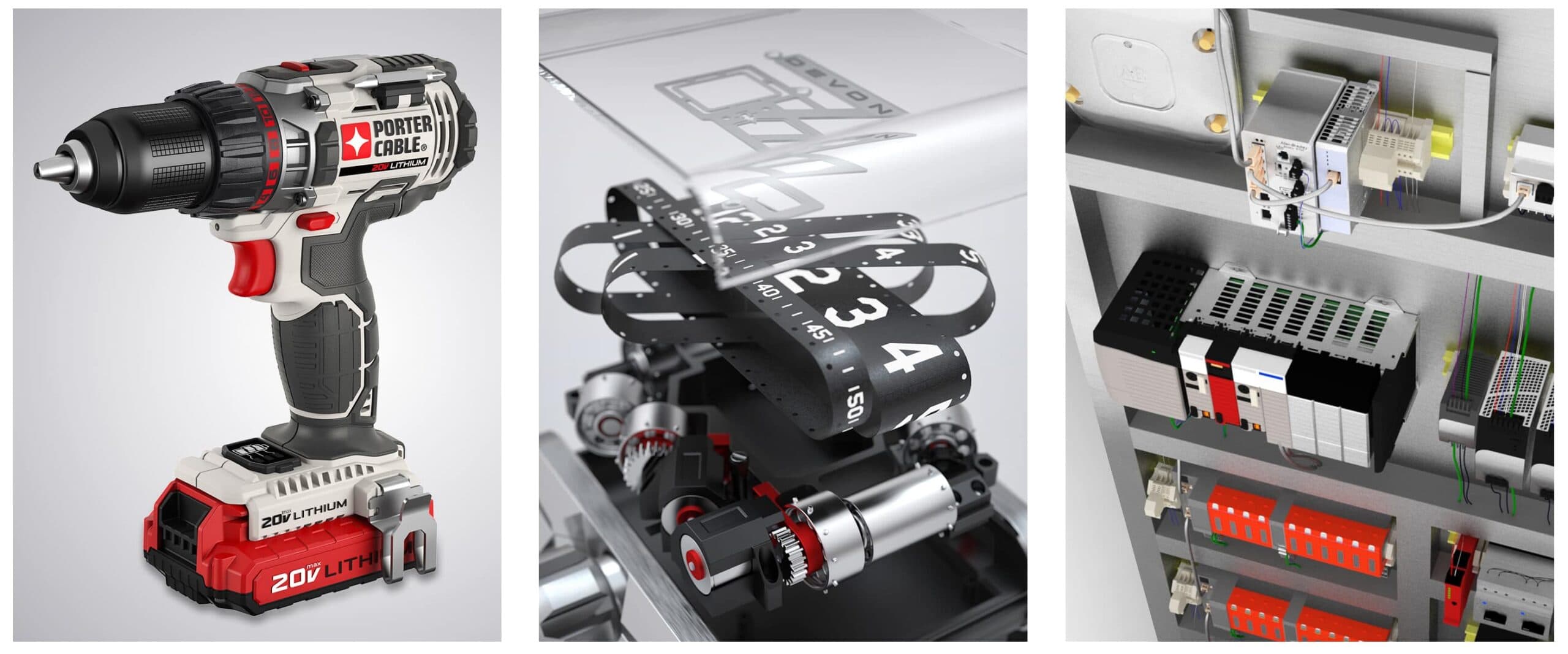 SOLIDWORKS Visualize Standard is the fastest and easiest way to take convincing and compelling "photos" of 3D designs. You can cut costs and shorten time-to-market by leveraging SOLIDWORKS Visualize's raytraced renders as a true-to-life look at your final product before it's ever made.

(Included with on-subscription SOLIDWORKS Professional!)
Request a Quote
SOLIDWORKS Visualize Professional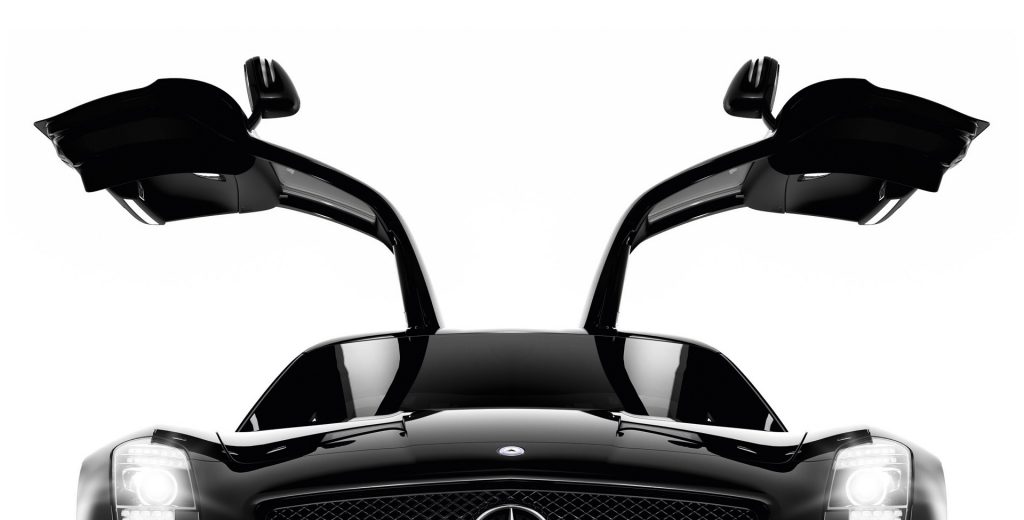 With SOLIDWORKS Visualize Professional, you can really bring your designs to life and let viewers not just see them, but experience them. It builds upon SOLIDWORKS Visualize Standard with a host of animation and interactivity capabilities (including virtual reality!), and it also extends rendering options to support the increased computational load of these projects.

Request a Quote
SOLIDWORKS Visualize Matrix
Standard
Professional
Graphics Processing Unit Accelerated Rendering

Standard

Professional

SOLIDWORKS Visualize is hardware-agnostic and can leverage one or many GPUs in a single machine or across a network, which dramatically increases rendering performance over CPU hardware.

Utilizing NVIDIA® graphics card(s) for rendering is much faster than competitor CPU technology and helps to speed up your daily workflow, generating more content. This feature alone provides dramatic acceleration of the design and engineering process.

SOLIDWORKS Visualize performs faster on all hardware, including entry-level laptops (using new Fast Render mode).

SOLIDWORKS Visualize can also leverage emerging GPU technology from NVIDIA, such as the NVIDIA Quadro® VCA, for linear boosts in render speeds, resulting in a more efficient and productive 3D visualization experience.

Hybrid Render Mode

Standard

Professional

In addition to leveraging one or many GPUs or CPUs, SOLIDWORKS Visualize can leverage both GPU and CPU simultaneously (Hybrid mode) in a single machine or across a network, which dramatically increases rendering performance. This render mode allows entry-level machines to have increased performance to generate content faster.

Physically-Based Raytracing

Standard

Professional

Using NVIDIA's Iray® render engine inside of SOLIDWORKS Visualize, you view a precise and physically correct representation of your CAD model, as if you had physically produced it.

Lighting, materials, and form all come together realistically without sacrificing visual quality and not taking shortcuts to increase render speeds.

Physically-based raytracing is more than just pretty pictures—it's critical digital accuracy that shows what your design will look like in the real world.

Intuitive User Interface

Standard

Professional

SOLIDWORKS Visualize lets you work like you would in a photo studio, moving the camera around your product easily "taking pictures" of your CAD data.

The SOLIDWORKS Visualize user interface (UI), with integrated Viewport and lack of complex node-based materials, is designed for users who don't have time to learn a complex new tool. The SOLIDWORKS Visualize UI can be further simplified to just five buttons at the bottom of the screen in Easy Mode. This mode is designed for users who have no 3D background and just need a simple visualization tool. Enjoy the new sub-tabs in the Palette, simplified Import and Render windows, and much more. You also can now select between a dark theme and light theme.

CAD and Graphic File Support

Standard

Professional

SOLIDWORKS Visualize imports over 25 different CAD file types, including common generic formats such as IGES, STEP, and OBJ. SOLIDWORKS Visualize outputs include JPG, BMP, PNG, TIFF, HDR, and PSD.

CAD Live-Update

Standard

Professional

Surface-Part Splitter

Standard

Professional

Split out parts, surfaces, and faces with this handy integrated Part Splitter. Easily separate geometry to apply a different material or texture. No need to go back to your CAD package to make this change.

Interactive Depth of Field

Standard

Professional

Add that extra touch of photorealism to your Visualize content with Depth of Field. This feature allows you to interactively select the point of focus by simply clicking on your model, and then adjust the amount of desired blur. You can even enter physical camera settings like F-Stop and Aperture.

Import SOLIDWORKS Animations and Motion Studies

Professional

Use the new Visualize add-in for SOLIDWORKS CAD to easily bring your existing animations and motion studies to life in SOLIDWORKS Visualize Professional. CAD Live-Update works with these animations as well, so as your movements and keyframes change in SOLIDWORKS CAD, they will be updated in Visualize.

Full Animation Suite

Professional

Tell a deeper story with your CAD data using the full Animation suite in SOLIDWORKS Visualize Professional. Animate exploded views, part opacity, cameras, and much more with ease to create photo-quality videos to describe even the most complex projects.

Animation Ribbons

Professional

This unique feature provides a 3D representation of how your camera or parts are moving throughout your scene while setting up an animation.

The Animation Ribbon is colored to show the speed of moving objects, and shows the actual keyframes, making editing complex animations easy.

Visualize Boost Support

Professional

Create amazing Visualize content faster than ever before. SOLIDWORKS Visualize Boost is a new add-on product to SOLIDWORKS Visualize Professional that instantly increases render speeds and content productivity. Similar to a printer queue in your office, SOLIDWORKS Visualize Boost allows SOLIDWORKS Visualize Professional users to send jobs to other machine(s), freeing up your machine to keep using Visualize, CAD, or other demanding applications.

PowerBoost Real-time Network Rendering

Professional

A new render mode in Visualize Professional, PowerBoost lets you connect NVIDIA VCA(s) or any other GPU/CPU render farm to stream the raytracing directly to your Visualize Viewport. PowerBoost grants you direct access to loads more hardware than can fit in your local machine, producing extremely fast render speeds while working on your project.

Browser-based Interactive Image and Panoramic Outputs

Professional

Easily create interactive web content to drop into your website or spice up your internal presentations with these two eye-catching outputs. Make your CAD files come to life and create an emotional connection with your target audience. The Interactive Image stitches the desired number of still images together to create an interactive experience of tumbling your model. Panoramic outputs teleport you inside your CAD data for and interactive 360 experiences

Customizable Photographic Camera Filters

Professional

Act like a professional photographer and add some "pop" to your Visualize content. No need to use post-production applications to adjust the exposure, brightness, color balance, contrast, and other frequently used settings. All this can be achieved directly inside Visualize Professional. You can also animate these camera filters!

Integrated Render Queue

Professional

Instantly increase productivity with the integrated Render Queue by stacking up multiple jobs and letting them complete while you're away. Never wait for a render to finish again!

Configurations

Professional

Rapidly generate colorways, product variations, and other design choices using Configurations. Present in real time using Visualize and make important design and engineering decisions by flipping through your Configurations. You can even render all Configurations in a single click!

New Area Lights and Light Placement

Professional

Render complex interior scenes faster than ever before using new Area Lights, which are also supported in Fast mode. These Area Lights produce picture-perfect shadows and render up to 8x faster than using traditional lights and Accurate mode. This new update also comes with an even easier way to interactively place your lights. No longer struggle manually setting up lights in your scene; now only a single click places the light exactly where you want it—allowing you to dial in the perfect shot.

Create VR Content

Professional

Take advantage of the photorealism of SOLIDWORKS Visualize Professional to explore/review beautiful immersive images and animations at 1:1 scale. Easily set up your camera where you want to look around and click a single button in Visualize to create amazing VR content with 360 stereo images and even animations in VR! Support for any VR device, including HTC® Vive®, Oculus Rift™, Samsung® Gear VR, Google® Daydream, and Google Cardboard™.

View More
Images and Animations Can Do Amazing Things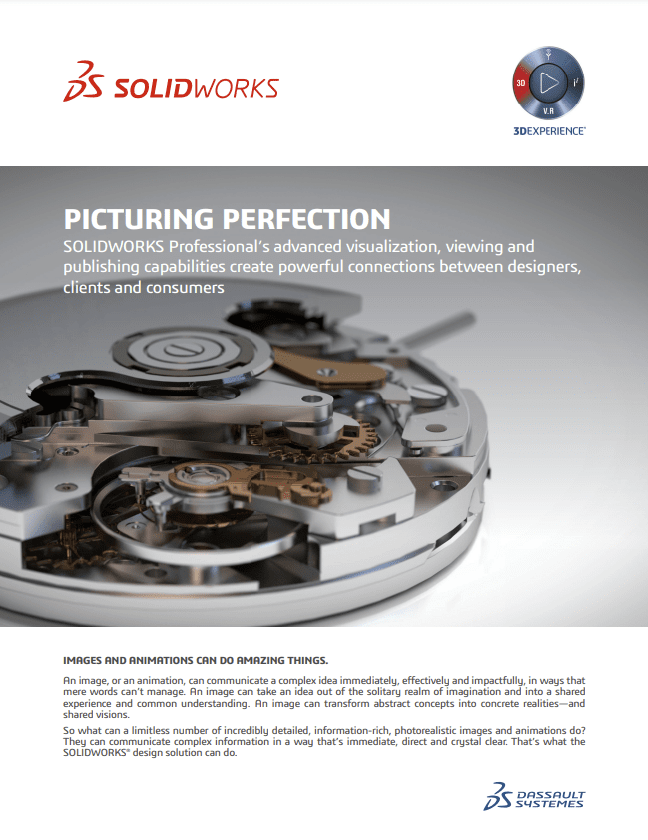 Picturing Perfection: Advanced visualization creates powerful connections between designers, clients and consumers
An image, or an animation, can communicate a complex idea immediately, effectively and impactfully, in ways that mere words can't manage. An image can take an idea out of the solitary realm of imagination and into a shared experience and common understanding. An image can transform abstract concepts into concrete realities—and shared visions.
So what can a limitless number of incredibly detailed, information-rich, photorealistic images and animations do? They can communicate complex information in a way that's immediate, direct and crystal clear. That's what the SOLIDWORKS Visualize can do
Download White Paper
Do You Have a SOLIDWORKS Success Plan?
SOLIDWORKS Support
The ability to support our customers is the cornerstone of our business. With 90+ engineers on staff available 12 hours per day, 5 days per week, our award-winning technical team can assist you with your SOLIDWORKS challenges in a timely manner.
Call: 888-285-2284
Email: support@cati.com
Support Hours: 7AM – 7PM Central Time
Support Days: Monday – Friday
SOLIDWORKS Training
SOLIDWORKS provides powerful tools, but without the right know-how, the full potential of these tools cannot be attained.  CATI provides our customers with comprehensive SOLIDWORKS training in both beginning and advanced topics.
Instruction by our certified trainers is available throughout the year at our nationwide campuses.  We focus on small class sizes that afford you the individual attention you need to learn and thrive.
Learn more about:
SOLIDWORKS Subscription
The SOLIDWORKS Subscription Service Program gives you immediate access to a number of items that will improve your CAD experience, expertise, and return on investment:
Live, local tech support with CATI
Software upgrades and new releases
Free access to SOLIDWORKS CAM Standard and SOLIDWORKS Visualize Standard (for SOLIDWORKS Professional and Premium subscribers)
Free CSWA and CSWP SOLIDWORKS Certification Exams
Access to MySolidWorks eLearning
SOLIDWORKS Customer Portal for info repository, enhancement requests, and beta access
Learn more in our SOLIDWORKS Subscription datasheet.
CATI Is Your SOLIDWORKS Success Plan
As North America's first SOLIDWORKS partner, no one is more qualified to build and support your product development process.  We believe everyone should have access to our curated portfolio of transformative engineering and manufacturing technologies.
By listening to and working with you, we will find the right solution for you at the right time, with an implementation and growth plan to support your business ambitions.
Get Started with SOLIDWORKS from CATI.
We're ready to help figure out the right product development solution plan for you. Contact us today to get started with a quote, a free trial, a demo, or just ask questions.
Other Design & Engineering Software
We Empower The
Innovators