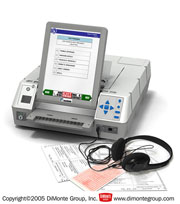 The Challenge
The DiMonte Group performs industrial design, engineering, drafting, model shop services,and offers complete product development to their customers. Their primary challenge is to help their clients save time and money, and in turn continually win their repeat business. The DiMonte Group currently has a 94% repeat business success rate.
"That's a tremendous feather in our cap," President Gene DiMonte said, adding that the DiMonte Group's business philosophy, unlike many traditional design-engineering firms, is not to charge as many hours as they can to finish a product.
"We're more interested in keeping our customers profitable," said DiMonte Senior Industrial Designer, Ed Eaton. "We really focus on keeping ahead of our customers' needs."
In the simplest of terms, the DiMonte Group consistently focuses on innovating as efficiently and economically as possible. "Because that's the key," said DiMonte.
The Solution
Engineers at the DiMonte Group knew that in order to deliver these commitments to their clients, they would need to do two things. First,
DiMonte Group recognized the importance of partnering with a true value-added technology provider like Computer Aided Technology (CATI). The majority of the staff at CATI is comprised of professionals who formerly worked as Design, Industrial and Mechanical Engineers.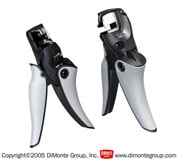 "Almost everybody at CATI had to do my job at some point, and they once felt my pain," DiMonte said noting that CATI has also historically put an emphasis on technical support. "CATI invests a lot of money back into the technical support service aspect of the business. They offer proprietary courses that are extremely beneficial to the client, and they are industry specific. For example, the new Industrial Design courses that CATI offers address everyday situations and problems which engineers encounter. There are a lot of forward thinkers at CATI."
Second, DiMonte Engineers knew they needed to obtain powerful, intuitive yet easy-to-use technology tools. "The SOLIDWORKS tools are getting better and better, so we can do our jobs better," said DiMonte. "SOLIDWORKS is certainly the leading innovator in the CAD industry. They're the only ones in the past nine years who have done any kind of innovation with their product. Other companies have only innovated because SOLIDWORKS forced them to. They're all behind SOLIDWORKS as far as providing new tools."
The DiMonte Group toolset consists of SOLIDWORKS Professional for 3D mechanical design, SOLIDWORKS Simulation Software with Motion for design validation and PDMWorks for product data management. Additionally, through the SOLIDWORKS Manufacturing Network and SOLIDWORKS Users Groups, DiMonte Group Inc. has partnered with companies like EPS FloTek to utilize software such as Moldex3D, an injection molding analysis application to validate part design for molding.