3DEXPERIENCE CLOUD PDM
Secure, hassle-free, cloud-based data management and powerful cloud collaboration tools for product development companies of all sizes.
Accelerate Business Value by Moving to the Cloud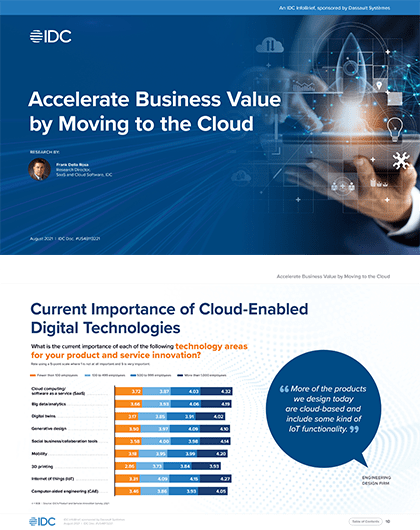 The global pandemic has forever changed the operational reality for businesses in every industry and geography. This InfoBrief highlights how businesses are responding to the opportunities and challenges created by the virtuous circle of change and innovation.
Complete the form to learn more
Are you keeping up with your competitors in the cloud?
Business systems of all kinds, from email to HR to accounting, are all moving to the cloud so companies can operate more efficiently and effectively in highly competitive industries. Dassault Systèmes is bringing the transformative benefits of the cloud to product developers of all sizes with 3DEXPERIENCE CLOUD PDM.
By transitioning to a cloud-based data management system like 3DEXPERIENCE, these companies can make their data simultaneously more accessible and more secure. Project stakeholders can collaborate in real-time from a single source of truth. Teams can scale up their software and hardware capabilities virtually instantaneously.
CLOUD CHANGES THE GAME
Product development is

FAST

moving to the cloud.
Office 365, Google Workspace, Salesforce, HubSpot, Asana, NetSuite…
In 2022, the whole world is running critical business operations on the cloud – because it's incredibly effective.
Now is the time for product development to join in on the benefits of cloud technology:
SECURITY'S TAKEN CARE OF
Multilayered, professionally-managed safeguards and compliance standards protect your sensitive data against attacks of all kinds.
NO MORE MESSING WITH SERVERS
Infrastructure-as-a-service lets you take full advantage of enterprise computing without having to buy, store, and maintain it.
WORK (& HIRE) FROM ANYWHERE
Authorized users can access – and work on – real-time product data from anywhere with a simple, secure web login on any capable device.
EVERYONE'S ON THE SAME PAGE
All users and their apps draw product data from a "single source of truth", eliminating information silos from design to manufacturing and beyond.
CUTTING-EDGE TECH FOR ALL
With cloud compute, term licensing, and across-the-board integration, companies of all sizes can easily leverage a huge CAD-CAM-CAE-PLM portfolio.
INSTANT ADAPTABILITY
Respond rapidly to business changes – scale and reconfigure your software portfolio and managed hardware resources as fast as you can send a PO.
A RECIPE FOR CLOUD SUCCESS
The 3DEXPERIENCE Platform, from the makers of SOLIDWORKS, CATIA, and Abaqus, is the premier choice for cloud-based product development.
Get Started with 3DEXPERIENCE from CATI.
We're ready to help figure out the right product development solution plan for you. Contact us today to get started with a quote, a trial, a demo, or just ask questions.
We Empower The
Innovators