Dental Prosthetic Services Streamlines Resin Post-Printing with PostProcess' Full-Stack Solution
June 15th, 2022
BUFFALO, NY, USA – March 29, 2022 – PostProcess announced today the selection of its automated resin removal solution by Dental Prosthetic Services, a full-service dental lab in Cedar Rapids, IA that provides premium quality prosthetics. DPS dental is a family-owned and operated lab that is a Certified Dental Laboratory through the National Board for Certification in Dental Laboratory Technology whose mission is to give dental patients beautiful restorations with state-of-the-art technology. DPS uses the Carbon M2 Digital Light Synthesis™ (DLS™) printer for production, as well as the Heygears A2D4K with HIVE, and recently implemented the software intelligent PostProcess® DEMI 430™ to streamline their resin removal process.
DPS prides itself on using technology and technical skill to maximize its doctors' efficiency and profitability. As this family-owned and operated business grew, it became clear that their post-printing solution would not cut it as demand grew. Using IPA in Tupperware to finish the 200 arches a day they were printing was causing a bottleneck in their workflow and did not allow for scalability for their growing operation. It was also difficult to work with IPA because of its volatile nature and short lifespan. DPS selected the DEMI 430, PostProcess's full-stack automated post-printing solution, to improve efficiency in the post-printing workflow and eliminate IPA from their workflows.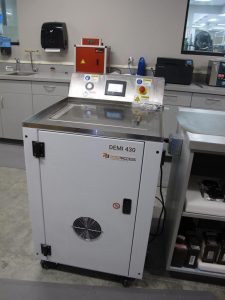 The DEMI 430 employs patented Submersed Vortex Cavitation (SVC) technology to remove excess resin effectively from parts via submersion in PostProcess's proprietary detergents. DPS uses Postprocess' patented PLM-403-SUB detergent, which complies with ISO standard 10993 for evaluation of biocompatibility. Software intelligence ensures that 3D-printed parts are uniformly, consistently, and reliably exposed to detergent and cavitation as they undergo post-printing.
"With the increase in our client's use of intraoral scanners, we needed a solution to automate the labor intensive and IPA based post processing systems in our laboratory" stated Kris Van Cleve, Dental Prosthetic Services President. "PostProcess has been extremely responsive to working with us to identify the best solution for our needs. Following testing and validation with our resins they walked us through the install and provided initial and follow up training. The PostProcess DEMI 430 allows us to quickly and efficiently clean up to 50 models in 5 minutes with minimal handling. We have been using the DEMI 430 daily for over 5 months and have yet to reach the saturation point on the detergent solution making it a very cost effective solution from both a material and labor perspective!"
About Dental Prosthetic Services:
Family owned and operated for 50 years, Dental Prosthetic Services (DPS) is a full-service lab with a rich history of state-of-the-art technology and a proud tradition in providing premium quality prosthesis and outstanding customer service. Using both technology and technical skill, DPS strives to maximize our doctors' efficiency and profitability, while improving patients' quality of life, appearance, and health.
About PostProcess:
PostProcess is the leader in automated and intelligent post-printing solutions for 3D printed parts. Founded in 2014 and headquartered in Buffalo, NY, USA, with international operations in Mougins, France, PostProcess removes the bottleneck in the third step of 3D printing – post-printing – through patent-pending software, hardware, and chemistry technologies. The company's solutions automate industrial 3D printing's most common post-printing processes with a software-based approach, including support, resin, and powder removal, as well as surface finishing, resulting in "customer-ready" 3D printed parts. Additionally, as an innovator of software-based 3D post-printing, PostProcess solutions will enable the full digitization of AM through the post-print step for the Industry 4.0 factory floor. The PostProcess portfolio has been proven across all major industrial 3D printing technologies and is in use daily in every imaginable manufacturing sector.