Creaform 3D Scanning: Achieving the Next Level in Skiing Safety
SCOTT Sports and Creaform: Achieving the next level in skiing safety with 3D scanning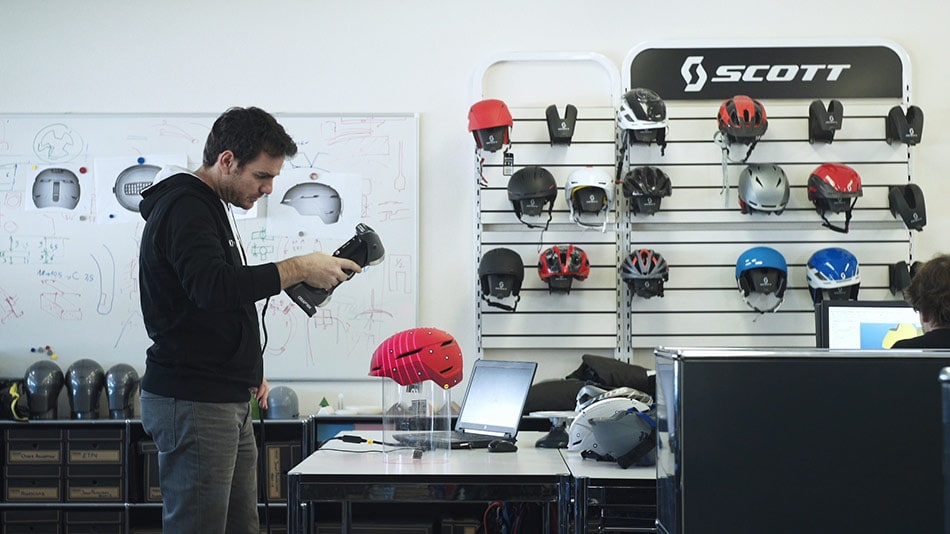 SCOTT Sports' approach to product design can be summed up in a sentence: there are "no shortcuts" for doing things the right way, for the right reasons. It is with this mindset that Swiss manufacturer of bicycle, winter equipment, motorsports gear and sportswear designed its helmet, the Symbol 2 freeski helmet.
The engineering behind helmet development
When designing sports performance gear, fit and comfort come right after user safety. With the increased safety requirements and riders wanting to push the limits of their sports, SCOTT Sports turns to cutting-edge engineering to ensure the highest safety level for its performance equipment.
For Bertrand Didier, Chief Engineer Sports division at SCOTT Sports SA, 3D scanning came as the perfect solution in the development of high-performance headgear that meets both the industry's safety requirements as well as athletes' fit and comfort. A helmet features such a complex shape that a hand model is sometimes the easiest approach a designer can use. Working with a clay model, which can be easily converted into a 3D model gives designers and engineers the maximum flexibility and freedom to play with the models until they achieve the perfect shape. Familiar with the benefits of 3D scanning through past use of external service companies and entry-level 3D scanners, Didier and his team saw 3D scanning as an opportunity to rapidly digitize human figures as well as complex shapes in high resolutions for fast and accurate conversions of their clay models into CAD designs. The team needed a versatile and user-friendly solution that would yield accurate measurements fast—all while eliminating the need for long measurement sessions and costly prototypes. That's how they found the HandySCAN 3D.
HandySCAN 3D in performance helmet design
Using Creaform's HandySCAN 3D 3D Scanner, Didier's team was able to significantly reduce the design cycle time. The 3D scanner provided the help needed to facilitate the shape's integration and improve overall design efficiency and accelerate time-to-market. The size and portability of the scanner allowed SCOTT engineers and industrial designers to 3D model the helmet right in their offices, which also proved to be a significant time saver.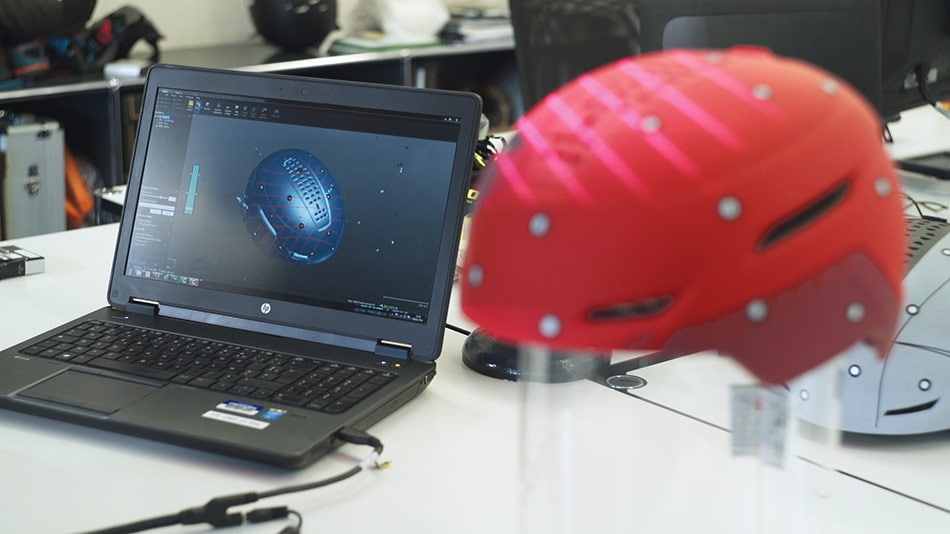 The resolution and high accuracy offered by Creaform's 3D Scanners and VXelements software fit perfectly with the team's requirements. It enabled experts to get the data and properly address pressure points and other biomechanical characteristics and geometries required to truly make a difference in fit and comfort.
The 3D scanner also proved to be useful in the assessing the quality of the manufactured parts that came out of production, thereby ensuring that they adhered to the final CAD model dimensions.
SCOTT Sports and Creaform – #NOSHORTCUTS to innovation
SCOTT Sports' new helmet line was launched at this year's IPSO MUNICH in Germany. It came out as the gold winner of the prestigious IPSO AWARD 2017.
One thing is for sure: with SCOTT Sports, there are no shortcuts to perfection. The company's engineering team has other projects in store for the HandySCAN 3D scanner. It is projects like this that drive innovation, technology and design to enhance safety on the mountains that underpin our desire to further push the limits of technology. We can't wait to see what they have in store for sports enthusiasts next!